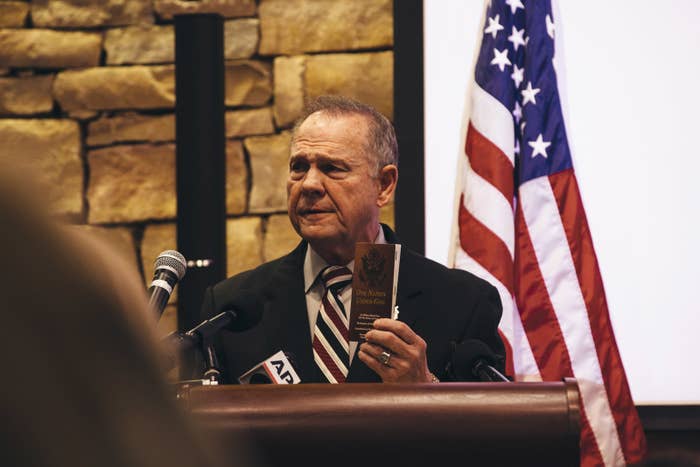 One after another, prominent Republicans are bailing on Roy Moore.
They're calling for the Alabama Senate candidate, who's accused of behaving inappropriately years ago with teenage girls, to withdraw from the race or be barred from serving if he wins.
And, reportedly the Republican National Committee is out, too.
The RNC has canceled their fundraising agreement, according to filings on Tuesday. And according to Politico, the RNC is canceling the party's field program in the state: About a dozen national party staffers were on the ground in Alabama, handling field organizing duties for next month's special election between Moore and Democratic nominee Doug Jones.
On Monday, a spokesperson declined to comment when asked if the RNC's investment was being reevaluated in light of another woman coming forward to accuse Moore of sexually assaulting her in 1977, when she was 16. She is the second woman in recent days to say Moore initiated an unwanted sexual encounter when she was a teen. Moore has denied any wrongdoing.
BuzzFeed News had reached out to more than a dozen RNC representatives Monday to ask about the party's continued support of Moore. Bill Palatucci, the RNC committeeman from New Jersey, wrote in an email that he was not aware of any internal discussions about Alabama.
"If they asked me," Palatucci added, "I'd tell them to put RNC resources elsewhere."
The accusations against Moore "are so numerous and carry the ring of truth," Palatucci wrote. "In my opinion he is unfit to be a candidate or serve in public office at any level."
In a story last week by the Washington Post, a now 53-year-old woman said Moore, as a 32-year-old assistant district attorney, touched her sexually and pursued a relationship with her when she was 14. The age of consent in Alabama was then, as it is now, 16. Three other women told the Post that Moore pursued relationships with them in their teens.
A right-wing evangelical who was removed twice from the Alabama Supreme Court for defying orders, he has accused the Republican establishment of being in league with Democrats and the Post, though he has not provided evidence. Senate Majority Leader Mitch McConnell and Colorado Sen. Cory Gardner, who leads the National Republican Senatorial Committee, both called on Moore to drop out of the race Monday.
Other Senate Republicans followed their lead.
"If he refuses to withdraw and wins," Gardner said, "the Senate should vote to expel him, because he does not meet the ethical and moral requirements of the United States Senate."
The NRSC already had ended a fundraising agreement with the Moore campaign.
The national party is closely aligned with the Trump White House. But the president, who backed interim Sen. Luther Strange in the primary, has been on an international trip since the first Moore story broke and has not yet clearly indicated whether he is ready to give up on Moore's candidacy.