The Confederate Flag Fight Is Back
Nikki Haley didn't end the debate over the Confederate flag when she banished it from the South Carolina Capitol. A candidate to succeed her as governor now proclaims herself a "proud Daughter of the Confederacy." And a pro-Confederate candidate in Virginia is encouraged after a better-than-expected performance there.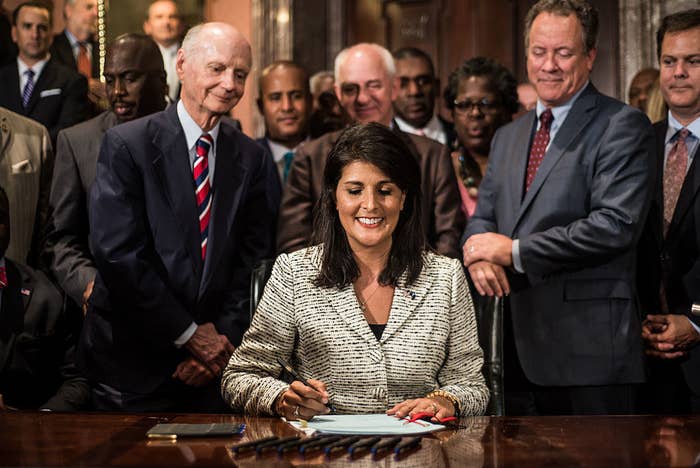 Two years ago last month, South Carolina Gov. Nikki Haley pulled down the Confederate flag that flew over the grounds of the state Capitol. The move unified her party and her state, and it transformed her into a national figure and the embodiment of the future of the Republican Party.
Back then, Haley's move — which followed the shooting of nine black parishioners at a Charleston church — seemed to bring a close to the long-simmering question of whether the flag, and Confederate nostalgia more broadly, had an acceptable place in American politics despite its offensiveness to black Americans. But two years later, the flag and the Lost Cause are flickering back as potent symbols in American politics — symbols sometimes of an open new white nationalism, but more often of a brand of identity politics that prizes upsetting liberals above all else, in which the Confederate flag also serves as an emblem against "political correctness."
There are flickers across the Old South: This year, New Orleans officials removed Confederate monuments under the cover of night amid protests and security concerns. Then a Virginia Republican crusaded on the issue (and on his support for President Donald Trump) and nearly secured the nomination for governor. And a leading candidate to occupy Haley's old seat in the governor's mansion in Columbia is describing herself as a "proud Daughter of the Confederacy."
Virtually all established Republican Party leaders would like, as they say, to "move past" the issue — and few want to talk about it. But the people who want to talk about preserving monuments and keeping the flag in the sky really want to talk about it. And in the ground zero of the flag fight — South Carolina — Republican operatives describe Haley's push as a one-time response to a tragedy that rekindled wide national scrutiny of the Confederate flag. (The killer, Dylann Roof, had been photographed with the flag.)
The issue popped up last week in the state's competitive Republican race for governor. Several audience members at a forum in conservative Pickens County grilled Catherine Templeton — a former member of Haley's cabinet whose consulting firm was among those who cheered the flag's removal at the Statehouse — about her stance on removing Confederate symbols.
"You cannot rewrite history," said Templeton, who has emerged as a top primary challenger to Henry McMaster, the lieutenant governor who became governor after Haley left to become the US ambassador to the United Nations. "I don't care whose feelings get hurt."
Templeton went on to talk about her grandmother — "a Daughter of the Confederacy" — and about "standing on the shoulders of giants in South Carolina." But that answer wasn't enough for some in the crowd. She was pressed on the issue twice more at the livestreamed forum.
Would she have voted for Haley's legislation to bring down the flag at the Statehouse? "I think what we did was we reacted, and I think that's what happens in government a lot," Templeton replied, sidling away from her firm's past praise. "We have an emergency, and we create a response because it's the only thing we have control over. … I'm proud of the Confederacy. But I'm not going to second-guess what the people in the Statehouse did when I wasn't there.
"I live in Charleston. I drive by [the church] on a daily basis," she added. "And a bad person took something that's dear to us, took our heritage, and turned it into hate, and I think we reacted as a result."
Would she back a bill to prohibit moving any monuments unless they were moved to a more prominent place? "The answer is yes. We have a law in place now, and I would enforce it. … I would not allow monuments to be taken down. I want to be very direct with you."
The next day, following local media coverage of her remarks, Templeton issued another statement on social media.
"If it's politically incorrect to say I'm a proud Daughter of the Confederacy, then call me politically incorrect," she wrote. "My father was named after Judge William Brawley, a Confederate soldier who fought under Gen. Robert E. Lee, and lost his arm at the Battle of Seven Pines. I have a son named Hampton and a dog named Dixie but that doesn't make me a racist. It makes me from South Carolina and proud of it. It's outrageous to me that some would have me disavow my family and our history. … Our history is not always comfortable, but it made us who we are."