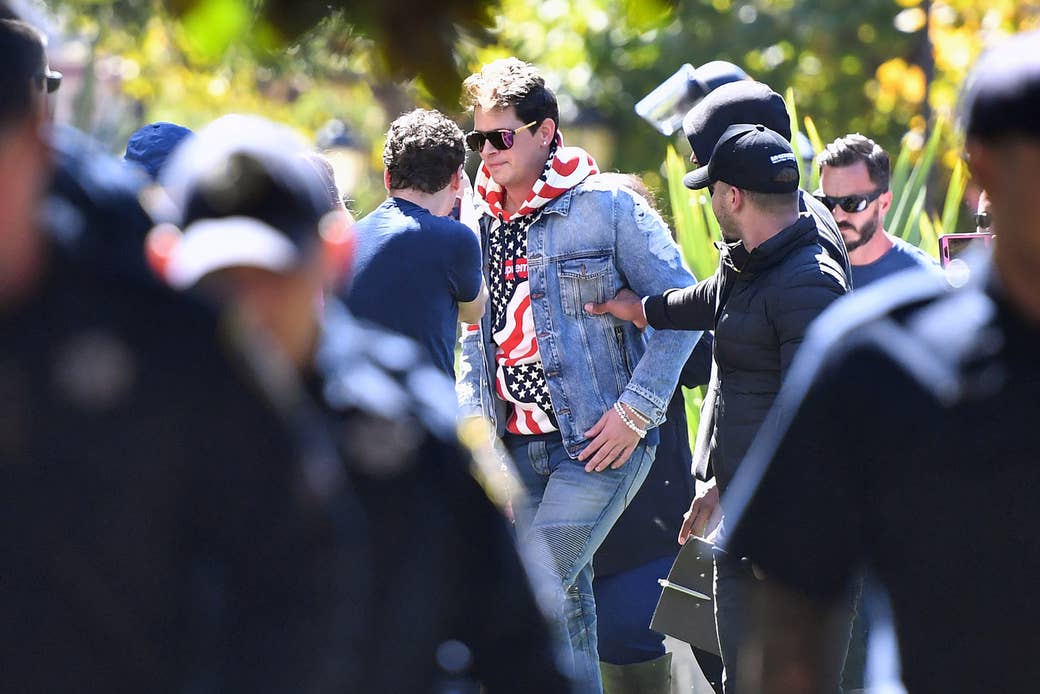 A new generation of Republicans is being raised on the terms of a debate set by Milo Yiannopoulos.
Here's how it's happened the last few years: Some campus group, often a College Republican organization, will invite the right-wing provocateur — known by his first name and for his racist stunts and social media trolling — to campus. Offended classmates will plan protests. Wary administrators, citing security concerns, will roll out the red tape. And Milo will become a rallying cause for young conservatives eager to paint their liberal counterparts as free-speech hypocrites.
The popularity of Milo and others like him in this regard is the manifestation of years of frustration uncorked by students almost always in the minority among their peers. Their rebellion coincides with a national GOP uprising led by President Donald Trump, and with a moment in US politics when even grown-up Republicans define winning by their ability to antagonize the other side.
The fight against politically correct campus culture has energized College Republicans like never before, many activists told BuzzFeed News. But the energy is not always positive. Where Milo and other far-right figures go, the threat of dangerous confrontations is likely to follow. (One protester was shot earlier this year during the demonstrations surrounding Milo's visit to the University of Washington.)
There also are unavoidable questions about what happens when an emerging crop of Republican leaders is focused on the free speech issue above all else, and whether these organizations can end up, intentionally or not, harboring outright racists.
Notably, some of the white supremacists who marched in Charlottesville, Virginia, this summer turned out to be…College Republicans.
One participant has since resigned his post as president of the Washington State University chapter. Another attendee, photographed among the torch-wielding mob, brought unwelcome publicity to the chapter at the University of Nevada, Reno, where months earlier he was photographed with club members and Sen. Dean Heller.
"Our current College Republican chapter has kind of gone into hiding because of these last one-and-a-half months," said Miranda Hoover, chairwoman of the Nevada Young Republicans and former president of the College Republicans at UNR.
After Charlottesville, one UNR student wearing a College Republicans shirt was heckled as she walked to class, Hoover said. Now other members don't want to wear their shirts. "It's just been really bad," she added.
At Washington State, the new College Republicans president is trying to distance the organization from his predecessor: "Nothing that he did, alleged or otherwise, was as a representative of the club," said Amir Rezamand. "Anything he does on his private time is him as a citizen."
But not everyone is in hiding or on the defensive. On many campuses, there remains an appetite for an in-your-face free-speech fight, one that stems from years of feeling like outcasts in institutions filled with liberal administrators, liberal professors, and liberal classmates.
"Over my four-year tenure, I did see that it got worse," said Alex Smith, who this year finished a stint as head of the College Republican National Committee. "College Republicans and other conservative groups have always faced what I call an institutional bias on campus."
"It was almost comical," Smith added. "Whenever there was any gathering of College Republican leaders, you could count on a good administration-screwed-me-over story."
No one can pinpoint when, precisely, this became a defining issue for College Republicans. Over the last five years, debates over language — the words we use to describe identity and politics, who can use those words, what should be a fireable offense — have dominated college campuses and the ever-accelerated social conversation. There are some sharp generational divides about free speech, and particularly around the concept of physical space: Should a university host a certain kind of speaker? As that dynamic has become more prevalent, more and more college conservatives have reacted strongly.
Smith's successor at the CRNC, Chandler Thornton, for instance, attributes the shifting dynamics to "the rise of trigger warnings and safe spaces" — two relatively recent watchwords. "Those words were not really used in the last 10 years before, to my knowledge," Thornton said.
Into this charged situation came Milo, a colorful character with Breitbart credentials and shock value, an openly gay avatar of the alt-right who frequently uses that aspect of his identity as a cudgel to say whatever he wants.
And Milo has been complicated for a long time. Twitter permanently suspended him more than a year ago after he helped lead a harassment campaign against Saturday Night Live and Ghostbusters actor Leslie Jones, who is black. He came to internet prominence through Gamergate, and has written fairly extensively about the alt-right. Pushback against Milo, for example, has intensified over the last year, especially after he appeared to condone pedophilia.
A report published Thursday — based on emails and documents obtained by BuzzFeed News — detailed the close ties and communication Milo has kept with alt-right figures. The story featured a previously unreleased video of Milo performing "America the Beautiful" at a karaoke bar as a crowd that included white nationalist Richard Spencer raised their arms in Nazi salutes. The story also notes emails that make mention of Milo passwords that were apparent allusions to Adolf Hitler and Nazi Germany.
None of that has really stopped his popularity as a speaker, at least not yet. His Dangerous Faggot Tour has led to dozens of invitations, usually from College Republican groups. Last fall, students at Florida State University even favored Milo over Trump when voting on who their guest speaker should be.
"It was overwhelming, people really wanted to hear Milo," the FSU College Republicans president told the student newspaper at the time. "Milo has a lot of popularity, not necessarily because people 100% agree with him, but over the last couple of years we've been trying to get behind the idea of free speech."
The idea for a prospective college hosting a speaker like him: There's the promise of scandal, there's some built-in mystery about what Milo's really about, there's the lofty idea that it's technically in service of free speech, and then there's the reality that, frankly, Yiannopoulos is more relevant for a campus Republican than a think tank fellow or a Reagan appointee. He's interested in the battles on campus — feminism, political correctness, social justice — that are more salient than, say, entitlement reform.
"I think that one of the most appealing things about him is ... he speaks like people in the 18-to-25 age range speak," said Rezamand, the College Republican leader at Washington State, where in January a Milo speech was canceled due to bad weather. "I've heard many, many very well-regarded conservative speakers and libertarian speakers that are pretty much universally respected, and I love it. I live for this type of thing. But for your average slightly right-leaning guy, maybe he's interesting for an hour, he's interesting for the first time. Someone like Milo is such a charismatic figure and such a well-spoken and entertaining figure."
(Rezamand, who made those comments before the Thursday story by BuzzFeed News, declined to comment on the record Friday when asked if the report changed his thinking.)
Others see Milo more as an imperfect messenger for a righteous cause.
"Candidly, I never found Milo to be helpful," said Smith, the former CRNC chief. "What I will say, though, is I think the appeal to some of these College Republicans is that he was just a giant middle finger to the kind of escalating illiberal attitudes that were pervading campuses."
These fights aren't new obviously: The 1960s saw an explosion of campus activism and clashes, sometimes violent, from the free speech movement in California and anti-Vietnam War activism to a significant outpouring of conservative energy following Barry Goldwater's 1964 campaign. All of that significantly affected politics in both parties for decades. Fifty or so years later, with campus battles ebbing and flowing in the interim, Trump's win last year has only escalated the tension of recent years.
And while Republicans actually control everything in Washington and have long dominated statehouses across the country, the college campus is one of the few domains they haven't conquered, a political reality that motivates young conservatives and liberals alike.
"The left is no longer in power, and they're reacting," said Niraj Antani, a former Ohio State University College Republicans leader who, at 26, is the youngest state lawmaker in Ohio. "They're reacting in places where they're in power — on college campuses."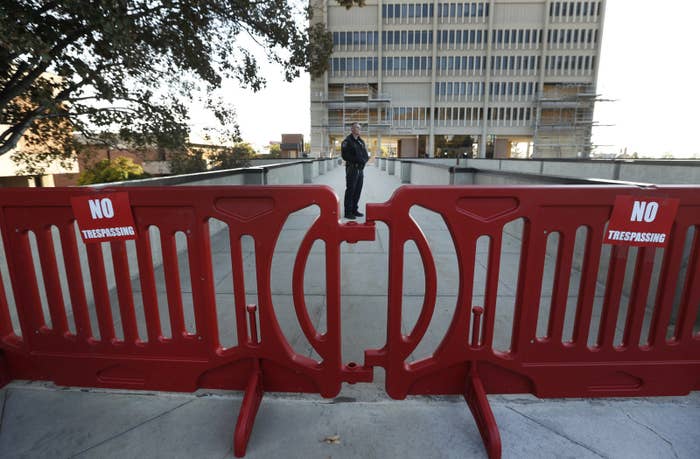 Cancellations seem to be just as common as invitations these days, though. Trump joined the fray in February, suggesting on Twitter that federal funds be withheld from the University of California, Berkeley, after officials there nixed a Milo event because of violent protests. "I mean, shoot," said Alex Guerrero, treasurer of the University of Washington College Republicans, "after Trump got elected, it seemed like every week there was protesting that Republicans are racists."

Michael Moroz, codirector of the editorial board for the University of Pennsylvania College Republicans, sees a connection between university officials taking public stances against Trump's policies — such as hardline immigration positions — and university officials throwing up roadblocks to conservative speakers on campus. Even if not everyone in the College Republicans loves Trump (and on this point, many of the Republicans who spoke with BuzzFeed News repeated the same mantra about a diversity of opinions), the perception that everything is one way gets the College Republicans up in arms.
"As long as the university is trying to create a monopoly on ideology on campus, you're going to have speaker shutdowns," Moroz said. "You're going to have a trend against free speech. It's simply inevitable."
Others, like Paul-Anthony Cuesta of the New York Federation of College Republicans, report a tougher time receiving budget approval for things such as trips to CPAC, the huge annual gathering of conservative activists.
And it's obviously not only Milo who is drawing protests. A recent speech at Berkeley by conservative commentator Ben Shapiro — hardly a provocateur in Milo's mold — turned into a scene.
Rick Santorum, the conservative former senator and two-time presidential candidate, "was shouted down the whole time" during a speech at Cornell University after last year's election, said Olivia Corn, then-president of the College Republicans chapter there. "I was screamed at when I tried to introduce him." (Corn found Santorum preferable to Milo: "I don't think he really provides valuable commentary.")
Gavin McInnes — the Vice Media cofounder and self-styled anti-feminist, or "proud boy," as he calls those that hold his views — caused an uproar during his February visit with College Republicans at New York University. Eleven people were arrested as a result of protests and clashes outside an NYU building upon his arrival. McInnes was drowned out by student protests during his talk and called an administrator a "dumb liberal asshole" before leaving early.
Some College Republican leaders say it's time to shift their priorities.
Elena Hatib, president of the NYU chapter, said the club has decided to change its invitee selection in favor of less incendiary personalities. "I think going forward," Hatib said, "we're going to focus on free speech, but I want speakers who — instead of being provocateurs, instead of speakers who just want to put on a show, we'd rather have speakers of substance."
Guerrero, whose University of Washington organization has hosted Milo, has a similar goal. He said he would like to bring "more relaxed" or "conventional" speakers to campus. He mentioned Jordan Peterson, the conservative Canadian academic, as one possibility.
"Last year was sort of the coming out moment," Guerrero added. "Kind of like, 'Hey, Republicans exist on this campus, too, and we deserve a right to bring in our speakers.' So this year is more of the year where we're like, 'Hey, conservatives are here to stay' and we're sort of, like, normalizing conservative culture on campus."
But Milo remains in demand: He has a Halloween event scheduled at Cal State Fullerton and had been scheduled to speak two days before that at San Diego State University, but College Republicans there say administrators canceled the event, citing extensive security demands.
If senior Republicans are worried about what Milo's prominence means for their party's future or have any advice for their juniors, they're not sharing these thoughts publicly. BuzzFeed News reached out to more than a dozen GOP officeholders, operatives, and activists. The list included prominent former College Republicans (tax-reform advocate Grover Norquist, strategist Karl Rove, and House Speaker Paul Ryan); Trump critics (Ohio Gov. John Kasich, Arizona Sen. Jeff Flake, and Nebraska Sen. Ben Sasse); and officials with the Republican National Committee. Nearly all declined to comment or did not respond to requests. And in the case of the RNC, a spokesperson showed interest before suggesting interviews with two College Republican leaders.
Ed Brookover, a GOP strategist who worked on Ben Carson's presidential campaign last year and was an Otterbein College Republican leader in the 1970s, was a rare exception.
"I don't think so," Brookover said when asked if party leaders should be concerned about the influence Milo might have on young Republicans. "I think that most folks make their own decisions on their own sets of issues. This has not led either party or side into a rabbit hole."
Rich Lowry, editor of the conservative National Review, believes the alt-right has had minimal impact on young conservatives.
"I think the appeal is just the outrageousness and having the right sort of enemies," Lowry said. "It's just sort of a way to poke a stick in the eye of the other side and maybe generate some publicity for him and for your club. That's not a very elevated rationale."
Lowry believes College Republicans should seek to host more informative, sober individuals rather than entertaining provocateurs who happen to lean right. "If you want to make a point about free speech," he said, "you don't need to go the route of just being outrageous for outrageousness' sake."
But to many, making a point is the point.
"If our audience shows a hunger for Gavin McInnes or a hunger for Milo Yiannopoulos, then I will make an honest effort to bring them," Washington State's Rezamand said.
"That is the hill that we die on." ●