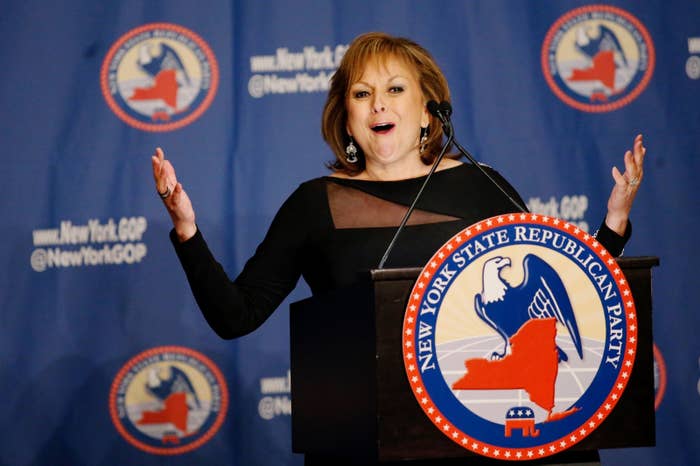 The future of Obamacare is a tricky political and policy issue in states where Republican governors have embraced or inherited an expansion of the Medicaid program under the law. Millions of low-income residents rely on the aid, and state budgets often rely on the federal funding attached to the program.
It's a tricky enough question that New Mexico Gov. Susana Martinez, an adopter of expansion who once spoke of the law in accepting tones, has been notably absent from the debate, even as her Republican colleagues are advocating for a less severe overhaul than the plans recently introduced in Congress.
"I didn't support Obamacare," Martinez said during her State of the State address in January 2013, shortly after announcing plans for Medicaid expansion in New Mexico. "But it's the law of the land. The election is over and the Supreme Court has ruled. My job is not to play party politics, but to implement this law in a way that best serves New Mexico."
More recently Martinez has called Obamacare "catastrophic," although she has declined to share her thoughts on efforts to repeal it, the Santa Fe New Mexican reported in May.
No issue has defined the modern GOP more than Obamacare has. But the reluctance of some Republican governors to comment on Obamacare, along with the eagerness others have shown in pushing back on the plans to dismantle it, has exposed another rift within a party that is already wrestling with the populism that helped elect President Donald Trump.
Several Republican governors are calling for an approach that is more moderate than the bill the GOP-controlled House passed earlier this year. Three of them — Charlie Baker of Massachusetts, John Kasich of Ohio, and Brian Sandoval of Nevada — signed a bipartisan letter last week raising concerns to Senate leaders closing in on their own bill. The governors were particularly concerned about the impact on Medicaid coverage.
While some parts of a Senate draft released on Thursday are seen as less conservative than the House bill, Medicaid expansion would still be dumped, albeit at a slower pace.
Baker quickly objected to the Senate version.
"Since Washington has started debating reforms to the health care law, Governor Baker has been clear that any changes must preserve our ability to provide quality health care coverage in Massachusetts and allow flexibility to responsibly manage programs like Medicaid — and the administration is concerned that upon a first review, this version falls short and will result in significant funding losses for our state," Lizzy Guyton, Baker's communications director, said in an emailed statement.
"Governor Baker will keep working with other governors, the congressional delegation and federal officials to advocate for solutions that work for Massachusetts, including protecting our waiver to support behavioral health and fighting the opioid epidemic and funding for Planned Parenthood."
Kasich later weighed in with criticism too. "I have deep concerns with details in the U.S. Senate's plan to fix America's health care system and the resources needed to help our most vulnerable, including those who are dealing with drug addiction, mental illness, and chronic health problems and have nowhere else to turn," he said.
"Sustainable solutions to the many complex problems facing our health care system will never be solved with a one-party approach that's developed behind closed doors, without public discussion and input," Kasich added. "I'm encouraging senators to step back and take a good, hard look at this important issue — and to reach across the aisle in working toward solutions. That's the only way to address the flaws of Obamacare that we can all agree need to be fixed."
Baker and Kasich are unique cases.
Baker leads a fairly liberal state that implemented universal health care coverage under another Republican governor — Mitt Romney — years ago. Polls have also shown Baker to be one of the nation's most popular governors, so he has some political capital to spare. Kasich staked the campaign for his second term as governor — and his unsuccessful bid for last year's Republican presidential nomination — on a reputation for pragmatism, that included his expansion of Medicaid.

BuzzFeed News reached out on Thursday to representatives of other Republican governors in Medicaid expansion states, seeking their thoughts on the Obamacare repeal effort in general, and the Senate draft bill in particular.
Gov. Asa Hutchinson of Arkansas and Gov. Rick Snyder of Michigan, both of whom joined Kasich and Sandoval in signing a January letter raising concerns to House leaders, are overseas on trade missions this week.
"I have started reviewing the Senate bill, but a great deal more time and thought is required before we understand the changes completely," Hutchinson said in a statement emailed by his spokesperson to BuzzFeed News, adding that he will consult with his state's Republican senators. "There are significant positive changes in the Senate bill, including increased flexibility for the states, but I will need more analysis on potential cost impacts on Arkansas."
A spokesperson for Snyder did not immediately respond to requests for comment, nor did a representative for Gov. Matt Bevin of Kentucky. A spokesperson for Arizona Gov. Doug Ducey said officials there were still reviewing the Senate bill.

Martinez's communications staff, meanwhile, has not responded to BuzzFeed News' requests to discuss her evolving thoughts on Obamacare since early last week.
"I'd rather not comment as it's going along," she told New Mexico reporters last month.
Aside from in statehouses, the repeal effort will be an issue in some of next year's most competitive Senate races, including in Sandoval's Nevada, where Republican incumbent Dean Heller could face a tough re-election fight. In a Thursday statement, Heller suggested he might base his decision on advice he receives from Sandoval, who will leave office after 2018 due to term limits.
"At first glance, I have serious concerns about the bill's impact on the Nevadans who depend on Medicaid," Heller said. "I will read it, share it with Governor Sandoval, and continue to listen to Nevadans to determine the bill's impact on our state."
Later Thursday, Sandoval said he was reviewing the bill to gauge its effect on Nevada residents.
"I am disappointed that Congress did not include us in the consideration of this bill and we have not seen it until today," Sandoval added. "While the current health care system needs improvement, it remains my priority to protect Nevada's expansion population to ensure our most vulnerable, especially individuals with mental illness, the drug addicted, chronically ill, and our children, will always have access to healthcare. Preliminarily, it appears that the proposed bill will dramatically reduce coverage and will negatively impact our future state budgets, which causes me great concern. My office is in regular communication with Senator Heller's office and I have had ongoing discussions with the senator about the impact of healthcare reform on the State of Nevada."