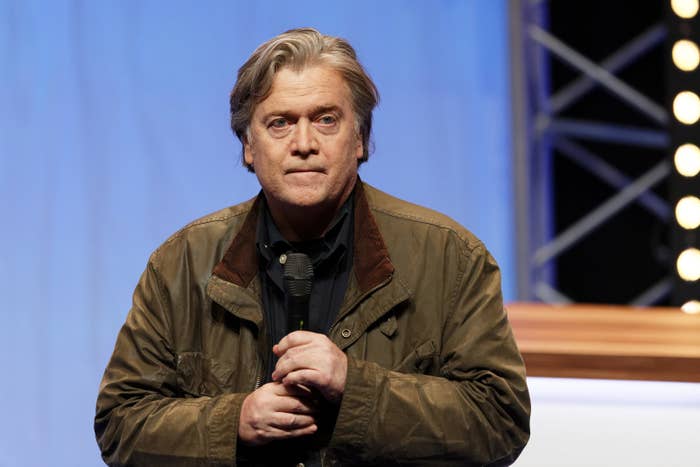 Steve Bannon has reactivated his shadow public relations machine as he attempts to reassert himself as a key player in President Donald Trump's network.
A consulting firm with close ties to the former chief White House strategist is aggressively pitching reporters on interviews with Bannon allies such as Sam Nunberg — Trump-orbit characters who aren't exactly hard for reporters to reach. Suggested topics range from Republican primary results to the Mueller probe to the recent anonymous New York Times op-ed.
The push coincides with Bannon's recent launch of Citizens of the American Republic, an outside political organization that he has described as a messaging weapon for the fall midterms. Bannon is framing congressional elections as a vote for or against Trump's impeachment, something that becomes a greater possibility if Republicans lose control of the House.
There has been a downright thirsty component to this new blitz: frequent email blasts from a publicist with the Bannon-linked CapitalHQ, offering reporters the opportunity to speak with Citizens of the American Republic advisers like Nunberg and Michael Caputo, another former Trump aide, on various news of the day. (These opportunities, though, are not clearly presented as being part of Bannon's latest political endeavor.) That kind of spammy approach is familiar to reporters, whose inboxes often are deluged with pitches from representatives of business leaders, marketing gurus, or colleges seeking publicity for professors.
Nunberg, in a telephone interview Thursday, confirmed that the recent CapitalHQ outreach is related to Bannon's new organization. Nunberg also acknowledged the irony in the idea that he would need help getting publicity. Among political reporters, he is known as an easy "dial-a-quote" — someone who loves to offer colorful comments, often on the record.
If anything, the former aide to Trump's 2016 campaign is overexposed. After being subpoenaed this spring in special counsel Robert Mueller's investigation of Russian interference in the 2016 election, Nunberg spent a day bouncing from interview to interview, including several bizarre television appearances.
"I am a publicist's dream client, because I will talk — I am completely accessible," Nunberg told BuzzFeed News, after being reached directly, without the help of the publicist.
Caputo, himself a communications specialist who has worked for Trump, and Pat Caddell, once a prominent Democratic pollster who now works with the Bannon group, are other talking heads familiar to political junkies and cable news watchers. That hasn't stopped CapitalHQ from sending emails offering interviews with them, too.
"Michael Caputo, Sam Nunberg, Pat Caddell, Avail on NYT Op-ed Controversy," read the subject line on a Thursday pitch, which followed the New York Times' publication of an anonymous and explosive op-ed from a senior Trump administration official.
A Wednesday email offered Nunberg's services in response to a Times story on the Mueller probe. "Sam Nunberg, a former senior political advisor to President Donald J. Trump, is available for comment. Mr. Nunberg is the first and only grand jury witness of the Special Counsel against a President who is willing to go on the record," the email boasted, with bold and italicized emphasis.
Bannon's bid to engineer a political comeback has been somewhat self-fulfilling, months after his ouster from Trump's good graces following comments attributed to him in Michael Wolff's book Fire and Fury. He deftly works the media, as he has for years, to bolster his own relevance.
CapitalHQ is run by Alexandra Preate, who has long served as a point of contact for reporters writing about Bannon, including when he was at Breitbart News. The emails offering interviews with Nunberg, Caputo, and Caddell have come from a CapitalHQ address for publicist Maria Sliwa.
It's not clear how effective the approach has been. A Nexis search, for example, found no evidence that any outlet took up Sliwa on an Aug. 29 offer to make Nunberg available for commentary on the previous evening's primary results.
Nunberg said Sliwa has been booking media appearances for him for several months. "Maria does a great job," he said. "She develops a zeitgeist, and she's like the yin to my yang." He added that many of his press contacts still reach out to him directly, and that much of Sliwa's focus has been on European TV, including recent appearances on a French television network to discuss Trump's North Korea visit and the case of Michael Cohen, Trump's former attorney and fixer who pleaded guilty to multiple federal charges last month.
"I was never on [France24] before," Nunberg said. "So that's expanded."
Bannon has plans to champion far-right populism — a defining feature of Trump's 2016 campaign and his messaging as president — in political campaigns abroad. It's not clear how, if at all, that fits in with Citizens of the American Republic, which on its website celebrates Bannon's theories of economic nationalism but ostensibly is intended to defend Trump and Republicans in the midterms.
The Bannon-centric PR efforts highlight a common undercurrent among factions in Trump's scattered political network: the constant push for attention from a press they love to demonize. America First Action, a super PAC that operates with Trump's blessing, pays several Trump allies, including former White House press secretary Sean Spicer and former Milwaukee County sheriff David Clarke, to serve as spokespersons for Trump's agenda. The Republican National Committee employs Kayleigh McEnany, a prominent TV surrogate for Trump throughout 2016, in a similar role. And Bannon this week found himself at the center of a media spectacle — an opportunity he embraced — when he was uninvited from the New Yorker festival after a handful of celebrities threatened to back out if he took the stage for a planned interview with editor David Remnick.
"It says so much about this world that people who spend all of their time attacking the media, all they want to do all day is be in the media," one former senior Trump administration official said.
Sliwa, when reached Thursday at the telephone number she puts alongside her name in her email pitches, declined to comment about the Bannon group's strategy.
"I don't even want to be mentioned in the article," she said.
Minutes after that exchange, Nunberg called BuzzFeed News again, to plead that a story about the PR campaign not be written, because it would cause "internal" problems.
"I'll never fucking talk to you again," the "completely accessible" Nunberg added. "What is the point of the fucking article?"