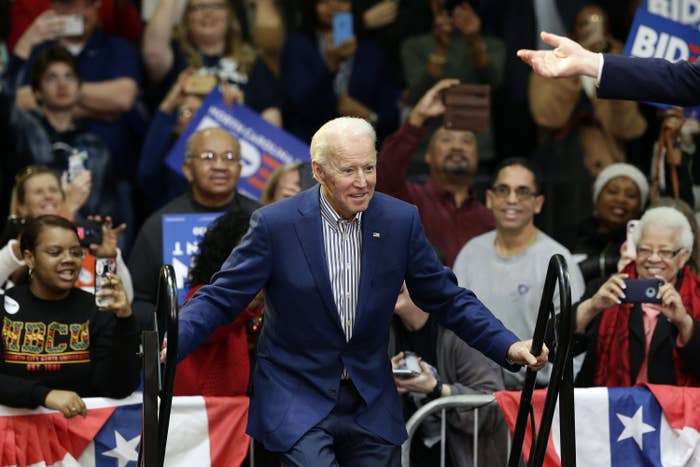 COLUMBIA, South Carolina — There was a moment Friday night in Spartanburg, South Carolina, when the old Joe Biden would have been irritable, defensive, mean.
A woman in the crowd was grilling him about the housing and eviction policies in Atlanta, where the mayor is one of his top surrogates. Biden listened patiently, gently responding when she interrupted: "Would you please let me speak? I'll be happy to answer." When a man nearby began waving a sign in protest, Biden told his alert organizers to let him stay. "I don't mind. This is not a Trump rally. It's OK. He can stay here. We don't kick out. You can hold up all the signs you want; you're entitled to do that. Just let me speak."
Biden talked about the problems that people of color face when gentrification pushes them out of their communities and, when he learned that wasn't the issue on the woman's mind, began talking about flood insurance and eminent domain. And when the woman still wasn't satisfied, he offered to speak with her afterward to get a better understanding.
He didn't challenge her to an IQ test or a push-up contest, didn't call her a "damn liar." Rather, the exchange showed the potential for a new Biden, with a comfort and confidence that was ratified a little more than 24 hours later when the former vice president won South Carolina's Democratic presidential primary.
The victory — Biden's first in his three runs for president, and in a state with more pledged delegates than any that have yet voted — is a significant moment for a campaign that just weeks ago seemed on the ropes. Though the final margin is currently unknown, the race was called by the Associated Press and other outlets immediately as polls closed. His speech to supporters here on the University of South Carolina campus fused together themes he's been pushing for nearly a year, but without the dark notes or verbal slips and meanderings that at times have overshadowed his message.
"We are very much alive!" Biden told supporters gathered for the watch party. "You launched Bill Clinton and Barack Obama to the presidency. Now you're launching our campaign."
The win is a relief for Biden and his allies, who had suffered through shaky performances and weak finishes in the first three contests.
"I think he realized it was time to shit or get off the pot, and he did," Amanda Loveday, an adviser to the pro-Biden Unite the Country super PAC, told BuzzFeed News. "And he realized that it was time to show that he was the candidate we as Biden supporters know that he is."

South Carolina was supposed to be the firewall that reaffirmed him as the frontrunner — until it needed to be his better-late-than-never launchpad to Super Tuesday, the day next week when 15 states and territories vote.
The race now moves on to that uncertain phase, where polls and past results show Bernie Sanders is the one to beat, and where Biden and other candidates could split the votes of those looking for an alternative to the Vermont senator. The others include former New York City mayor Michael Bloomberg, who skipped the early primaries and caucuses and has spent hundreds of millions of dollars of his personal fortune to make a splashy Super Tuesday debut. There's also former South Bend mayor Pete Buttigieg, who like Biden and Bloomberg appeals to moderate voters, but after strong showings in Iowa and New Hampshire has failed to win over voters of color. And Amy Klobuchar, who surprised by finishing near Biden in Iowa and passing him in New Hampshire, is campaigning hard for similar voters, including in her home state of Minnesota.
TJ Ducklo, a Biden spokesperson, suggested Saturday that it was time for other candidates positioning themselves as alternatives to Sanders to consider ending their campaigns.
"If you are a candidate and you have not shown that you can get traction with the core of the Democratic Party, with African American voters, then you have to take a hard look at your path and what your goals are," Ducklo told BuzzFeed News.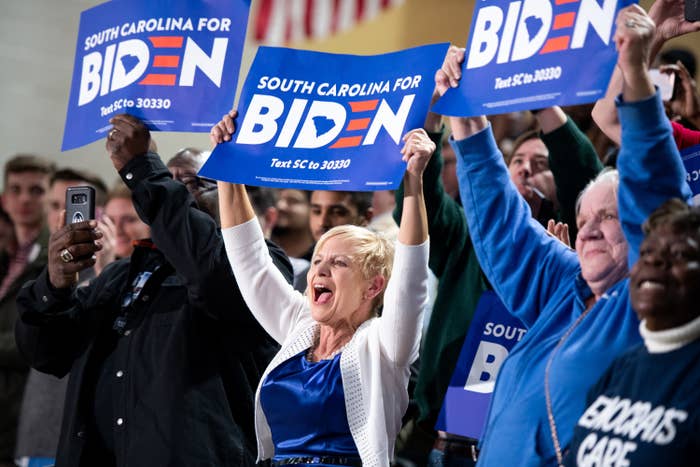 That's why South Carolina, a state where the majority of the Democratic electorate is black, was so important to Biden. Polls consistently showed him as the top candidate with black voters; after his big losses in Iowa and New Hampshire (followed by a distant second-place finish in Nevada last week), Biden argued the race could not really begin until more people of color cast ballots. He was counting on a large South Carolina win — some of his supporters expected double digits — to elevate him over Bloomberg and Buttigieg and turn the race into a one-on-one with Sanders. One Biden loyalist said polls already were improving for him in several upcoming states and that Saturday's success "will exponentially grow it."
Fundraising remains a concern, though, especially given the amounts Bloomberg is spending and Sanders is raising. In the days following this week's debate in Charleston, Biden raised about $2 million, a sum that won't turn him into a big spender but could expand a six-figure paid television, radio, and digital advertising plan that targets eight of the Super Tuesday states. Sanders, who raised $25 million in January alone, is more than capable of eclipsing that accomplishment.
Unite the Country also has seen a cash boost, Loveday said. The super PAC raised $2.5 million between Thursday and Friday — enough to grow a six-figure digital and radio ad plan for Super Tuesday into a seven-figure push. Loveday credits Biden's debate performance, seen by many as his best in months.
"We saw folks who were kind of sitting on their hands before the South Carolina debate get off their hands after," Loveday said. "This type of confident demeanor and momentum is really turning the donors around."
Biden's realistic goal is not to win states Tuesday. Polls show Sanders leading California, the state with the most delegates, by a margin that could leave the rest of the field below a 15% threshold and ineligible for at-large delegates. Two other candidates, Klobuchar and Elizabeth Warren, could have the home field advantage in Minnesota and Massachusetts. Biden and other candidates hope to be competitive in many of the Super Tuesday congressional districts, which award convention delegates individually, also typically based on a 15% threshold. He has staffers on the ground in every Super Tuesday state and captains recruited for 119 districts. The campaign also has a network of high-profile endorsers to help in some of the biggest cities and media markets: Sen. Tim Kaine of Virginia, Los Angeles Mayor Eric Garcetti, and Reps. Colin Allred and Marc Veasey in Texas.
"Our strategy," Ducklo said, "is to win delegates all across the country instead of one specific state."
Bloomberg, Buttigieg, Klobuchar, Warren, and billionaire Tom Steyer — a factor in South Carolina who is from California — all could split enough votes and delegates with Biden to make Sanders an even sturdier frontrunner after Tuesday. Biden allies would like to see a smaller field, but those who spoke to BuzzFeed News did not call on particular candidates to exit the race.
"I know how difficult it is to pull the plug after so much hard work," said Rep. Tim Ryan, an Ohioan who briefly ran for president before dropping out late last year and endorsing Biden. "But I do think candidates have to reevaluate. It's very important we have a clear, direct argument between the democratic socialist wing and the moderate-left part of the party."
But this is the variable over which Biden has the least control. So he spent his final days in South Carolina sharpening his attacks on the democratic socialist — to reframe the race as a two-person fight with Sanders — and by turning South Carolina into a home game of his own. On Wednesday he clinched an endorsement from House Majority Whip Jim Clyburn, the most influential Democrat in the state. (Biden being Biden, there were of course some awkward moments, like when he went on a somewhat graphic, if well-intentioned, aside about rape victims and their clothing. And Clyburn hasn't been shy about voicing concerns about the campaign's direction.)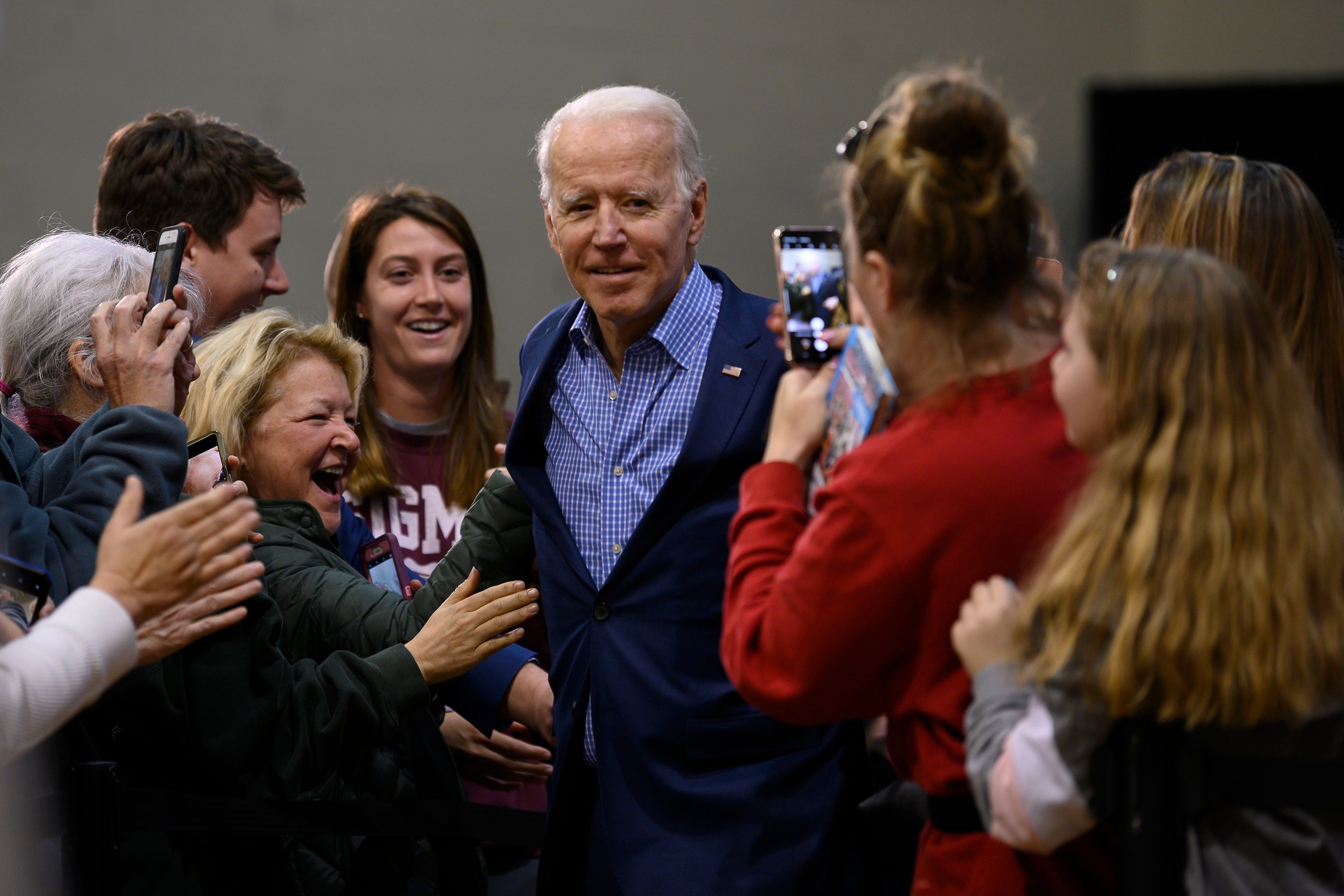 On Friday afternoon in Columbia, outside a barbershop within sight of a gas station named in honor of Barack Obama, Biden went after Sanders on guns, rehashing old votes that the senator now regrets but that once put him to the right of many Democrats. A local food truck serving catfish and hush puppies idled in the parking lot, offering an authentic hospitality that in other places the campaign had to create itself by hiring an ice cream truck.
That night in Spartanburg, where Biden dealt coolly with the woman from Atlanta, volunteers flung Biden T-shirts into the seats inside a basketball arena at Wofford College. Biden at one point invited children in the crowd to sit onstage as he spoke. And he spoke for an hour and a half — longer than usual but without the constantly verbalized fear he was talking too much — a more confident posture he began adopting at the debate three nights earlier. He ended with a 20-minute answer to a question on health care. Throughout, he heard something he had rarely heard at events in other states: the cheery Wooooooooo of an engaged and energetic audience. An elderly man in the audience asked if South Carolinians could claim Biden as their own.
"If the numbers hold up and it turns out that I'm able to win with the numbers they say, I may move to South Carolina," Biden responded, clearly delighted by the notion.
These are the vibes Biden's aides hope will carry over next week.
"He is being himself," Ducklo said, "which is the best thing for our campaign."