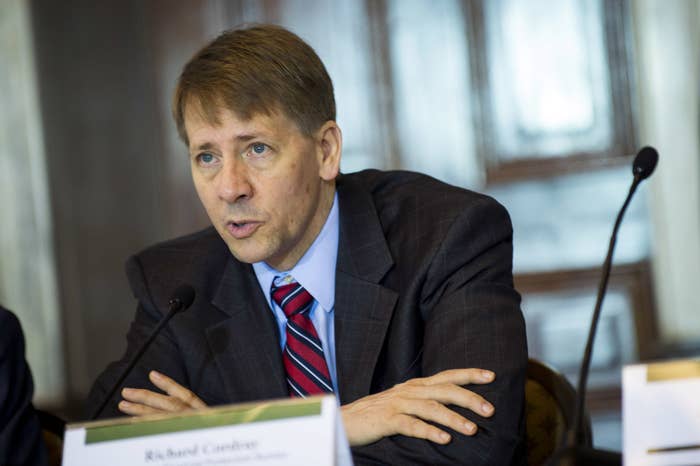 Not all Republicans want to fire Richard Cordray.
Some do: House Financial Services Committee Chairman Jeb Hensarling this week renewed his call for President Donald Trump to immediately remove Cordray from the Consumer Financial Protection Bureau — something that wouldn't be unexpected from the president. A lot of Republicans want to completely dismantle CFPB, which Elizabeth Warren helped design to essentially police Wall Street.
But in Ohio, Hensarling's demand had GOP operatives again picturing a scenario they'd rather not see: Cordray as next year's Democratic nominee for governor. They acknowledge that Cordray, a former state treasurer and attorney general who has won two statewide elections, would be their toughest opponent.
"Republicans hardly stay awake at night worrying about Richard Cordray," Jai Chabria, a former top adviser to term-limited Gov. John Kasich, told BuzzFeed News.
"But if he was fired by Donald Trump," added Chabria, who is not working with any of the likely GOP candidates, "that would certainly make him more attractive to the Democratic base."
Others close to GOP gubernatorial hopefuls and other party leaders in Ohio requested anonymity to speak candidly.
"He's their best option, no doubt," one party strategist said of Cordray. "He could be a linchpin for a very good ticket if he runs. Certainly beatable, but gives them the best chance in all likelihood, so I'd rather see them have to go about it with" a lesser-known candidate.
Another Republican operative believes Cordray "might be able to clear the field" on the Democratic side, where there are three declared candidates (former state legislator Connie Pillich, former US Rep. Betty Sutton, and Ohio Senate Minority Leader Joe Schiavoni) and at least a half-dozen other prospects.
"I hear a couple of people say, 'I wish they would just let him stay put or drag this out.' Without him, their ticket is really weak," a third Ohio Republican strategist told BuzzFeed News.
Ohio could have a crowded and super-competitive GOP primary for governor in 2018. The field already includes Lt. Gov. Mary Taylor and US Rep. Jim Renacci. Attorney General Mike DeWine and Secretary of State Jon Husted are expected to join the race soon.
Republicans see Cordray as a threat because of the agency's mission and the support it has among progressive activists and donors. Warren became a national figure — and a US senator from Massachusetts — after helping launch the agency under the Dodd-Frank Act and being bypassed for the director's job in part because of strong GOP opposition.
Warren's exit cleared the way for Cordray. But Republicans now are counting on Trump delivering the agency a knockout blow. Some Democrats in Ohio are counting on that, too. With Warren's rise in mind, they believe Trump, if he fires Cordray, would enable him to return home as a political martyr who lost his job for being too tough on Wall Street and the banking industry.
Cordray of course could choose to resign from the job, which prevents him from campaign activity, and begin running for governor. But doing so could accelerate the agency's demise and leave national Democrats blaming Cordray.
"I imagine he feels like he's the last wall against some of the overwhelming excesses of the Trump administration," Cordray ally David Leland, a state legislator and former Ohio Democratic Party chairman, said.
Hensarling addressed Cordray's gubernatorial prospects Wednesday when the director appeared before his committee.
"Mr. Cordray, I know that you are here at our committee's invitation for a statutory appearance, but I'm otherwise surprised to see you here in that, as you well know, there have been many press reports saying that you would have otherwise returned to Ohio to pursue a gubernatorial bid," the Texas congressman said. "Perhaps the rumors of your political aspirations are greatly exaggerated."
Hensarling and other Republicans assert that the agency has failed to help consumers and see Cordray's stewardship as a potential liability in a run for office.
Liz Mair, a national GOP operative who has worked on financial regulatory issues, including some tackled by Cordray's agency, acknowledged Cordray's strengths as a candidate. But she also noted publicized accusations of discrimination and poor record-keeping under his watch.
"Cordray," Mair told BuzzFeed News, "has now for several years presided over an agency that has been plagued by major problems that form an opposition research treasure trove for the Ohio GOP, whether they know it or not."