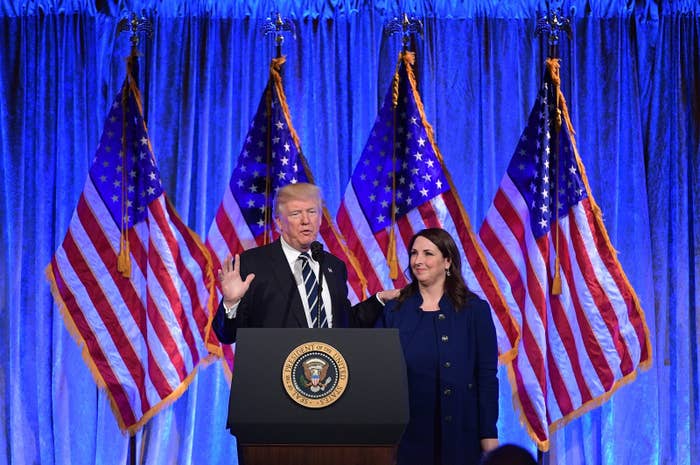 The Fake News Awards were expected to be a surreal, probably riveting Trump event — instead it became a Republican National Committee press release that didn't totally work (many visitors encountered an error page).
Several party operatives on Wednesday night expressed disappointment that the RNC accepted the virtual master-of-ceremonies duties on the president's behalf, and they found the exercise to be the latest example of a national party that's willing to do Trump's bidding, no matter how undignified.

"The RNC has become the dumpster for misplaced shit that's too crazy for the actual White House," one source close to the RNC told BuzzFeed News late Wednesday.

Garrett Ventry, a Republican strategist, questioned the use of party resources.
"I understand the RNC is the political arm of the White House, but this basically wasted research talent and time that could've been used on Democrat opponents and focusing on the 2018 midterms," Ventry said. "There are a lot of good folks over at the RNC. The focus needs to be selling the president and Republicans' accomplishments to voters."
Alex Conant, a GOP strategist who has worked for Sen. Marco Rubio, offered similar thoughts on Twitter:

An RNC official told BuzzFeed News that compiling the information for the web post — a list of stories or reports that Trump deemed biased, unfair, or inaccurate — was not "a heavy lift" and did not require too much of the staff's time. The RNC's hosting of the list "alleviated any potential ethics concerns were something like this to come from the White House," the official said.

Trump vowed more than two weeks ago he would present the awards later in the month. Though the president promoted the event through his Twitter account, the White House officially kept itself at arm's length from the execution.

It's the second time in as many months that the RNC's efforts have come under scrutiny from fellow partisans. In December, Chairwoman Ronna Romney McDaniel resumed its financial support for Roy Moore after Trump reaffirmed his endorsement of the Alabama Senate candidate. Moore had become politically radioactive following accusations of sexual misconduct with teenage girls, and McDaniel initially had suspended the RNC's efforts on his behalf. Some RNC members and other party insiders were unhappy about the reversal.

Trump routinely calls "fake news" on any news coverage he finds unflattering. And the RNC has in the past criticized sloppy reporting, including a botched report last month from ABC's Brian Ross, who was included on the Fake News Awards list. Sen. Jeff Flake, an Arizona Republican and frequent Trump critic, used a Senate floor speech Wednesday to speak out against the president's attacks on the media. McDaniel, signaling allegiance to Trump on the issue, rebuked Flake for comparing the president to Soviet dictator Josef Stalin.
"Sen. Flake, turn on the news," the RNC chairwoman wrote on Twitter. "It's wall-to-wall with biased coverage against @POTUS. He has every right to push back. Comparing the leader of the free world to murderous dictators is absurd. You've gone too far."