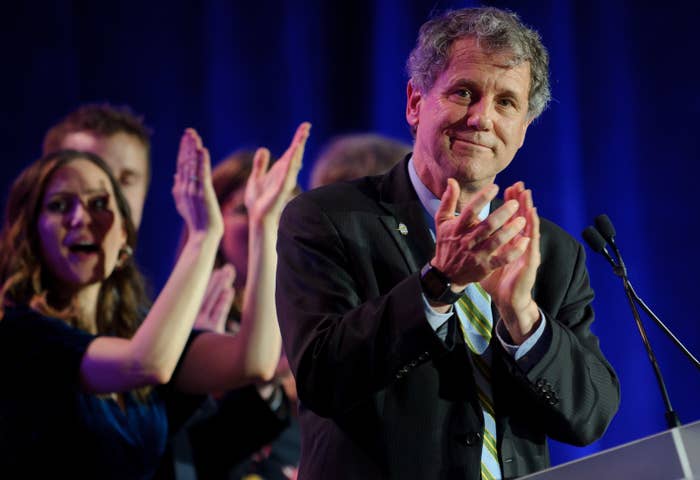 LORDSTOWN, Ohio — Sherrod Brown's decision about running for president could hinge on whether another progressive Democrat can gain traction with an economic message aimed at the working class.
But the Ohio senator — his party's only true star in an electorally important and increasingly Republican state — isn't prepared to declare any of his potential 2020 rivals up for the task.
"I don't really want to judge other candidates, what they're doing, what they're saying," Brown told BuzzFeed News after a Monday rally with organized laborers and auto workers from a General Motors factory outside Youngstown, Ohio. "But I'm concerned. ... I think the most important political decision in my lifetime will be replacing Donald Trump in 2020."
Brown made the comment while discussing factors that will guide his thinking as he and his wife, journalist Connie Schultz, weigh a White House bid. After outlining the personal considerations of how a campaign would change the lives of their children and grandchildren, Brown referred to his Senate reelection victory speech this month — a victory he pointedly offered as a "blueprint" for 2020.
"Is there somebody else that can carry this message?" Brown would ask himself, he said, as he decides whether to run. "My election night speech was really about the message, whether I run or not, that I'm hopeful that ... honoring and respecting the dignity of work will become part of the narrative in other races. If that's done and done well, I would be less likely to run."
He then declined to "judge" or say if any other Democrat was capable of running well with that message.
Monday's rally, at a United Automobile Workers hall two miles from the endangered GM Lordstown assembly plant, is the kind of event Brown allies believe can showcase his unique appeal. Youngstown-area Chamber of Commerce leaders have joined with union workers in an effort to preserve car production in Lordstown. Brown and other local Democrats — including Rep. Tim Ryan, another potential presidential candidate who, like Brown, has a strong reputation with organized labor — shared the stage with local Republicans in part of the state where voters in 2016 responded to Trump's anti-trade nationalism and populism.
Brown and Ryan were stopped repeatedly for photos and conversation before and after the rally. "Good job on Meet the Press yesterday!" one man told Brown as he passed.
Democrats have had little statewide success in Ohio over the past decade, but Brown and Barack Obama are two notable exceptions. Brown's reelection on Nov. 6 was the lone bright spot on a terrible night for the party in what was once considered a must-win battleground. Brown's Ohio success would be a selling point in a 2020 campaign.
Aside from Ryan, former vice president Joe Biden and Massachusetts Sen. Elizabeth Warren are other Democrats who could compete with Brown for progressive populists in the Democratic primaries and with Trump for industrial Midwest voters in the general election. When Meet the Press host Chuck Todd asked Brown on Sunday if Biden or Warren could win Ohio, Brown was more charitable than he was Monday in his interview with BuzzFeed News.
"I think any one of them can win my state if they make that contrast between the phony populism of Donald Trump and the dignity of work and all that we stand for," Brown said.
Brown said Monday that he has no deadline for deciding about 2020. He acknowledged that he might soon visit the states that hold the first nominating contests, but has no plans yet.
"If I travel to Iowa or New Hampshire," he said, "that would be a first step, but not necessarily a final step [that means] I'm doing it."