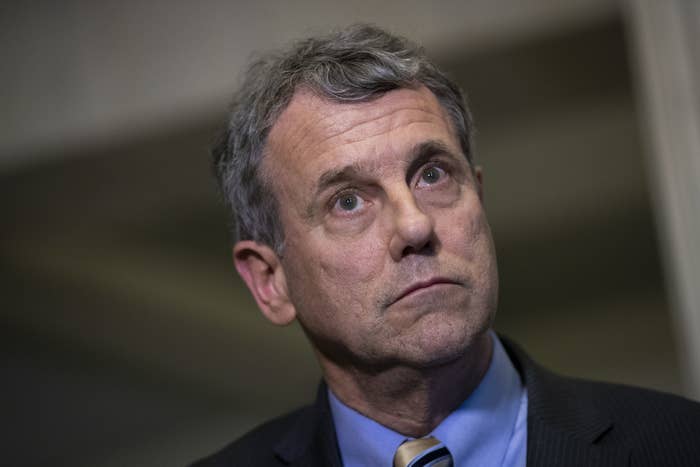 A key ally of Sherrod Brown has quietly launched an organization designed to promote Brown as a presidential candidate, as the Democratic senator from Ohio contemplates a 2020 campaign.
The Committee to Draft Sherrod Brown for President 2020 was incorporated last week by Michael Wager, according to a filing with the Ohio secretary of state's office.
Wager is Brown's former campaign finance chair and a prominent Democratic attorney in Cleveland. He declined to comment on the record when reached Thursday by BuzzFeed News.
Brown has said he is thinking about running in 2020 but has set no timetable for making a decision. The draft committee's existence is a sign that his supporters are preparing for a campaign. Once formally registered with the Federal Election Commission — a step that hadn't been taken as of Thursday afternoon — the group could raise money to help elevate Brown's profile nationally and in early caucus and primary states such as Iowa and New Hampshire.
The Democratic field to take on President Donald Trump could be huge in 2020, with more than a dozen prospects weighing their options. Brown already has a potential foot in the door in Iowa: His Senate chief of staff, Sarah Benzing, is an experienced political operative there. Benzing managed Bruce Braley's unsuccessful Senate bid in 2014 and was a caucus organizer for Al Gore in 2000.
Brown, who last month was reelected to a third term in the Senate, is a liberal with close ties to organized labor and a working-class message. His success in Ohio, which has become more Republican, could appeal to Democrats as they try to win back Pennsylvania and the industrial Midwest states that Trump won in 2016.
Brown raised more than $27 million for his recent Senate campaign and has about $1.8 million remaining, according to a Thursday filing with the FEC.

"Neither Sherrod nor his campaign are involved with the Committee," Justin Barasky, a Brown political adviser, said in a statement to BuzzFeed News when asked about the draft effort. "But Sherrod and Connie" — Brown's wife — "are hearing from many people urging him to run because they know he has the message and the record to beat Donald Trump."

CORRECTION
Sarah Benzing worked on Bruce Braley's 2014 Senate campaign. A previous version of this story misstated the office Braley sought that year.