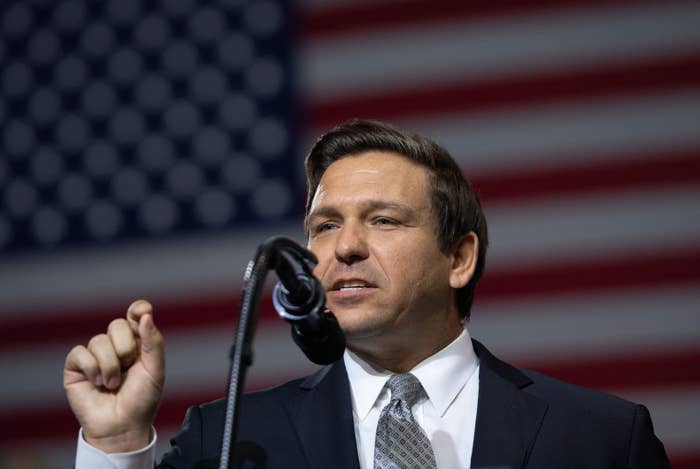 The new Republican nominee for governor in Florida said that a win for his Democratic rival — the state's first black gubernatorial nominee from a major party — would "monkey this up."
Appearing Wednesday morning on Fox News, Rep. Ron DeSantis, who won his primary Tuesday with a strong endorsement from President Donald Trump, also called Andrew Gillum "articulate" — a backhanded compliment often reserved for candidates of color.

"This is a guy who, although he's much too liberal for Florida — I think he's got huge problems with how he's governed Tallahassee — you know, he is an articulate spokesman for those far-left views, and he's a charismatic candidate," DeSantis told anchor Sandra Smith.
He added: "Let's build off the success we've had under Gov. [Rick] Scott. The last thing we need to do is to monkey this up by trying to embrace a socialist agenda with huge tax increases and bankrupting the state. That is not gonna work. That's not gonna be good for Florida."
Gillum, the mayor of Tallahassee, won a close Democratic primary Tuesday with support from Bernie Sanders, the democratic socialist senator from Vermont. In his campaign, Gillum emphasized progressive policy programs with an expanded view of the government.
"Ron DeSantis was obviously talking about Florida not making the wrong decision to embrace the socialist policies that Andrew Gillum espouses," Stephen Lawson, a DeSantis spokesperson, said in an emailed statement that followed an uproar on social media. "To characterize it as anything else is absurd. Florida's economy has been on the move for the last eight years and the last thing we need is a far-left Democrat trying to stop our success."
Smith, who did not question DeSantis about the words he used in the interview, read the statement on air in a later segment.
"A little while ago, we had Ron DeSantis, the Republican nominee for governor in Florida on for an interview to discuss the Florida election," Smith told viewers in the later segment. "During the interview, he made what some are calling an inappropriate comment about his Democratic opponent, Andrew Gillum. ... We do not condone this language and wanted to make our viewers aware that he has since clarified his statement."
Gillum, in a separate appearance on Fox News later Wednesday, was asked if he believed DeSantis' comment to be "racist or a figament of speech."
"Well, in the handbook of Donald Trump they no longer do whistle-calls, they're now using full bull-horns," Gillum responded. He added that he's "not going to get down in the gutter with DeSantis and Trump."
Democrats quickly blasted DeSantis after the Fox News interview.
"It's disgusting," Florida Democratic Party Chair Terrie Rizzo said via email, "that Ron DeSantis is launching his general election campaign with racist dog whistles."
Trump, asked about DeSantis' comment at the White House Wednesday, said he had not heard it because he has "been working on the deal with Canada." But, he added, "Ron DeSantis is extraordinary. Harvard, Yale, brilliant, ran an incredible campaign. Really beat a lot of people that he wasn't supposed to beat because he came into the race and a lot of people didn't know him. He's an extreme talent and he will make a fantastic governor of Florida."