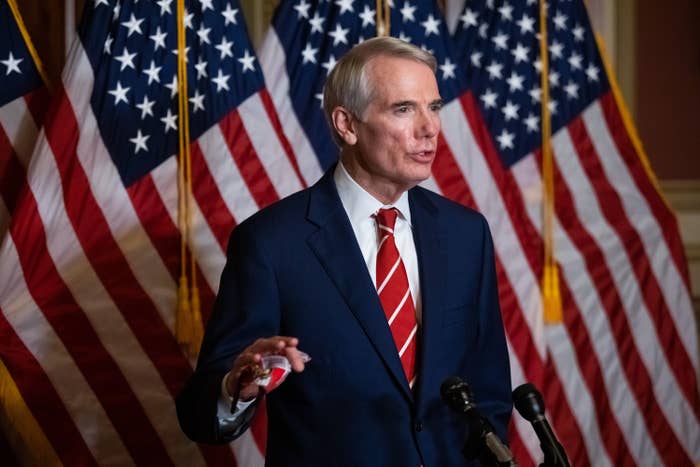 CLEVELAND — Sen. Rob Portman's decision not to seek reelection in 2022 immediately makes Ohio a proving ground for Republicans trying to find their way in the post-Trump political world and for Democrats desperate to show they still can win in an increasingly red state.
Portman — a mild-mannered conservative who navigated Donald Trump's presidency with a mix of bemusement and party-line loyalty — announced his decision Monday.
Some braced themselves for an existential clash involving Rep. Jim Jordan, perhaps Trump's most prominent ally in the House and one who had been floated as a Trump-approved primary challenger to less-friendly statewide Republicans. Portman's news was so surprising, though, that the would-be successors struggled to process the implications in real time.
"Expected Portman to run," Ohio Attorney General Dave Yost, a Republican whose name quickly drew mention, said in a text message to BuzzFeed News.
"Haven't thought about it, candidly," Yost said of the possibility he runs to succeed him.
Another Republican, Lt. Gov. Jon Husted, indicated he would give the race some thought.
"I plan to talk with my family, Governor [Mike] DeWine and Senator Portman before discussing the future," he texted in response to a question about his interest in the seat.
On the Democratic side, Rep. Tim Ryan of the Youngstown area — briefly a presidential candidate in 2020 and always rumored to be looking at statewide races — responded with a shrugging-man emoji when asked if he would take a look at the Senate race. Ryan's team moved quickly, though. About an hour after Portman's announcement, his campaign sent a fundraising email off the news. "We'll be facing competitive races for Senate, governor, and House seats across the state in 2022," the email read. "Tim Ryan is committed to making sure Democrats win back Ohio. Will you chip in today to fund our early ground game?"
"I haven't made a decision yet but I'm looking seriously at it," Ryan tweeted later with a link to the previously emailed fundraising plea. "Ohio deserves leaders who fight for working people."

Dayton Mayor Nan Whaley, who was looking at the Senate and gubernatorial races even before Portman's decision, is "keeping her options open," a Democrat close to her told BuzzFeed News. Whaley recently announced she will not seek another term as mayor, triggering speculation about her statewide ambitions. She launched a brief bid for governor in 2018 but dropped out as Democrats coalesced behind eventual nominee Rich Cordray. And she is close with Sen. Sherrod Brown, who is as near to Democratic royalty as it gets in Ohio.
Ohio Democrats already had been raising money for their eventual nominee against Portman, unhappy with his support for Trump's Supreme Court nominees and other policies. Besides Whaley and Ryan, former Ohio Democratic Party chair David Pepper and Dr. Amy Acton, who served as DeWine's public health director until last summer and has been courted by progressive activists, have been mentioned as potential candidates for the Senate seat. (Acton volunteered for Barack Obama in 2008 and has voted in Democratic primaries in Ohio.) Another prospect, Danny O'Connor, an elected officeholder in Franklin County, which includes Columbus, told BuzzFeed News he was "just taking in the news" after Portman's announcement.
One Democrat took herself decisively out of the running. Former Ohio state senator Nina Turner, a top official on Bernie Sanders' presidential campaigns, will continue campaigning for the US House seat expected to open when Rep. Marcia Fudge is confirmed as the US secretary of Housing and Urban Development.
"Our campaign has received a number of calls urging Nina Turner to run for the US Senate," Turner campaign manager Liz Shirey said in an emailed statement. "Nina Turner is committed to the people of Cleveland and Akron and to her campaign for the US House seat being vacated by Congresswoman Marcia Fudge."
Jordan's decision will be a wild card for both parties. Trump had previously hinted that he would like to see DeWine primaried, with Jordan appearing to be a top candidate. Democrats are especially interested in Jordan's intentions, said one party strategist in Ohio, because they see his presence in either primary weakening whichever Republican emerges, including himself. Jordan and a spokesperson did not immediately respond to messages and requests for comment Monday.
The Republican primary could be super competitive, with a deep bench of statewide officeholders and members of Congress likely to give the race a long look. "Well," one Republican strategist told BuzzFeed News, "this will be a total shitshow."
Several Republican operatives mentioned Josh Mandel, the former state treasurer and Marine Corps veteran who lost a Senate race to Brown in 2012 and withdrew from the 2018 primary for the seat, citing health issues with his then-wife, whom he divorced last year. Mandel still has more than $4 million in his federal campaign account. He issued a statement Monday saying he will "consider very seriously" running in 2022.
Michael Gibbons, a self-funding investment banker from Cleveland who lost the 2018 primary for Brown's seat, is interested in running again, a Republican close to him said Monday. Other Republicans talked up Ohio Republican Party Chair Jane Timken and J.D. Vance, the Ohio native and author of Hillbilly Elegy, the bestselling memoir recently turned into a Netflix film. Vance considered running in 2018, too.
Another Republican possibility is Ohio Secretary of State Frank LaRose, an Army veteran who has straddled the party divide in the state. LaRose was a top aide on former governor John Kasich's presidential campaign and later helped with advance and logistics work on Trump's 2017 inauguration. LaRose did not respond to a request for comment Monday. But a text message from his spokesperson, Jon Keeling, read like 2022 campaign literature.
"Since he returned from full-time military service and began his career in public service, Secretary LaRose has been considered a rising star for higher office by Republican stalwarts and Conservative leaders," Keeling said. "Currently he's coming off running the most successful election in state history under the most challenging of circumstances. The filing deadline is still a year away and Secretary LaRose's focus right now is on finding ways to improve upon Ohio's success, so we can continue to thrive as a national model long into the future."