RNC Chairwoman Comes Out Stronger Than Trump Against White Supremacists
"This is an American issue," Ronna Romney McDaniel said on Monday — the third time in as many days that she's been more forceful than the president in response to racist rallies around a Confederate monument in Charlottesville, Virginia. "I'm a mom. I don't want my kids growing up in a country that says this is OK."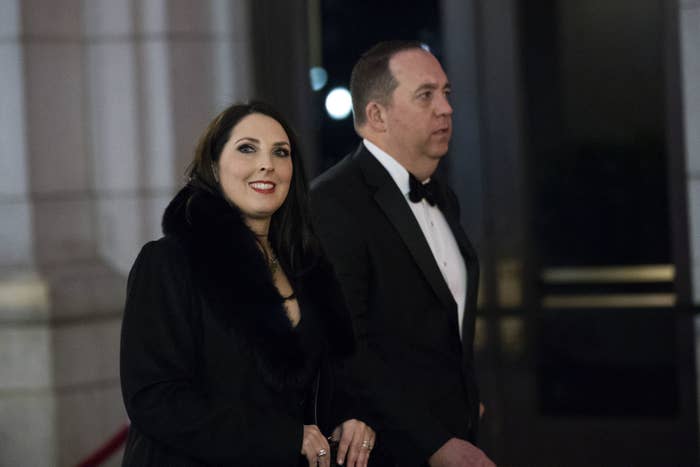 In a rare break with President Donald Trump, Republican National Chairwoman Ronna Romney McDaniel explicitly condemned the racist angle of weekend rallies and protests around a Confederate statue in Charlottesville, Virginia, multiple times before Trump did so himself.
At an event on Monday in Detroit, McDaniel made clear that she expected the president to follow her lead and speak out more forcefully on the violent, deadly incidents soon. (He did so later on Monday, in remarks at the White House.)
"The president is going to have a conversation today," McDaniel said while addressing reporters at a roundtable with black leaders — an event planned before the Charlottesville unrest.
Chad Livengood, a reporter for Crain's Detroit Business, shared video of the remarks on Twitter.
Trump, McDaniel said, "obviously this weekend denounced bigotry and racism and hate in all its forms, and today I think he'll go even further. The vice president did yesterday. It is important that we address that white supremacy, neo-Nazi, KKK. Any type of hate and bigotry is not welcome, not just in our party, but in our country. And all of our leaders have to do that across party lines. And we have to unite together. This isn't a partisan issue. This is an American issue. I'm a mom. I don't want my kids growing up in a country that says this is OK. So we have to have that conversation, and I think the president will address that forcefully today."
A few hours after McDaniel's remarks, Trump condemned racism as "evil" and singled out white supremacists and neo-Nazis.
White supremacists and neo-Nazis were among those protesting the upcoming removal of a statue commemorating Confederate Gen. Robert E. Lee. One counterdemonstrator was killed after a car plowed into a crowd. Two state troopers died in a helicopter crash during the unrest.
Trump, whose presidential campaign offered racialized rhetoric and counted white nationalists among its supporters, issued a response on Saturday that did not call out white supremacists — and instead criticized the "hated, bigotry, and violence on many sides."
Reporters in Detroit asked McDaniel, the past chairwoman of the Michigan Republican Party who has become one of Trump's staunchest defenders, if the president should have been more forceful sooner.
"His comments came right during the events," McDaniel replied. "And he did say that it is egregious, hate is unacceptable, bigotry is unacceptable. I think that defines what white supremacy stands for — hate and bigotry. Today, I think he'll address those in a more specific way now that we know what happened on the ground."
It's the third time in as many days that McDaniel has been more direct than Trump or some others in her party have been about the racially charged aspects surrounding the defense of Confederate symbols. On Saturday, for example, she was among the first Republican leaders to call out the protesters in Charlottesville unequivocally. Republican senators like Ted Cruz, Cory Gardner, and Orrin Hatch have also strongly condemned the actions of white supremacists.
And on Sunday, in a statement to BuzzFeed News for a story on whether the events in Charlottesville will change GOP attitudes on Confederate nostalgia, McDaniel proclaimed: "We are the Party of Lincoln and a party that stands against divisive and hurtful symbols. As Americans we can find ways to preserve our history but only if we are working toward an inclusive future that separates us from a hateful past."
RNC officials have not specified whether McDaniel was denouncing all Confederate symbols.