The RNC Chair Has Walked Back A Threatening Tweet Aimed At Donald Trump Critics
By Thursday morning, the tweet had achieved a beastly ratio of more than 22,000 replies to 1,600 retweets.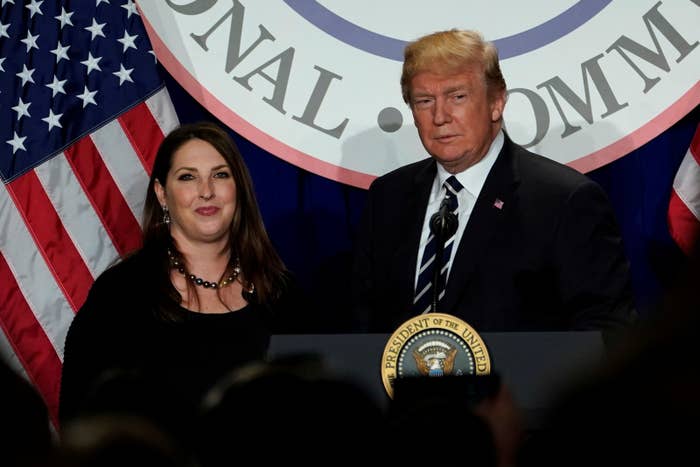 The chair of the Republican National Committee is trying to clarify what many viewed as a threat of strongarm tactics against Donald Trump's opponents.
"Complacency is our enemy," Ronna McDaniel posted Wednesday night on Twitter. "Anyone that does not embrace the @realDonaldTrump agenda of making America great again will be making a mistake."
The tweet quickly ricocheted around Twitter and by Thursday morning had achieved a beastly ratio of more than 22,000 replies — many of them critical of McDaniel — to 1,600 retweets.
"I'm old enough to remember when Ronna Romney McDaniel spoke in a way befitting a citizen of a free republic, before Ronna McDaniel started sounding like a spokesperson for an authoritarian government," tweeted Bill Kristol, the conservative commentator and a leading anti-Trump voice who has been encouraging a primary challenge in 2020.
McDaniel's tweet appeared to be reconstructed from a different context, during an interview she did the evening before on Fox Business Network's Lou Dobbs Tonight. More than 12 hours after the missive — and only after first tweeting birthday wishes to Trump — she attempted a walk-back by posting a transcript from the appearance, which she said "didn't translate well with a 240-character limit."
On Wednesday night and Thursday morning, RNC officials reached by BuzzFeed News declined to elaborate on the tweet or how it was posted in such a threatening context.
The timing of the tweet fueled suspicions about McDaniel's motivations. It came a day after Rep. Mark Sanford, one of Trump's most pointed intra-party critics, lost a primary in South Carolina, and as Trump endured a fresh round of scrutiny for downplaying the murderous tactics of North Korea's Kim Jong Un.
The tweet also appeared to be an escalation of McDaniel's hyperpartisan rhetoric. She has been viewed suspiciously by some Trump loyalists because of the birth name she until recently used professionally — she's the niece of sometime Trump critic Mitt Romney — but has adopted Trump's style of antagonism and hyperbole. ("Democrats hate our president more than they love our country," McDaniel has said on more than one occasion.)
In context, McDaniel's original remarks Tuesday on Fox Business were not combative. Dobbs spent much of the segment hammering Paul Ryan, the Republican House speaker. McDaniel, after ignoring many of Dobbs' attacks, finally offered a mild defense.
"Well, I know that the president talks to the speaker often, and the speaker — the House has delivered some really good legislation this year," McDaniel said before pivoting to the complacency talking point that became the Wednesday tweet.
"We have got a lot more to do, and we cannot risk losing that in these midterms," she added. "So, complacency is going to be our enemy, and anyone who doesn't embrace the Trump agenda and doesn't recognize the issues that propelled us to victory in the White House is going to be making a mistake. We have got to talk about jobs, we have got to talk about the economy, we have got to talk about fair trade. That is an important part of our success. We have got to talk about immigration and the wall and our borders, and those are going to be things our voters are going to expect to hear from all of our candidates."