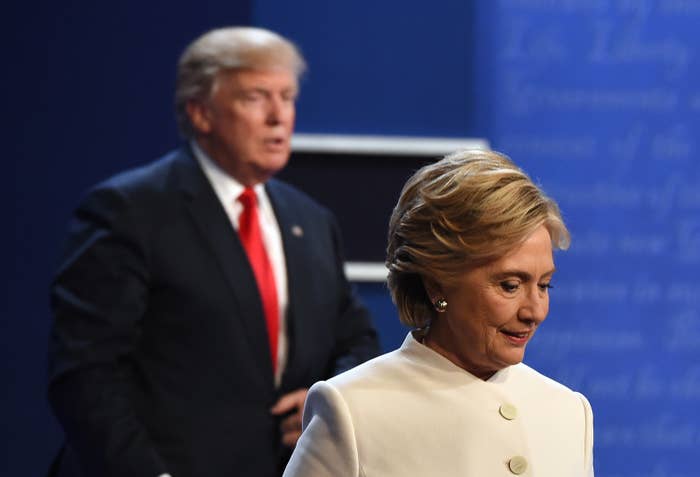 Two years ago, dozens of prominent Republicans broke with their party to endorse Democrat Hillary Clinton or declare their plans to vote for her for president over Donald Trump.

Trump won, Clinton largely retreated from public life, and now these Republicans — officials from past White House administrations, former governors, former members of Congress, veterans of national campaigns — are politically homeless.
With Trump already raising money for his reelection campaign and Democrats drifting toward the populist and socialist sentiments that have elevated Bernie Sanders and Alexandria Ocasio-Cortez, BuzzFeed News recently reached out to many of these Republicans for Hillary. Most of those who responded remain unsatisfied with Trump. But they are not optimistic about the feasibility of a Republican primary challenge, and many are not prepared to get behind another Democrat.
Many also are waiting on two developments: the November midterms and the completion of special counsel Robert Mueller's probe into Russian interference in the 2016 elections. The results of both could further weaken Trump's presidency and his bid for a second term.
"I believe Mr. Trump has been harmful to our society," said Richard Armitage, a deputy secretary of state under George W. Bush who backed Clinton. "Let's get past the midterms and see who emerges on either side of the aisle, and I'll be more able to answer your questions then."
These Republicans know they represent a minority of their party: Polls show that Trump remains overwhelmingly popular with the base. A primary challenge would be tricky, especially with the Republican National Committee closing rank around the president to discourage challengers.
"There's obviously a slice of Republicans alienated from the party," said Frank Lavin, a political director in the Reagan White House who also held positions in the George H.W. and George W. Bush administrations. "Is there space in the spectrum for that? Beats me. … I would tell anybody who wants to go down that path: Just keep your powder dry and see what happens. You run the risk right now if you're unhappy with Donald Trump of being diminished a bit as malcontent."
Doug Elmets, a Reagan spokesperson and speechwriter who proclaimed his support for Clinton at the 2016 Democratic National Convention, agreed.
"I think there are people who are probably lying in wait, but reluctant to get out in front too far, for a variety of reasons," he said. "They don't want to become meat for his grinder too early. Also, I think they want to see where the Mueller probe goes."
Christine Todd Whitman, the former New Jersey governor and Environmental Protection Agency administrator under George W. Bush, said she "would hope that a credible Republican would take [Trump] on."
But Whitman worries that "a reputable Republican who wanted to give a viable challenge may feel they have to go outside the party structure," to avoid running afoul of "sore-loser" laws that could limit state-by-state ballot access for any failed primary candidate who later decided to run as an independent or for a third party. That brings another set of challenges, such as fundraising and qualifying for nationally televised debates.
"In other words," he said, "I'm one of those bland centrists."
Larry Pressler, a former Republican senator from South Dakota who also endorsed Barack Obama in 2008, described himself in an email as "part of the silent majority … who might not like Donald Trump's tweets, but recognize his administration is making some solid accomplishments." But Pressler — who now writes columns for the Deseret News in Utah and emphasized that he is no longer "much of a player" in politics — also said he would "be delighted" with someone like Republican Sen. Rob Portman of Ohio or Democratic Sen. Mark Warner of Virginia running for president.
"In other words," he said, "I'm one of those bland centrists."
So how about a Democrat?
Claudine Schneider, a former congressional representative from Rhode Island, said Clinton was the first Democrat she publicly supported for president. This year, though, Schneider is supporting Democratic House candidates in Colorado, where she now lives. She calls the November midterms "the most important election of our lifetime."
"Both the media and the donors have to minimize their [attention to] the president, period, and now shift their focus to the House and Senate races," she said. "Basically we have to educate voters about Congress. I think at this time they have to understand the balance of power, and number one, that Congress could put the brakes on what is happening in the White House."
But Schneider stopped short of saying she's backing Democrats with impeachment in mind.
"I have never witnessed a person in public life who has told so many lies, and this is so detrimental to our democracy," she said of Trump. "Impeachment proceedings proceed on the facts, and I do not have all the facts right now. So for me to say, 'Let's impeach,' is inappropriate."
Schneider said she was not concerned about the Democratic Party's potential lurch to the left, with Sanders, Ocasio-Cortez, and Massachusetts Sen. Elizabeth Warren emerging as key thought and policy leaders.
"In terms of the election, whatever works," she said. "As long as it's honest."
But in this regard, Schneider is rare among the Clinton-backing Republicans.
"Both parties are moving to the extremes, which is bad for the country," Whitman said. "The way to get both back is for people to start voting in primaries and working within parties rather than moving to be unaffiliated. Try to find the party that suits you the best and try to get it back to the place where it should be."
Lavin, the former Reagan White House political director, is turned off by the rise of Ocasio-Cortez, who stunned the political world in June by beating Rep. Joe Crowley in New York's Democratic primary.
"The Democrats play right into Trump's hands by going hard left," Lavin said. "Who in the Democratic Party can talk to the guy on the factory floor? What's her name from Queens? They'd say, 'You've got to be kidding me.'"
Lavin sees former vice president Joe Biden, who has shown interest in running for president in 2020, as possibly fitting that description. But Clinton appealed to many of these rogue Republicans in 2016 not because of her relatability to the working class, but because of her more centrist past politics, her hawkish foreign policy, and her presumed electability.
For at least one Republican for Hillary, the dream won't die. Elmets, who once wrote words for Ronald Reagan, recently has kicked around the idea of writing an op-ed to express support for another Clinton presidential bid.
"Ronald Reagan ran for president three times before he was elected," Elmets said. "Hillary Clinton has a couple more arrows in her quiver as far as I'm concerned. She is the most qualified person to be president of the United States. … She is, of all the candidates I've heard as likely so far, the one that is more of a mainstream candidate. Obviously Kamala Harris, Bernie Sanders, Elizabeth Warren — they might do well in the primary, but I think ultimately she is the most capable."