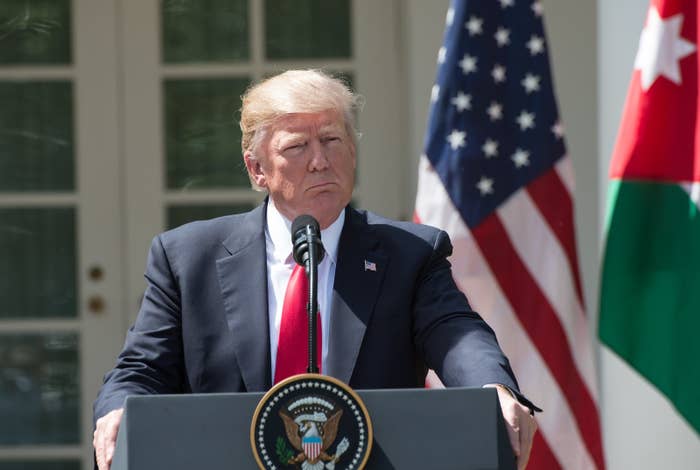 The White House is in constant crisis mode 118 days into Donald Trump's presidency — and Republicans on the outside are worrying over their panicked friends on the inside.
Tuesday's New York Times report that Trump urged then–FBI director James Comey to drop an investigation of former national security adviser Michael Flynn continued a torrent of bad news that has been flowing since Trump's stunning firing of Comey a week earlier.
Staffers have been heard shouting behind closed doors. The Times, in a separate story, described West Wing aides "in glassy-eyed shock." A Politico account presented a "White House on edge" and quoted one official "hoping the president doesn't tweet."
It's the kind of situation that prompts the question: Why don't people quit now?
Republicans who spoke to BuzzFeed News say the angst is very real. ("A shitshow," said one Republican operative with friends in the White House who, like others, requested anonymity to offer candid thoughts and details of their conversations.)
But, for various reasons, they don't see a mass exodus — voluntary or involuntary — coming any time soon.
For one thing, many who joined Trump in the White House are true believers who worked on his campaign, which did not attract top-level GOP talent. ("It's not like it's the A-team over there," a Republican strategist said.) The reputations of some prominent aides may already be so joined to the Trump administration that seeing it through is a better strategy. And, they said, junior-level staffers may be better off gritting it out and trying to learn from a daily course in crisis management rather than risk looking disloyal to future employers.
White House officials looking to make personnel changes have a problem too.
"Everyone just assumes everyone is going to be fired. So fire everyone, great. But who is going to replace them?" said one Republican operative, suggesting that, right now, an open job in the Trump administration isn't all that appealing to anyone who would be qualified for it.
So what should Republicans on the inside do?
Staffers at even the lower levels must worry about subpoenas and attorney fees as hearings over the conduct of Trump and his closest counselors become more likely, one Republican White House veteran told BuzzFeed News.
"My suspicion is a lot of people who work for Trump have not been through the meat grinder before, and this is all new to them," this Republican said. "It freaks people out, stresses people out, and it's hard to focus on your real work. It's like a piano on a wire hanging over your head."
The former White House aide said he has advised several friends in the Trump administration to tread carefully on the legal front. "Don't treat it flippantly," the former aide said.
"I would counsel people to just take a deep breath, but this could get real expensive real fast. If you get called to testify or are deposed, you can rack up some big bills pretty quickly."
Besides proving loyalty, which ultimately could be of dubious worth in a Trump administration, some Republicans see a redeeming factor to staying put. For younger staffers or others outside the public eye and free of blame, this could be invaluable experience early in their careers.
"While it's been rough sailing for the last few weeks, the feeling is, 'Welcome to the NFL,'" said Ron Bonjean, a Republican consultant with close ties to the White House. "They know they're at history's doorstep. The hours suck. It's not always a friendly environment, but most of the White House staff are pretty young and built for the mileage."
Said another GOP strategist: "If you have a policy portfolio, there's a lot of merit in continuing to plug away. You really can have an impact on something that might seem small to people reading the New York Times, but it's big to people in certain sectors. If you're a young deputy press secretary working there right now, you're getting very, very good experience in horrible crisis situations every day. In many circumstances, you're seeing lessons of what not to do."
But these Republicans and others outside the White House are careful about offering any unsolicited advice.
"Anybody who watched that campaign and didn't walk away with a sufficient fear of the inevitable — I'm not surprised where we are, to tell you the truth," the strategist said.
Even staffers determined to leave might be stuck. Asked if people might quit voluntarily, one operative replied: "Where are they going to go? Is there a state senate race in Ohio to work on?"
Another party operative who visited the White House recently saw no signs of imminent defections. "The White House is challenging, and everyone knew that going in, but I haven't seen anything like, 'Hey, this is my resume, help me out.'"
One former GOP operative who has friends in the White House said "these guys knew what they were signing up for" and doesn't expect them to jump ship.
"Frankly, man, it's a strain on friendships."