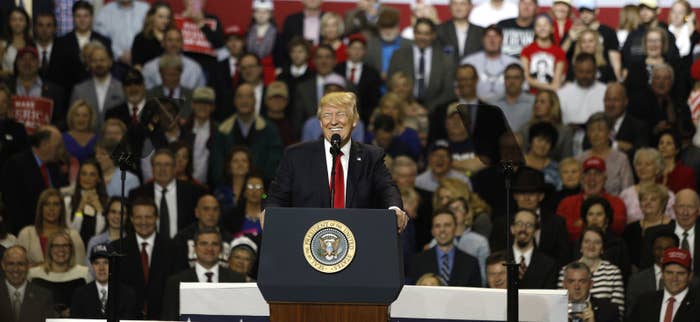 Republicans, Democrats, and the political media alike are watching a series of special elections over the next weeks that could end up putting into motion significant resources, recruitment efforts, and new narratives about President Donald Trump's popularity.
Some tricky political questions — how much Trump will remake the party ideologically, how closely will candidates tie themselves to him — are already factoring into special elections in Kansas and Georgia.
But a key and unpredictable factor looms over the 2018 midterms, and especially the primaries: Donald Trump. Presidents typically don't busy themselves with midterm primaries. But Trump revels in unpredictability. He loves to campaign. He loves the speech to the big rally audience. And he loves to strike back at those who have wronged him and distanced themselves from him.
Many of the more than 15 GOP officials, operatives, and candidates interviewed for this story described the prospect of Trump getting involved similarly: It would be a surprise from anyone other than Trump.
"I think there's a high likelihood" Trump endorses in GOP primaries, Robert Graham, a Trump ally and former Arizona Republican Party chairman, told BuzzFeed News. "He's unapologetic, he's a strong leader, and he's confident in his opinion. I wouldn't be surprised."
Graham said there have been "plenty of discussions and plenty of promised support" from Trump-aligned donors to back a serious primary challenge to Arizona Sen. Jeff Flake, one of Trump's most vocal critics last year. Graham said he has been encouraged to consider running for the seat, but not by Trump or anyone at the upper levels of the president's political network.
Trump has raised expectations for such confrontations. There was a White House aide's tweet calling for the defeat of Michigan Rep. Justin Amash, a House Freedom Caucus member who's become a thorn in Trump's side. Then there was Trump's involvement, in the weeks before his inauguration, in the messy fight for control of the Ohio Republican Party. By making personal phone calls on behalf of his favored candidate, Trump helped unseat a chairman who had been loyal to Gov. John Kasich, who had refused to endorse or even vote for Trump in the general election.
Questions about Trump's coattails of course will exist after Tuesday, when Republicans had more trouble than they should have defending a House seat up for grabs in the special election in Kansas. Trump and Vice President Mike Pence taped robo-calls for Ron Estes as part of a last-minute rescue mission. Though many point to Trump's low approval ratings, plenty in the party blame the tight race more on Sam Brownback, the state's unpopular Republican governor, than on the president.
Aaron Trost, Estes' general consultant, told BuzzFeed News that all it took to enlist Trump and Pence was a request to White House political director.
"And they did a phenomenal job and I think it was really big help," Trost said.
Trump's status as leader of his party complicates the 2018 calculus. Though his poor overall poll numbers would be a potential liability in a general election, for the moment he remains popular with GOP voters.

"It remains to be seen how transferable Trump's cult of personality is to candidates he might back in either a GOP primary or general election," Jeff Sadosky, a Republican consultant and former top adviser to Sen. Rob Portman of Ohio, told BuzzFeed News.
Regardless of what Trump decides to do — or not do — in the 2018 primaries, the speculation that he or his close allies will assert themselves already is changing the style and substance of Republican races. The establishment vs. Tea Party battle lines that existed in the 2010 and 2014 midterms have given way to a pro-Trump vs. anti-Trump (or, more likely, less-pro-Trump) construct.
There has been an emergence of Trump clones eager to gain favor with the president's supporters, if not the president himself. Other candidates are subtler about it but believe their past loyalty to Trump will pay dividends, in a he-knows-who-his-friends-are kind of way.
Republicans pinpoint two 2018 primaries where Trump or those closest to him are most likely to play: Flake's re-election bid in Arizona and the South Carolina governor's race.
Representatives for Flake did not respond to requests for comment. In a November interview with The Arizona Republic, he shrugged off early polling that showed him vulnerable.
One veteran GOP operative, who like others requested anonymity to speak about party affairs candidly, told BuzzFeed News that Trump allies at the Republican National Committee are buzzing about targeting Flake. Others interviewed were skeptical that the RNC would go through with it. Many have trouble picturing how such scenario would work.
"It's one thing to tweet it," one Republican said. "It's another to actually do it."
Unless Trump himself is willing to help raise money for a chosen challenger or to fly into Arizona on Air Force One for campaign rallies, Flake could be tough to beat.
Other groups such as the National Republican Senatorial Committee operate as incumbent-retention organizations. It wouldn't be a surprise if Flake got extra-special attention from the NRSC, where his former campaign manager now serves as political director.
The idea of the RNC and NRSC being at odds in a red-state primary featuring an incumbent is wildly different from how the party structures traditionally operate — and the idea seemed implausible to some party insiders. For similar reasons, threats against Amash and other House Freedom Caucus members ring even hollower to insiders.
Regardless, Flake friends and foes agree the party needs to emerge with a strong nominee, citing speculation that Democratic Rep. Kyrsten Sinema, whom they believe would be a formidable opponent, will run for the seat. The only announced challenger on the GOP side is Kelli Ward, a former state lawmaker who last year lost a primary to Sen. John McCain. Ward's performance in that race is why others are looking to Graham, the former state party chairman, or to Jeff DeWit, the state treasurer. Graham said he would not run if DeWit, a fellow Trump ally, does.
Ward told BuzzFeed News that a key motivation for her campaign is how "openly antagonistic" Flake has been to Trump. But she is not getting her hopes up for a presidential assist.
"I haven't seen how many sitting presidents have come in to participate in a primary," Ward said. "Donald Trump is different. You never know what he's going to do. I don't have an expectation he's going to swoop in and say, 'Vote for Kelli Ward.' I'd be happy if he did, of course."
In South Carolina, meanwhile, GOP watchers are expecting Trump to help an incumbent.
Henry McMaster, who at the time was serving as lieutenant governor, was one of the first high-profile elected officials in the country to endorse Trump's campaign last year. After the president picked Nikki Haley to be his United Nations ambassador, McMaster ascended to the governor's chair. Now he is facing a potentially tough primary in his bid to keep it.
McMaster has faced some recent bad news: The State and The Post and Courier in Charleston have reported that state investigators are asking questions about McMaster's longtime political consultant. And the governor has drawn a credible primary challenger in Catherine Templeton, who served in Haley's cabinet and was in the mix to be Trump's labor secretary.
Templeton's backers include businessman Mikee Johnson, a key activist and Haley ally who is helping her raise money. Johnson acknowledged to BuzzFeed News the speculation that Trump might reward McMaster for his support in an early presidential primary state.
"There might be some of that coming back," Johnson said when asked about the dynamic. "But I guess I would find it hard to believe the president has the time to come to a solid red state and campaign for a guy who has been in politics as long as McMaster has been."
McMaster's representatives did not respond to requests for comment.
Gubernatorial primaries in Michigan and Ohio also provide tempting opportunities to reciprocate.
Michigan won a special place in Trump's heart — "love," he declared in a tweet before visiting Detroit last month — after he became the first Republican presidential candidate to win there in 2018. Trump picked the state party's chairwoman, Ronna Romney McDaniel, to lead the RNC. A Trump fundraiser, with the backing of top Trump advisers, took over for McDaniel.
The two top GOP contenders for governor there in 2018, Lt. Brian Calley and Attorney General Bill Schuette, supported decidedly non-Trumpian candidates in last year's primaries. Calley went in big for Kasich, Schuette for Jeb Bush. Both later backed Trump. But Calley revoked his endorsement after the release of a 2005 recording in which Trump is heard speaking of women in crude terms that many have likened to sexual assault.
"The Trump administration has a keen interest in making sure the blue wall stays demolished," Schuette told BuzzFeed News. Trump is "very aware I helped. I didn't abandon the party."
Pressed later about whether Schuette was expecting an endorsement from Trump, a spokeswoman replied via email: "As far as an endorsement goes, I can't really answer that. But I can say that the president knows who stood by him, and who didn't."
In Ohio, where Trump already has shown a willingness to engage against Kasich allies, three sitting statewide officeholders and a sitting congressman are preparing for the GOP primary for governor. Only the congressman, Jim Renacci, enthusiastically supported Trump. Rob Scott, a top Renacci adviser, served in the high command of Trump's Ohio campaign last year.
"President Trump is his own person, and if he weighs in, he weighs in," Scott told BuzzFeed News. "Congressman Renacci is gaining major ground in Ohio with folks who were involved in the Trump campaign at the county level. I know the other campaigns are getting worried."
Alexis Levinson contributed reporting to this story.