Republicans Are Choosing Between Charlotte And Las Vegas For Their 2020 Convention
"Did some cities not bid because they were concerned or didn't want Republicans? Of course, but there's always cities like that."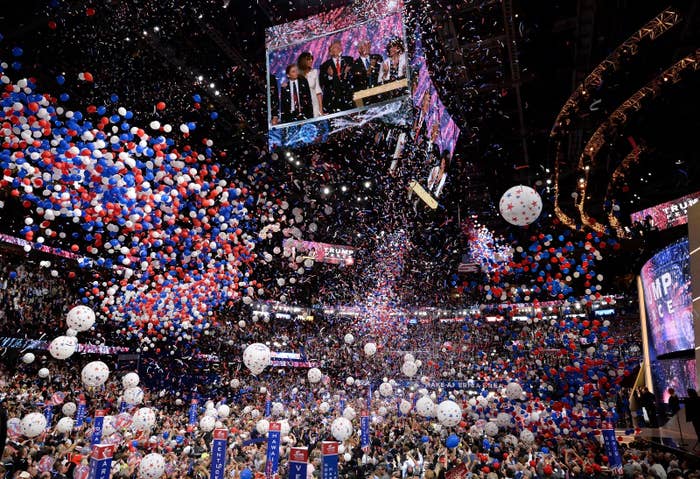 Charlotte and Las Vegas are the finalists to land the 2020 Republican convention, with Charlotte in the lead, sources familiar with the private discussions have told BuzzFeed News.
Republican National Committee officials have been meeting and exchanging numbers with potential hosts for months and could announce a site as soon as next month.
The secretive nature of the talks is a departure from the very public vetting of past years, when bidding cities would roll out the red carpet for RNC leaders and plan lavish events in hopes of influencing the site-selection process. And that makes it difficult to determine how many cities were genuinely interested in hosting what will be — barring extraordinary but not impossible circumstances, such as the sitting president for whatever reason not standing for reelection or falling to a primary challenger — another Donald Trump coronation.
Four years ago this week, the RNC wrapped up tours of four contending cities winnowed from an initial list, and by the end of the month identified Cleveland and Dallas as the 2016 convention finalists. The walk-throughs were major publicity events for the cities, giving a competitive reality TV vibe to a process that no one at the time knew would end with a reality TV star accepting the nomination. Cleveland, for example, wooed RNC officials at a dinner with the Cleveland Browns and flashy rookie quarterback Johnny Manziel. (Manziel was a bust, but Cleveland won the convention.)
National political conventions are huge and costly undertakings and can be lucrative for local economies. Cleveland's host committee raised $65 million for the event. Final economic impact estimates ranged from $142 million to $188 million, less than the $200 million figure initially projected. Some Republicans believe Trump's inflammatory politics and the costs associated with keeping the peace at any convention he headlines might have turned off prospective bidders.
Ron Kaufman, an RNC representative from Massachusetts who is in charge of site selection, disputes that. "There hasn't been a lack of interest," he told BuzzFeed News in a telephone interview Tuesday. "The difference is this process has not been as public as most."
One reason for privacy, according to several Republican sources, was to spare cities the costs of competing in public and the embarrassment of losing after indulging in such pageantry. Dallas, which in 2014 was strung along until the end as the runner-up to Cleveland, "took a hard look at the RNC bid requirements — twice," but could not make the requested dates work, Frank Librio, a senior vice president for the city's tourism agency, told BuzzFeed News last month.
RNC officials started with a list of roughly 30 cities that theoretically could host a convention. From there, based on mutual interest, the list was culled to seven. Early prospects, according to those familiar with the talks, included Nashville and Kansas City, Missouri, but political scandals involving the then-Nashville mayor and then-Missouri governor presented hurdles.
San Antonio was on the list, too, though leaders there declined to bid. The city's would-be candidacy became public when Brad Parscale, Trump's reelection campaign manager and a San Antonio native, lashed out at the Democratic mayor for his lack of interest. The mayor and council members cited cost concerns, according to local reports. But many suspect politics played a role — that a city run by Democrats with a majority-Mexican population was a poor fit for a president who in the 2016 campaign spoke disparagingly of Mexican immigrants.
"Did some cities not bid because they were concerned or didn't want Republicans? Of course, but there's always cities like that," a Republican familiar with the talks told BuzzFeed News.
So that has left Charlotte, which hosted the 2012 Democratic convention at Time Warner Arena (now Spectrum Center), and Las Vegas. And it's unclear if Vegas even has a suitable venue available, prompting some — namely the Charlotte Observer — to wonder if it's a serious contender. A spokesperson for the Las Vegas Convention and Visitors Authority told the newspaper that a convention center site seen as most logical is booked for late summer 2020 dates.
A source familiar with the site-selection process acknowledged to BuzzFeed News that there are questions about where, exactly, a Vegas convention could be staged, but said the city remains in the running. T-Mobile Arena, home of the recent Stanley Cup runner-up Golden Knights hockey franchise, is a possibility, as is the yet-to-be-completed domed stadium for the relocating Oakland Raiders football team. But both could present logistical challenges.
Michael McDonald, chair of the Nevada Republican Party, favors the Raiders stadium and downplayed the concerns about the construction timeline.
"It's the perfect fit — the perfect showcase for what we have," McDonald said.
McDonald and officials backing Charlotte's bid said they have heard nothing definitively from the RNC. The earliest a decision is expected is during the RNC's mid-July summer meetings in Austin, Texas.