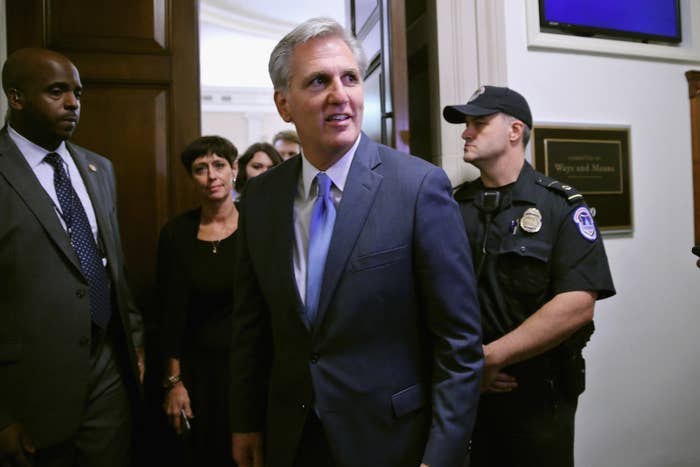 House Majority Leader Kevin McCarthy, one of President Trump's close allies on Capitol Hill, made a remark about then-candidate Trump and his ties to Russia, weeks before the Republican convention, the Washington Post reported Wednesday.
"There's two people I think Putin pays: [Rep. Dana] Rohrabacher and Trump," McCarthy said in a private June 15, 2016 conversation with fellow GOP leaders, according to the newspaper, which said it listened to and verified a recording.
Rohrabacher, like McCarthy a California Republican, is known for his pro-Russia views and has been referred to as Russian President Vladimir Putin's "favorite congressman."
The exchange followed separate meetings Speaker Paul Ryan and McCarthy had with Ukrainian Prime Minister Volodymyr Groysman and news that Russian hackers had breached the Democratic National Committee's computer network — which according to the transcript they had just discussed in the room.

Initially, spokesmen for Ryan and McCarthy denied the exchange occurred, the Post reported. They offered new responses once informed that the newspaper would be citing a recording.
"This was a failed attempt at humor," Matt Sparks, a spokesman for McCarthy, told the Post.

Even as a joke, a joke premised on the idea that Russia was heavily backing Trump is probably not the ideal look politically for McCarthy — who has one of the closer working relationships with the president on the Hill and was never a major Trump critic last year.
Some lawmakers laughed at McCarthy's comment, according to the transcript. And on the Hill on Wednesday, that was much the same reaction.

"Eh, nonsense," said New York Rep. Chris Collins waving it off, who then added, on further pressing: "So who said what?"
After a reporter read him an excerpt from the Washington Post article, Collins deemed it "a bad joke."
New York Rep. Peter King expressed a similar level of surprise upon being informed of the article's existence. "I never heard that all. Unless it was some kind of a joke. I never heard of it."
Ohio Rep. Steve Stivers, after BuzzFeed News described the contents of the story to him, looked puzzled.
"Huh," he said. Pressed for further comment after several beats of silence, he added, "That's all I have to say about that. That is news to me. I don't think I was there at that, I don't remember hearing that. I assume it's a joke."
Rohrabacher, the other target of the joke, said the same on Wednesday.
"I'm not mad at Kevin," Rohrabacher added later to BuzzFeed News.
"Obviously that was a bad attempt at humor, so Kevin I'm sure should have heeded everybody's admonitions to be careful when you try to be humorous because someone will take it seriously."
He added: "I've had attempts at humor come back in bite me in the ass as well."
The relationships Trump's administration and campaign have with Russia are under close scrutiny. Trump last week fired FBI Director James Comey, who had overseen an investigation into such ties.