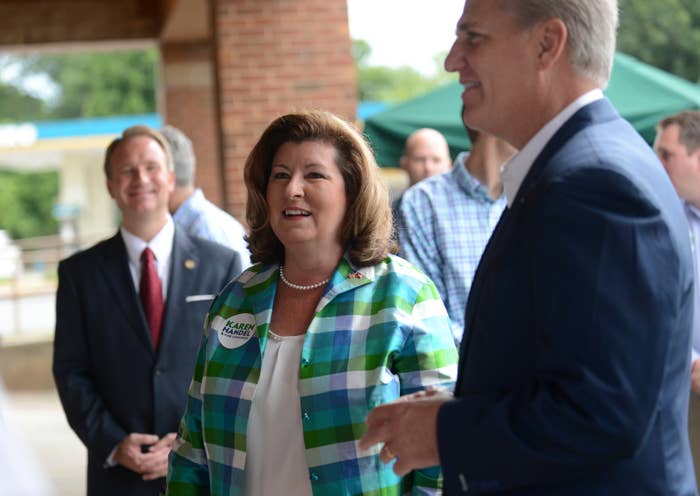 Republicans survived a major threat Tuesday in Georgia's 6th Congressional District, where Karen Handel defeated a well-funded Democratic rival in a race that was seen nationally as a test of shifting demographics and President Donald Trump's popularity.

Handel, the 55-year-old former Georgia secretary of state, beat Democrat Jon Ossoff, a 30-year-old former congressional aide and documentary filmmaker.
She celebrated with supporters at a hotel in Brookhaven, a suburb north of Atlanta, Tuesday night. Shortly after CNN and others, including House Speaker Paul Ryan, called the race for her, Handel came out to address her supporters, saying she wasn't quite ready to declare victory and would wait for more results to come in. As she spoke, a supporter shouted, "You won!"
When Handel came on stage again, this time assured of her win, she was introduced by John Watson, the recently installed chair of the Georgia Republican Party, who hailed her as a trailblazer — she'll be the first Republican woman to represent Georgia in Congress.
"You did it, girl!" one supporter shouted when Handel took the microphone.
In her remarks, Handel thanked Ryan and other House members who campaigned for her. She also praised Ossoff, who she said was gracious in defeat, wished him and his fiancé well, and made an overture to his supporters.
"Tonight I stand before you extraordinarily humbled and honored by the tremendous responsibility that you, the people of the 6th District, have given me to represent you," she said. "We have had a legacy of tremendous leadership in the 6th District. Our very own Tom Price, who is now the secretary of [health and human services], now-Senator Johnny Isakson, and former speaker Newt Gingrich."
Handel also did something she rarely — if ever — did on the campaign trail. She thanked Trump, eliciting rowdy cheers and chants of the president's name from the crowd.
Not long before Handel spoke, Ossoff greeted a diminished crowd of disappointed supporters at his own election night party in Atlanta, telling them, "This is not the outcome any of us were hoping for." Moments before, he said, he had called Handel to concede and congratulate her. Several people in the back booed loudly.
Ossoff, wearing a dark tailored suit, as he did nearly every day through this campaign, was serious but forward-looking. "We showed the world that in places where no one thought it was even possible to fight, we could fight," he said.
"This," he said to cheers, "is the beginning of something much bigger than us."
The battle between Handel and Ossoff, which started with a nonpartisan "jungle primary" of 18 candidates in April, was the most expensive congressional contest in history — to the tune of more than $50 million. Local TV and radio were clogged with ads in the final days, many of them attacking one of the two candidates and one that tied Democrats to last week's shooting of House Majority Whip Steve Scalise at a baseball practice for congressional Republicans. (Handel and Ossoff both blasted the commercial.)
Handel paid tribute to Scalise in her speech, saying that the two had become friends during the campaign and that Scalise would text her weekly to "make sure I was doing okay and hanging tough."

"What happened on that ball field was a terrible tragedy. And we need to all continue to lift up Steve and the others who were injured that day," Handel said. "And we need to also lift up this nation so that we can find a more civil way to deal with our disagreements. Because in these United States of America, no one, no one should ever feel their life threatened over their political beliefs and position. And I say that, ladies and gentlemen, in regards to both sides of the political aisle."
Handel's victory preserves for the GOP a seat the party has controlled for nearly 40 years. She will succeed Price, who resigned from Congress to serve in Trump's Cabinet.
For Democrats, Ossoff's loss is a dispiriting blow for a party out to prove that the passion and energy that possessed the left in the wake of Trump's election could be channeled into concrete returns at the ballot box. They lost special elections for House seats earlier this year in Kansas and Montana, despite encouraging signs for Democratic candidates there. (They also lost a second special election Tuesday night in South Carolina, but that result was expected.)
The Georgia 6th, though, was a coveted pickup opportunity for Democrats, given that Trump barely beat Hillary Clinton in the district last fall. The area encompasses communities filled with the kind of affluent, highly educated voters who were a hard sell for Trump's presidential campaign. GOP operatives worried that a Handel loss would give Democrats recruiting momentum for the 2018 midterms while scaring Republican prospects away from tough races and perhaps hastening the retirement of incumbents in suburban swing districts.
"I think that the general rule of thumb is that these special elections are just that — special," Nick Everhart, a national Republican media consultant, told BuzzFeed News in a Monday telephone interview. "But this one feels more like the canary in the coal mine."
Attendees at Ossoff's election night party learned the news of his loss from CNN and greeted it with shouted nos. "What!" a girl shrieked a minute later, evidently having missed the announcement the first time around.
A slow stream of attendees headed for the doors, heading out of the ballroom and lingering outside. Attendees hugged companions in tears. One woman leaned glumly on a bar table outside the door of the ballroom, glaring at the scene.
"Horrible. Unbelievable. Devastating," Michelle Litton, an Ossoff supporter, told BuzzFeed News. "It just goes on and on — ever since Trump won it just feels like, you gotta be kidding me. Who could support Trump? I mean, what are these people listening to? I mean, Jon Ossoff is gonna work for both parties. What happened? Who are these people voting for the Republicans that support Trump? It's disgusting. I gotta move out of the state, I can't live in a red state. I'm from New England and this is just appalling. I'm really upset."
"I just got a text from my cousin that just said, 'Well, shit.' Yeah, pretty much that," said Anne Thomas, another supporter.
But Thomas, who said this was the first time she got involved in politics to this degree, was somewhat more optimistic. "He made a really good showing," she said.
"I think I continue to push forward," Thomas added. "It's the only thing you can do, right?"
Democrats say they don't expect that this disappointment will stunt the energy on the left. "That funding and that energy, that's not going to go anywhere, win or lose. That's still going to be there, because that's motivated around a bigger effort, a bigger resistance," said Democratic consultant Achim Bergmann, who works on House races.

One Ossoff supporter said after the race was called that while the results didn't surprise him, he considered the close race "an amazing leap forward. I think it's put Greater Atlanta two or three electoral cycles ahead of where we would've been" in terms of Democratic gains, said Evan Lee, who had stepped outside of the ballroom after the results were called. "It may not happen next time, but it's going to happen."

Handel and Ossoff both were cautious in how they talked about Trump on the campaign trail. Ossoff was muted in his criticism, not wanting to offend the Republican crossover voters he needed. Handel, understanding that Trump wasn't popular in the district, welcomed the president for a private fundraiser, but she rarely mentioned him on the stump — when she did, it was to assert her independence from the White House and take issue with the notion of a nationalized race.
But with so much on the line, it was a nationalized race.
"You all know this is a harbinger of national politics, and the world is looking, the nation is looking, and all the money has flowed in here," Sonny Perdue, the former Georgia governor who now serves as Trump's agriculture secretary, said at a Saturday get-out-the-vote rally for Handel. "So don't be fooled. Don't be fooled by someone who doesn't have a record — that's been coached up on what to say and act like a Republican when he's not."
Ossoff far outraised Handel, and several outside groups poured money into the race, including America First Policies, a nonprofit that promotes Trump's political agenda.
"Democrats from coast to coast threw everything they had at this race, and Karen would not be defeated," Speaker Ryan said in a statement Tuesday night, congratulating Handel on "a hard-earned and well-deserved victory."
While Ossoff's Democratic allies hoped to make the race a referendum on Trump, Republicans tried to make it a referendum on liberals like House Democratic Leader Nancy Pelosi.
"That's really what this race will signify," said one Republican operative, who cautioned against reading too much into the results. "Who's the bigger demon: Trump or Pelosi?"
CORRECTION
Karen Handel will be the first Republican woman to represent Georgia in Congress. An earlier version of this story identified her as the first woman to represent the state; however, former Rep. Cynthia McKinney was the first and served as a Democrat.