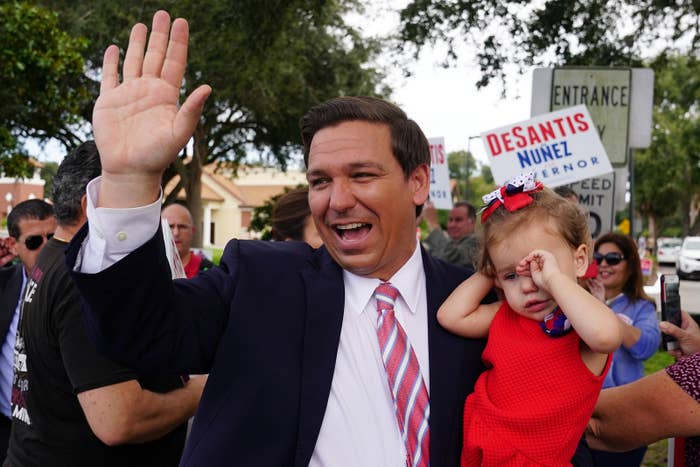 SCOTTSDALE, Arizona — The golden days for Republican governors are gone: Elections over the last two years have whittled the party's record-high 33 governorships to 27, with discouraging returns in the Midwest and losses in four states President Donald Trump carried in 2016.
But as they gathered with activists and donors here this week at the Republican Governors Association's annual meeting, governors and governors-elect tried to offer a positive spin: It could have been a lot worse.
"If you wanted to have a successful business in the last year, you should have been a travel agency booking Democrat celebrities to come to Georgia," Tennessee Gov. Bill Haslam, the RGA's outgoing chair, joked while moderating a Thursday panel discussion with seven newly elected governors. "From Oprah to Obama to everybody in between, they set their sights on electing Stacey Abrams to be the next governor of Georgia, and they were certain she was going to be. She and Andrew Gillum" — the unsuccessful Democratic candidate for governor in Florida — "were going to be the next hot items in the Democratic Party."
Republicans Brian Kemp and Ron DeSantis won in Georgia and Florida, respectively, after days of drama. Florida always has been a genuine battleground state. But the fact that Georgia is now so competitive is a sign of demographic challenges ahead for Republicans. Gubernatorial races this year in Oklahoma and South Dakota, two reliably red states, also were tighter than expected and merited substantial RGA investment. The winners of those contests — Kevin Stitt in Oklahoma and Rep. Kristi Noem in South Dakota — joined Kemp, DeSantis, and others on the panel, which at times seemed intended to reassure donors.
RGA investment, Kemp said, "matters big time in a state like Georgia that many people didn't think was going to be much of a race, and it was. I look forward to being a big part of this organization to help them continue raising the resources we need to be prepared in the years ahead."
The two-day conference at the Fairmont Scottsdale Princess — an upscale resort decked out for the season with a huge outdoor Christmas tree and an endless evening loop of holiday tunes blasting through a stereo system — signaled a bit of a generational and tonal shift for the RGA.
Attendees on Wednesday saw a video — narrated by Haley Barbour, the former Mississippi governor and ever-present RGA alum who held court in the corridors and at the Princess's bars — that saluted the party's outgoing governors, several of them known more for their pragmatism than for their partisanship in the pre-Trump GOP. New Mexico's Susana Martinez, Nevada's Brian Sandoval, and Ohio's John Kasich were among those featured extensively.
After the video, a group of recently reelected governors took the stage, including two of the nation's most popular: Charlie Baker of Massachusetts and Larry Hogan of Maryland. That both come from deeply Democratic states has given Republicans a good story to tell. Both are mentioned as potential leaders of a post-Trump Republican Party.
"I just don't buy into the whole notion that if somebody disagrees with you they're a flawed human being," Baker told reporters here when asked about his bipartisan approach.
Conversely, the biggest stars at Thursday's session were DeSantis and Kemp, two Republicans known more for their divisive rhetoric in campaigns against black Democrats. The party's gubernatorial future is a choice between two starkly different styles: the cooperative spirit embraced by Baker and Hogan or the combativeness shown by DeSantis and Kemp.
Come January, Democrats still will hold a minority of the nation's governorships, but the gains they made since 2017 — from a record low of 15 to 23 — have given them some swagger.
"The RGA can live in denial, but the numbers don't lie: 2018 was the worst Republican gubernatorial wipeout since the year Dexys Midnight Runners topped the Billboard charts," said Democratic Governors Association spokesperson Jared Leopold, referring to a 1980s band.
Leopold also referenced the long-struggling NFL team owned by Haslam's brother. "Bill Haslam had an even worse year than his brother. At least the Cleveland Browns improved in 2018."