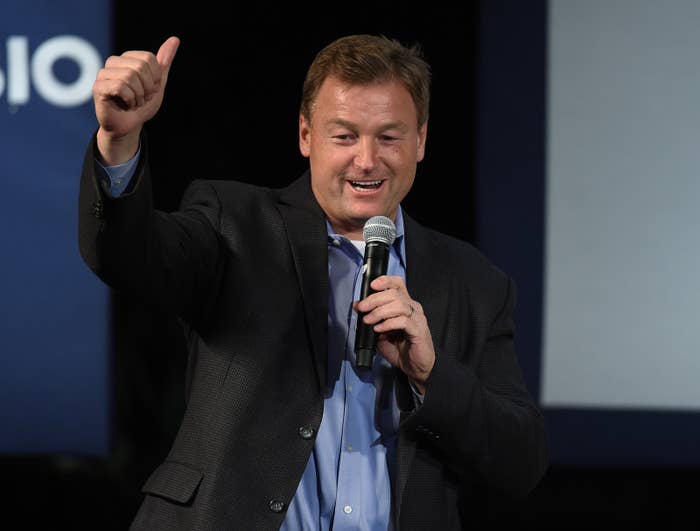 A group aligned with President Donald Trump ignored the protests of Senate Majority Leader Mitch McConnell and bought airtime for an ad targeting Sen. Dean Heller of Nevada on Tuesday.

Then on Tuesday, Senate Republicans decided not to vote this week on the health care bill.
Then on Tuesday, the pro-Trump group pulled the ad against Heller.
Heller, perhaps the GOP's most vulnerable senator up for re-election in 2018, had said he would vote against the current version of a health care bill aimed at overhauling Obamacare. His declaration last week prompted a quick and harsh rebuke from America First Policies, a nonprofit run by veterans of Trump's successful White House campaign.
"America First Policies is pleased to learn that Senator Dean Heller has decided to come back to the table to negotiate with his colleagues on the Senate bill," America First spokeswoman Erin Montgomery told BuzzFeed News in an email. "We have pulled the ads we released earlier today in Nevada, and we remain hopeful that Senator Heller and his colleagues can agree on what the American people already know: that repealing and replacing Obamacare must happen for America to move forward and be great again."
America First Policies started with social media blasts linking Heller to House Democratic Leader Nancy Pelosi. Officials there described it as the opening salvo in a seven-figure advertising push that would include television and radio ads. After objecting to the attacks, McConnell's political team came away with an understanding — if not an assurance — that America First Policies would not hit Heller hard on TV, a source familiar with the talks told BuzzFeed News on Monday.
But the group announced it would stick with its plans, and earlier Tuesday released a 30-second ad that Montgomery said would be backed by more than $1 million. The spot is tough, though tamer than the social media hits that included Pelosi's name and image.
"Obamacare is rapidly racing towards collapse … but now with strong leadership and a chance to repeal and replace Obamacare with patient-centered care that protects American families," the narrator says. "Sen. Dean Heller is saying, 'No.' Call Sen. Heller, tell him America needs him to keep his promise: Vote 'yes' to repeal and replace Obamacare."
The TV ad was first reported by Politico.