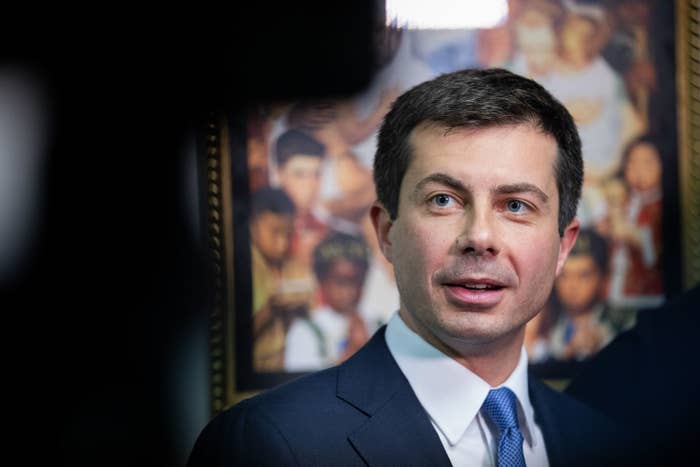 SOUTH BEND, Indiana — A protester wearing a Black Lives Matter T-shirt rushed a lectern and ripped a microphone away from a black city leader on Wednesday night at an event meant to promote Mayor Pete Buttigieg's relationships with the black community in his hometown.
Buttigieg, a Democratic candidate for president, did not attend the forum. Sharon McBride, a city council member who earlier this week joined him on the campaign trail in South Carolina, was among the seven local politicians, pastors, and activists who spoke on his behalf.
During McBride's remarks, a man toward the front of the room at a South Bend youth center began heckling her with other Black Lives Matter protesters chiming in from the back.
"I'll address you guys in a few minutes if you give me my time and the respect," McBride said.
The man — whose race and name could not immediately be verified — then shouted toward McBride, who was wearing a dark leather jacket: "Where are the black leaders that don't have three-piece suits, leather jackets … ? Who chose these people as black leaders?"
Within seconds, in the midst of the commotion, he ripped the microphone off the lectern and began walking away with it.
"Who chose these people as the black leaders?" he asked again, his voice now amplified. "Who organized this? Why are you talking about Pete Buttigieg?"

Buttigieg supporters organized the event, which the mayor's campaign promoted earlier on Wednesday as a "special announcement" from black South Bend leaders and elected officials. Buttigieg has faced criticism at home from some activists about his handling of police and housing issues and persistent questions from national media about his ability to attract support from voters of color. He recently polled at zero among black voters in South Carolina, an early primary state where a majority of Democrats are black.

Despite the suggestive billing from Buttigieg's campaign, South Bend council member Karen White made clear at the outset of Wednesday's forum that remarks from the participants were not necessarily endorsements but, rather, testimonials of how black leaders have worked well with the mayor. Buttigieg's team saw the event as an opportunity to answer critics and skeptics.
"I support Mayor Pete," Michael Patton, a local pastor and head of South Bend's NAACP chapter, said from the lectern, shortly before McBride's turn came. (Patton stressed afterward to BuzzFeed News that his endorsement is independent of the NAACP.)
Many of the roughly 60 people who attended — many of them black — cheered or nodded along at positive mentions of Buttigieg. They also rolled their eyes or voiced their displeasure with each interruption from the dozen Black Lives Matter protesters who lined the back wall.
Several rose from their chairs in pursuit of the mic-snatching protester in an attempt to chase him from the youth center. One woman clutched a cane above her head with both hands, seemingly prepared to strike the man before an organizer gently pushed her arms away.
"This is a farce!" the man chanted repeatedly as the crowd surrounded him.
The tense encounter was over within two minutes.
"I happen to be a black leader with a leather jacket on," McBride said when she reclaimed the microphone. "The one thing you don't do with me is run me out of here. I don't get intimidated."
Afterward, McBride told BuzzFeed News the confrontation was "disheartening" and "disrespectful." She said she hadn't realized the man was wearing a Black Lives Matter T-shirt.
"You respect people's opinions, and we respect theirs," she said.
Several Buttigieg campaign aides reacted on Twitter, suggesting that the protester was loyal to another presidential candidate, Sen. Bernie Sanders of Vermont.
"This is what Black folks who support Pete experience all the time on Twitter," Buttigieg's traveling press secretary, Nina Smith, tweeted. "White men, grabbing the mic, insulting us, calling us 'uppity' 'purchased' and 'tokens' all in support of certain white male candidates. Careful YOUR racism is showing."
CORRECTION
The protester took the microphone from a lectern. His action was misstated in an earlier version of this story.