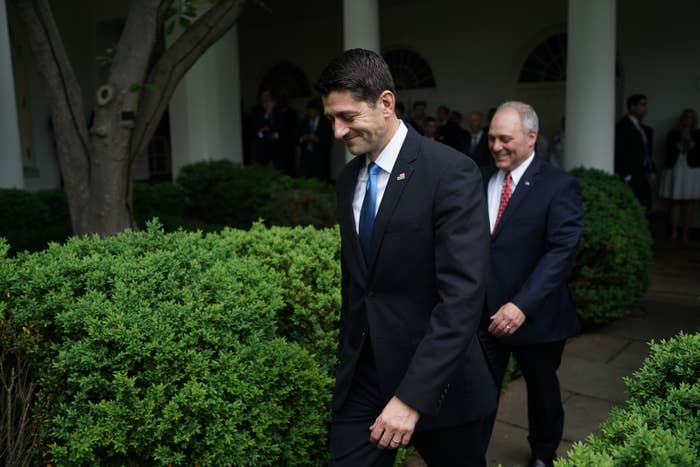 Paul Ryan has a bit of a juggling act on tap this week.
The House speaker will be in Ohio on Wednesday to tour two businesses in a Columbus suburb and to lead a roundtable discussion that is expected to focus on tax policy. It's a subject he and many Republicans are eager to tackle after a risky vote to overhaul Obamacare.
After those events, according to a schedule and invitation obtained by BuzzFeed News, Ryan will dash to the home of Leslie H. Wexner, one of the Buckeye State's most prolific donors. There, Ryan will headline a high-dollar reception and dinner benefitting the National Republican Congressional Committee and its chairman, Steve Stivers, who represents a nearby district.
The House-approved health care plan, celebrated by Ryan and President Trump but facing a far tougher sell in the Senate, could cause trouble for the NRCC as it defends seats in next year's midterm elections. And the plan has critics among key Ohio Republicans, including Reps. David Joyce and Michael Turner, who voted against it last week. Sen. Rob Portman also has expressed concerns, as has Gov. John Kasich, who remains a major Trump critic.
Members of Ohio's Republican congressional delegation also are expected to attend the Wednesday evening fundraiser, though it wasn't clear Monday how many will show.
Wexner, who has been one of Kasich's core supporters, is the chairman and CEO of L Brands, the retail company that includes Bath & Body Works and Victoria's Secret. For donors, cost of admission starts at $5,000 for the reception and climbs to $25,000 for access to the dinner.
Earlier Wednesday, Ryan is scheduled to tour Anomatic, which makes anodized aluminum products, and Accel, which according to its website specializes in packaging. Stivers and Rep. Pat Tiberi, another local congressman who is considering a run for Senate next year, then will join Ryan for the roundtable discussion, which was first reported by Axios.
A source close to Ryan told BuzzFeed News that the event will be "a general discussion on tax reform. ... It will be why the House, Senate, and White House want to act on tax reform."