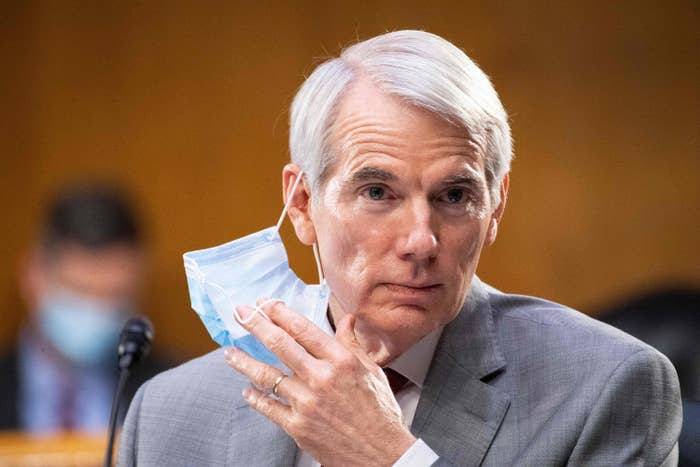 Sen. Rob Portman is not on the ballot this year, but Democrats in Ohio — eager to tap into progressive anger and energy — are raising money now to unseat him in 2022.
The Ohio Senate 2022 Democratic Nominee Fund launched Monday night via the ActBlue fundraising platform, timed to coincide with Portman's vote to confirm Judge Amy Coney Barrett, President Donald Trump's latest Supreme Court nominee. Organizers, who shared details first with BuzzFeed News, likened the effort to one that began two years ago against Maine Sen. Susan Collins, who voted then to confirm Justice Brett Kavanaugh and is now one of the most vulnerable Republicans up for reelection next week.
Among those leading the effort are several Democrats who could challenge Portman, including Dayton Mayor Nan Whaley and Aftab Pureval, the clerk of courts in Cincinnati's Hamilton County. The fund will be hosted by the Ohio Democratic Party and money raised will be earmarked for whichever candidate wins the Senate primary.
"One of the things over the past 15 months, 18 months with Portman is, he acts like he cares about Ohio but then he goes and does what the Trump folks tell him to do," Whaley said in an interview. "I think he's gotten much more compliant to the president. When George Will writes about the Republican senators who are complicit in this, I think about Rob Portman."
A Portman spokesperson alluded to polls that showed support for Barrett's confirmation.
"Amy Coney Barrett is exceptionally well-qualified to serve on the Supreme Court and Rob agrees with the majority of the American people who support her confirmation," the spokesperson, Emily Benavides, said in an emailed statement.
The anti-Portman campaign links into an early push by progressive leaders across the country to capitalize on anti-Trump momentum that exists now and to get a head start on 2022, even though Trump may then be out of office. Democrats in Wisconsin, for example, are already preparing to challenge Sen. Ron Johnson, a Trump loyalist who has used his office to investigate Democratic presidential nominee Joe Biden.
Midterm elections can be tough, though, for the party in control of the White House, as Democrats would be if Biden wins. And Portman won his second term in 2016 by vastly outperforming Trump — Portman won by 21 points, Trump by 8. The campaign recruited thousands of college and high school students, building a team that wasn't dependent on or beholden to Trump's organization. Portman's advisers framed the reelection bid around hyperlocal issues such as the opioid crisis.

"I would caution any potential challenger to pause and ask themselves what happened to Ted Strickland and Lee Fisher, because the same fate awaits that person in 2022," said Corry Bliss, Portman's 2016 campaign manager, mentioning the former Ohio governor and lieutenant governor who lost to Portman four and ten years ago, respectively. "Rob is a proud conservative, and he wakes up every day trying to deliver results to the people of Ohio."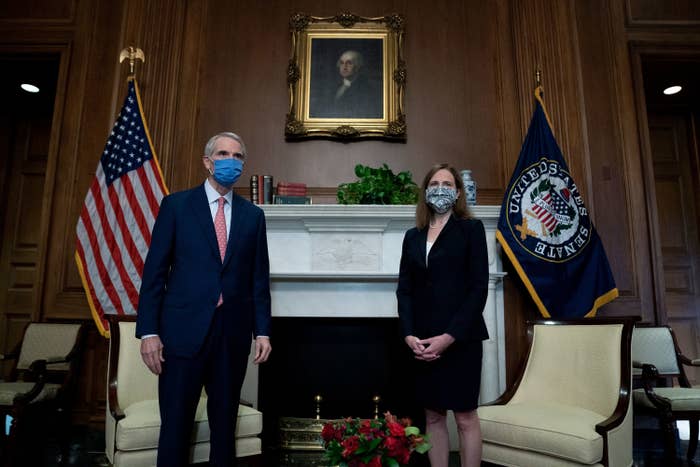 Others involved in promoting the anti-Portman fund include Portage County Commissioner Kathleen Clyde, Columbus City Attorney Zach Klein, and Franklin County Recorder Danny O'Connor. Clyde and Klein are senior advisers to Biden's campaign in Ohio. Like Whaley and Pureval, all are under 45, politically ambitious, and considered among the next generation of Democratic leadership in the state. Whaley, who is close with Ohio's other senator, Sherrod Brown, is at the top of most party insiders' lists as a statewide candidate in two years.
"I really haven't decided any of that yet," Whaley said when asked if she might seek to run against Portman. "For me, it's positioning the state to win. I'm not completely fixated on that."
Whaley and the Ohio Democrats are hoping that the so-called rage donating seen two years ago against Collins in Maine and on behalf of Democratic candidates this year repeats itself against Portman. The anti-Collins fund, though, began before she supported Kavanaugh's confirmation. The progressive activist Ady Barkan partnered with two groups in the state to crowdfund a campaign to pressure Collins into voting against the judge by promising to spend the money on her eventual reelection opponent if she didn't. Collins characterized the push, which raised more than $4 million, as bribery. Sara Gideon received the funds after winning the Democratic nomination this year.
Like Collins, Portman is often regarded as a moderate voice in Trump's Washington. Early in Trump's term, Portman would respond to the president's public outbursts and tweets with a combination of bemusement, frustration, and resignation. He occasionally issues rebukes, as he did in 2017 after Trump said there were good people among the racists rioting in Charlottesville, Virginia. More recently, though, there's been a noticeable softening. After Trump's refusal last month to commit to accepting November's election outcome if he loses, Portman called on "both candidates" to respect the results, even though only one of the candidates had indicated he may not.
The Supreme Court fight has offered Democrats an opening to brand Portman as a hypocrite: Four years ago, he was among the many Republicans who opposed a Senate vote on then-president Barack Obama's Supreme Court nominee on the grounds that it was a presidential election year and voters should choose the person to pick the next justice. Whaley was among the Democrats asserting then that Obama had a right to fill the seat. (Collins voted against Barrett on Monday; she said a confirmation should not happen until after this year's election.)
"This matters to people's lives," said Pureval, raising the concern that the Supreme Court's more decisive conservative majority with Barrett on board could jeopardize the future of the Affordable Care Act.
"This isn't about me, or about politics, or about who's going to run for something two years from now," Pureval added. "This is really about holding Rob Portman accountable for the decisions he makes."