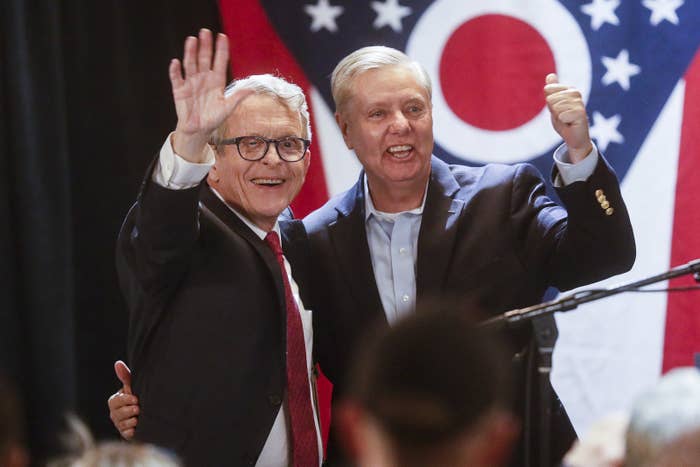 Mike DeWine is running a campaign few Republicans in this country would dare: The Ohio gubernatorial candidate is hugging President Donald Trump and outgoing Gov. John Kasich, bitter rivals since the 2016 primaries who appeal to dueling factions of the party.
DeWine is just being careful not to hug either too tight.
As of late Tuesday, he wasn't even sure he would attend Trump's campaign rally next Monday — the day before Election Day — in Cleveland. The House race in that district is not competitive. Many believe the same about Ohio's Senate race. DeWine, who is locked in a tight race with Democrat Richard Cordray, might be the only one Trump's visit can help. But it could also hurt. So while other Republicans in places where Trump won comfortably practically beg him to fly in on Air Force One, DeWine has to see if he can move a few things around on his calendar.
"Yeah, I think so," DeWine said in an interview here when asked if he would join Trump. "We've got another rally scheduled in Cincinnati, so I've got to figure that out. … I would like to be there."
DeWine, the state's attorney general, has skipped Trump events in the past. When Trump campaigned two weeks ago in the Republican stronghold of Warren County, DeWine came early to mingle with voters but left before the event began. He has shown less apprehension around Vice President Mike Pence, who was scheduled to appear with DeWine on Wednesday in working-class Mansfield. He also has committed to a Kasich-headlined rally Friday evening in Columbus.
"Well, look, I want everyone's support," DeWine told BuzzFeed News after his Tuesday night event with South Carolina Sen. Lindsey Graham, a Trump-friendly face whose strenuous defense of Supreme Court Justice Brett Kavanaugh has made him a hero on the political right. "I've known Gov. Kasich since 1979, so I appreciate his support. I appreciate Donald Trump's support. I say I'm the only thing that Donald Trump and John Kasich agree on, literally. That's it. I'm it."
For DeWine, 71, this means cobbling together an odd-couple coalition. Hardcore Trump supporters don't like Kasich, and vice versa. But recent polling shows a toss-up between Dewine and Cordray. One veteran Ohio Republican operative at the Graham event Tuesday pantomimed a coin flip when discussing the race. DeWine is caught between needing to motivate the Republican base to turn out for him and needing to not lose any ground with Kasich Republicans.
"Republicans need John Kasich fans, they need Donald Trump fans, and everyone in between to come out and vote," said Jai Chabria, a Republican consultant in Ohio and former top aide to Kasich. "Whether Mike DeWine is at a rally with Donald Trump or someplace else also trying to get the base out, having the president here is helpful to getting out the vote on Election Day."
Trump has endorsed DeWine in tweets, including one on Tuesday afternoon. The race is personal for him: Cordray, 59, had run the US Consumer Protection Bureau, an agency set up in the Obama administration and loathed by Trump and conservative Republicans. Cordray resigned the position late last year to run for governor. But the president has been more invested in Jim Renacci's bid for the Senate seat held by Ohio Democrat Sherrod Brown.
The DeWine–Kasich embrace has been a little awkward, too. Kasich passively said he would vote for DeWine after he won the May primary, but withheld a full endorsement. The term-limited governor, whose legacy is tied to his expansion of Medicaid benefits under Obamacare, wanted assurances that DeWine would not gut the program and that he would protect coverage for preexisting medical conditions. The full endorsement came last week, followed this week by the announcement of Friday's rally, and a 26-second video with Kasich vouching for DeWine.
"Mike DeWine promised me that he will protect those with preexisting conditions," Kasich says straight to the camera in the video. "Mike knows the success we've have had in Ohio by not leaving anyone behind. DeWine will work to make health care available and affordable."
DeWine is not buying airtime for the Kasich ad, a spokesperson said.
Cordray has made Obamacare, particularly the preexisting conditions part, central to his campaign, mirroring strategies from Democratic candidates for governor who are running against Republicans who opposed the law. One of DeWine's first orders of business after succeeding Cordray as Ohio's attorney general was to join the lawsuit challenging Obamacare's constitutionality. He has said, without going into much detail, that he would support efforts at the state level to preserve coverage for preexisting conditions if Republicans in Congress eventually are able to repeal Obamacare and its mandate that insurers provide it.
"Really a bogus issue," DeWine said of Cordray's attacks. "It is the national Democrat playbook. You can go to other states and see ads that are almost identical to the ads that they're running against me. It's anybody who was against Obamacare. Look, I'm not bashful about being against Obamacare. It was not the right way to go. I don't apologize for opposing that."
In the final week of the race, DeWine is trying to run to Cordray's left on the issue. His campaign has produced a TV ad asserting that DeWine has the stronger record on preexisting conditions and that Cordray, in his years as a legislator, never voted in favor of such coverage. Cordray's team quickly disputed the ad, pointing to a 1992 vote in the Ohio House.
"Mike DeWine has spent this entire race trying to thread the needle and straddle two wings of a very divided Ohio Republican Party — and he's failing to win over either side," Mike Gwin, a spokesperson for the Cordray campaign, said in a statement to BuzzFeed News.
"But when push comes to shove," Gwin added, "DeWine has shown over and over that he's unwilling to stand up to President Trump when he's wrong for Ohio, even as the administration tries to strip away protections for the 4.8 million Ohioans with preexisting conditions."
It's understandable why DeWine has leaned into Kasich a little more in the final days: He is making a continuity argument. Eight years ago he unseated Cordray as attorney general, and Kasich unseated Democrat Ted Strickland as governor. The economy improved in the Kasich years, and DeWine and other Republicans on the statewide ticket now are running on a problem-solving message similar to the one Kasich ran on in his 2016 presidential campaign.
Also, Trump's overall poll numbers in Ohio are worse than Kasich's. A Baldwin Wallace University survey released this week found their job-approval ratings roughly the same, but Trump's disapproval rating was near 50%. Trump scored much higher with Republican voters (85.5% approval), while Kasich's support was more consistent among Democrats (43.2%), Republicans (45.7%), and those who don't identify with either party (46.8%). The data help explain why Cordray also has been courting centrist Kasich voters.
But the number that really heartens the DeWine team is the 68% of voters who in a University of Akron poll this month believe Ohio is on "the right track."
DeWine has been an elected officeholder since the 1970s and has wanted to be governor since at least 1990. On the campaign trail, he's inseparable from his wife, Fran, who hands out printed copies of her cookbook to voters and on Tuesday night sported an "I Like Mike" pin with "Like" scribbled out and replaced with "Love." As DeWine prepared for 2018, a capstone term or two as governor seemed likely, thanks to high and favorable name recognition. But Trump's win in 2016 fractured Ohio's traditional Republican establishment.
His allies often bristle at the parsing of his Trump and Kasich loyalties and point out that he's not a Trump Republican or a Kasich Republican but, rather, a Mike DeWine Republican. DeWine himself wrestled with what that means Tuesday.
"I focus on getting things done," he said. "I've focused on achieving things, solving problems. My style is the style of I listen, and I try to pull people together, and I try to fix problems. That's what I do. I don't know if that's a Mike DeWine–style Republican, or what it is."
It sounds a little more like Kasich than Trump.