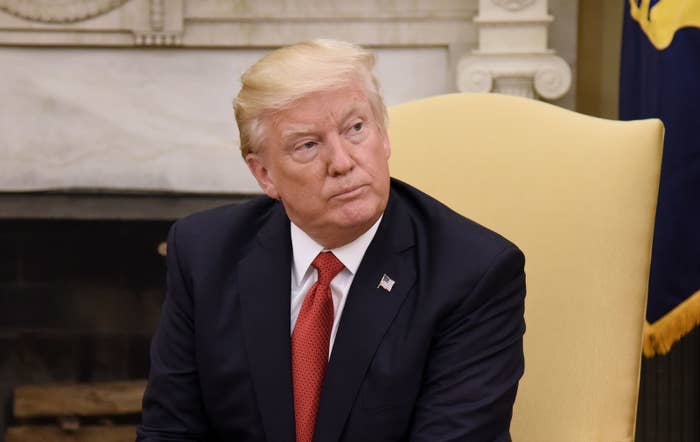 Under normal circumstances, running the White House communications shop would be a dream job for any political operative.
But Donald Trump is the president and the circumstances aren't normal. He regularly calls his own shots on Twitter, often bypassing aides in favor of unfiltered and unpredictable messaging. That may make the applicant pool to replace Mike Dubke, who on Tuesday announced his resignation as Trump's communications director, very small.
BuzzFeed News spoke with 20 Republican communicators and operatives, many of whom have worked on Capitol Hill and in presidential campaigns and some who have declined previous offers to join the Trump administration. Nearly all said they would be unwilling to accept an offer to replace Dubke.
"Hell no!" said one Republican — one of the most common types of response BuzzFeed News got from operatives. "That would be career suicide."
Others brought a mix of dark humor.
"That's like asking someone who just witnessed a horrific bungee jumping accident whether they would like to go next," one Republican source responded in a text message.
"It would be only a few months on the job before tapping out the 'I want to spend more time with family' email," another said.
One operative whose spouse works in the Trump administration dissolved into laughter upon being asked if they would want the role.
"Sorry, I'm sorry," the source said between stifled laughs. "Oh, you're being serious? Oh my god, I'm crying of laughter. Why would anyone in their right mind want to be his communications director?"
Even some responses that weren't entirely terrible were still bad for the White House. "Coming on board now is a bit like taking over communications for the White Star Line after the Titanic has sunk," a former George W. Bush staffer said. "I mean, no one is going to blame you and how much worse can it possibly get?"
Many believe Dubke had a thankless job with little appeal before and zero appeal now that Trump is navigating an FBI investigation related to his campaign and its ties to Russia.
"It's attractive to someone who is willing to ruin their reputation or who isn't worried about what the future of their career looks like," said one GOP communications specialist with presidential campaign experience. "You have to be willing to manage the unmanageable."
Said a second veteran of the Bush White House: "You're going to come out of the administration with your reputation in tatters, your credibility utterly destroyed, and your job prospects close to nil unless you want a low-level CNN contributorship."
One frequently cited trouble spot is Trump's firing of FBI Director James Comey. White House officials initially cited a memo from the deputy attorney general as justification for the dismissal. But Trump subsequently said he planned to fire Comey all along. And the president later explained the contradiction on Twitter: "As a very active President with lots of things happening, it is not possible for my surrogates to stand at podium with perfect accuracy!"
Many interpreted the tweet as Trump throwing his staff under the bus.

"There isn't much you can do as a communications professional when the principal marches to the beat of his own drummer," said Ryan Williams, who served as a spokesman for Mitt Romney's 2012 presidential campaign. "Communications strategy has to be a group effort where the president and his advisers buy into the same strategy. We've seen examples of him undercutting his team, and that makes it difficult to execute a communications strategy."
Williams added: "I'm not blaming the staff at all. They have a very difficult hand to play."
This FBI investigation also prompts more practical concerns.
"You've got to get a lawyer if you go in there," a former GOP communications staffer said. "It's not just what you get paid, it's, 'Is there a stipend for your legal expenses?'"
Among Republicans interviewed for this story, there was no consensus on what kind of communications director Trump will hire. Who Trump should hire for the job is one question — and the answer might depend on which branch of the fractured GOP you sit on. Who would accept the job is another question. It's also not a given that Trump's needs align with Trump's wants.
Mike Cernovich, a pro-Trump internet personality, who trafficks in trolling and conspiracy theories and tweeted his suggestions to Trump, said he doesn't want the job — but then proceeded to explain the need for someone provocative and outside the party's mainstream.
"Trump needs to run his Twitter like a news outlet in and of itself," Cernovich said. "The only person or people that I would hire to work in his comms shop would be someone like Laura Ingraham. As crazy at it seems, although he would never take it, Matt Drudge. You want an actual content creator in there who thinks, 'Hey, I have Trump's platform. I have his Twitter. I have his social media. Anything I say or do is going to get to tens of millions, maybe 100 million people. Why don't I focus on driving stories out through these platforms?'
"Most of these people who call themselves communications experts, they're really experts at talking to the media, which is cool — I don't think we should not talk to the media — but they don't come at it from a content creator standpoint. 'How can I get my message out? How can we create a news cycle? How can we make the media respond to our stories?'" Cernovich added. "Instead, they're answering emails all day, and that's been Trump's communications team's strategy. It's been ineffective and that's why I've been highly critical of it."
Jeffrey Lord, a Trump supporter on CNN who served in the Reagan administration, noted the example of Pat Buchanan, a controversial figure who made sense as a Reagan White House communications director because he was in sync ideologically with the president.
"You have to have the president's confidence," Lord said. "The ability to work his vision and communicate it. If you lack that, it's not going to work."
But Trump has two possibly competing needs, said Jeff Sadosky, a veteran GOP communications adviser who has worked on presidential campaigns for Fred Thompson and John McCain.
"Given constant churn of investigations and investigative journalism, the White House should bring in a communications director with a strong background coordinating rapid-response campaigns amid crisis," Sadosky said.
"If they feel like their survival is directly tied to how well they hold on to their base voters," he added, "look for a hire with a strong connection and an ability to stoke that base's emotions."
One Republican communications operative said the Trump administration could use someone outside the Trump orbit, like Dubke was. But the source acknowledged Dubke's struggles are illustrative of the challenges outsiders have. "In theory it would be somebody close to Trump," he said. "I can't wrap my head around ever taking the job myself."
Said another source: "People would argue you'd be able to be part of the solution, but that would not be reality-based." They said they could see the job going to someone who is trying to prove themselves by taking it on as a challenge — "or alternatively someone from Breitbart," the Trump-friendly news site.
Josh Culling, a communications consultant whose résumé includes a stint with Grover Norquist at Americans for Tax Reform, is one Republican who sees Dubke's job as a draw. (Though Culling wouldn't take it, he said, because he has young children.)
"If you cut through the clutter and look at what he's trying to do with public policy, it's pretty much within orthodoxy of Republican politics," Culling said.
"I think that the universe of qualified individuals, of people who would take the job, is probably larger than we think. The calculus changes quite a bit if you have an opportunity to work in the West Wing and serve as an adviser to the president."
But many went back to the unrelenting and fractured work environment where no one knows what bombshell story the next day will bring and if the president will throw his staff under the bus again on impulse.
"If asked it would be an honor," said an operative who used to work with White House press secretary Sean Spicer and didn't want to anger him, "and I would immediately have a psychiatrist lined up to make sure I can unravel whatever the team experienced."
Charlie Warzel contributed to this story.