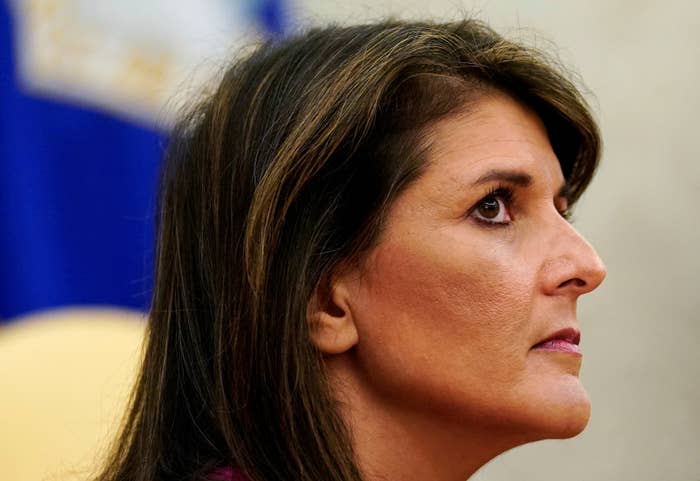 To Republicans eager to be rid of President Donald Trump, Nikki Haley's surprise announcement that she will resign as US ambassador to the United Nations cracked open the door ever so slightly to their dream scenario: a Haley primary challenge in 2020.
Haley, though, moved quickly to try to slam that door shut. The former South Carolina governor said she isn't running for president in 2020 and plans to support Trump's reelection campaign.
Several Haley allies and Republicans who worked against Trump in 2016 and would like to see him beaten or weakened in the 2020 primaries — representing two camps that don't formally intersect but have some mutual beliefs — said that they take Haley at her word.
One exception: Bill Kristol, the conservative commentator who has spent much of the last year trying to drum up interest in a Trump challenger. Kristol told BuzzFeed News in an email that he has not had "direct discussions" with Haley about running for president. But he added that she would be "a very strong 2020 candidate" and that people "are entitled to change their minds."
Many Republicans see Haley 2024 as a realistic possibility, but a 2020 bid against Trump would be stunning given that she announced her resignation with him at her side Tuesday in the Oval Office, rather than in protest or some other fashion that might serve as the springboard for a primary against a sitting president.
"The political world," Kristol noted hopefully, "could look very different a year from now."
Regardless of her intentions in 2020 or beyond, Haley's departure, which will take effect at the end of the year, instantly focused speculation on her future in politics. At 46, she's a rising star in the Republican Party, one of the most popular figures in Trump's administration, and someone who has carefully navigated the Trump era to preserve any ambitions she might have. (See the sharp elbow she threw at another Trump official in April when he undercut her on new Russia sanctions: "I don't get confused.")
"Her role going forward wouldn't be altogether different than what her role is like right now, which is one of the most important Republican and conservative voices and the face of the new generation of conservative leadership — someone who people will expect big things from," said Rob Godfrey, a top aide to Haley during her time as governor.
"She's been a steady hand at the wheel and a full-throated voice for American exceptionalism as UN ambassador," Godfrey added. "And just as she raised her own profile as an important foreign policy voice, she raised the profile of the job that she held, and in doing so has left big shoes to fill, but also has left people wanting to know what she thinks about a variety of issues."
Godfrey has not discussed Haley's plans with her or with members of her team. But he and others would not be surprised if she returned to the private sector while pondering her next move. Haley's resignation letter, obtained by the Washington Post, suggests the same.
"Nikki Haley is one of the most talented political leaders of this generation," said Matt Moore, a former chair of the South Carolina Republican Party. "It's hard to imagine her leaving the stage. I hope she doesn't."
Godfrey acknowledged the possibility of a presidential run, but not in 2020. Alluding to Trump's high approval ratings among Republicans, he said beating him in one of the first caucus or primary states would be nearly impossible.
"I think the sky's the limit for Nikki Haley," Godfrey said. "But what goes on in Bill Kristol's head day to day is a lot different than what goes on on the road in Iowa and New Hampshire."