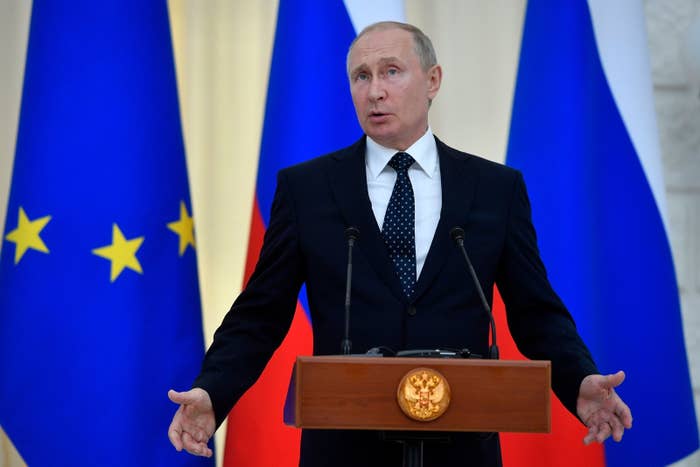 A top strategist to one of President Donald Trump's potential Republican primary rivals confirmed to BuzzFeed News Wednesday night that he plans to lobby against possible sanctions against Russia — a stance blatantly at odds with the anti-Trump movement.
John Weaver, who has advised former Ohio governor John Kasich since Kasich's unsuccessful 2016 bid for president, said in a series of text messages that he understands the news, first reported by Politico, "is counterintuitive and confusing."
Politico reported earlier Wednesday that Weaver recently had signed a six-month, $350,000 contract to lobby for a subsidiary of Rosatom, a Russian state-owned nuclear energy company. The contract calls for Weaver to lobby Congress and the Trump administration on "sanctions or other restrictions in the area of atomic (nuclear) energy, trade or cooperation involving in any way the Russian Federation," according to a disclosure filing Politico referenced.
Weaver has been on record in the past — especially on Twitter, which he has used to promote Kasich as a possible 2020 candidate — favoring Russian sanctions, criticizing Russian President Vladimir Putin's regime, and tearing into Trump for being too cozy with Putin.
Sanctions with regard to atomic energy "is an issue I studied carefully, runs along US national security and economic interests, and deals with ensuring nuclear proliferation doesn't get out of hand," Weaver told BuzzFeed News late Wednesday. "No one has been tougher about Russia's attack on our democracy and that won't change. But this is not that."

Asked if he is still consulting for Kasich, Weaver replied: "I am indeed."
Sources close to Kasich's inner circle did not immediately confirm that Wednesday. Kasich's nonprofit, New Day for America, which has supported his political endeavors since 2016, reported paying Weaver's Texas-based consulting company $20,000 last December, as part of its most recent filing with the Federal Election Commission.
Since leaving the governor's office earlier this year after two terms, Kasich has joined CNN as a commentator and kept alive speculation that he might take on Trump again in 2020. The speculation has dwindled a bit in recent months, as former Massachusetts governor Bill Weld launched a long shot Republican bid, and as Maryland Gov. Larry Hogan carved out a more prominent role in the GOP's anti-Trump space.
Several veterans of Kasich's political operation reacted to the Russia lobbying story with intrigue.
"Yikes," said one.