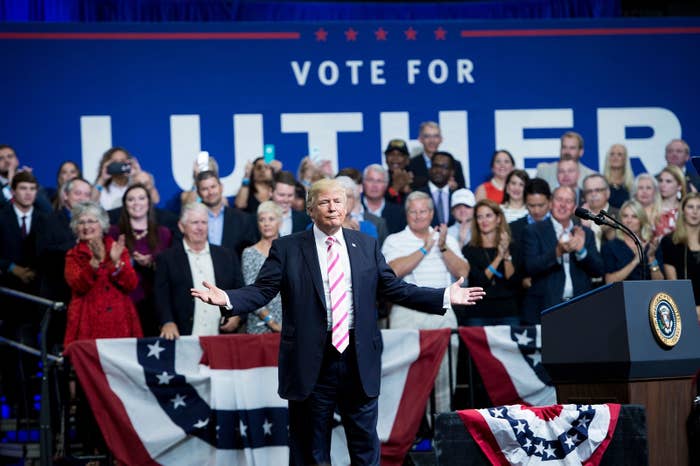 Big Luther was a big loss for President Donald Trump and the Republican establishment.
Now they must prepare themselves for the outcome they spent so much time, so much money, and so many tweets trying to avoid: right-wing firebrand Roy Moore in the US Senate — and hope for other insurgent candidates looking to unseat GOP incumbents.
Moore beat Luther Strange, the interim Alabama senator favored by Trump, Senate Majority Leader Mitch McConnell, and other DC insiders, in Tuesday's closely watched GOP primary runoff. McConnell and his allies together put more than $15 million on the race, based on reports filed with the Federal Election Commission. And Trump surprised many by endorsing party-man Strange and then, despite polling that showed Moore headed for victory, flying to the state last week to headline a campaign rally.
Sitting senators don't often lose primaries, especially when the president is for them. It happened in 2010, when Sen. Arlen Specter, a converted Republican, lost the Democratic primary in Pennsylvania despite then-President Obama's support.
Strange whose 6-foot-9 frame earned him the nickname Big Luther, gathered with his supporters in the tiny lobby and bar area of a boutique hotel in Homewood. Guests were slow to trickle in, perhaps aware of the disappointing night that awaited. The Senate Leadership Fund, a McConnell-aligned super PAC that invested heavily in Strange, conceded the race roughly 70 minutes after polls closed.
"While we were honored to have fought hard for Big Luther, Judge Roy Moore won this nomination fair and square and he has our support, as it is vital that we keep this seat in Republican hands," SLF President and CEO Steven Law said in an emailed statement.

Moore, who celebrated in Montgomery, will face Doug Jones, a former US attorney, in the December special election. Alabama is a deeply Republican state, but some in the party fear Moore, given his controversial background, will make that contest more competitive than it should be.
Moore's win has deeper consequences for Trump, McConnell, and the Republican Party. Other outsiders, seeing that a Trump-McConnell alliance is beatable, could feel even more emboldened to take on incumbents in the 2018 midterms. Trump, who loves to please his base and hates to lose, might be reluctant the next time he's asked to save an endangered sitting Republican. At the very least, they have lost a reliable vote at a time when passing major legislation has proved a major challenge with a slim majority in the Senate.
Though Moore cast himself as the candidate most attuned to Trumpism, he really is a wild card. He twice was removed from the Alabama Supreme Court for defying legal rulings. His extreme views on gay rights and other polarizing cultural issues could make life uncomfortable for future Republican colleagues.
"Roy Moore's not conventional. He's Roy Moore," said Alabama Sen. Richard Shelby, who backed Strange. "He's unique."
Shelby said, before polls closed, that while he believed Moore would win in December, he believed Strange would have an easier time of it — and raised the issue of Moore's potential unpredictability when it comes to passing the party's agenda. "He would add into four or five [senators] that we already have here challenging everything."
(One Republican operative who has worked on Senate races dismissed the worries about Moore. "A Republican vote is a Republican vote," the operative told BuzzFeed News.)
But the predictability factor is, by many accounts, one reason why Trump was persuaded to campaign for Strange. He appreciated how Strange voted in lockstep with the White House agenda while never asking for special treatment in return. Trump also might have been looking for a way to mollify McConnell, with whom he had been feuding but whose support he needs.
Put another way: Trump became one with the GOP establishment he once railed against to great effect. Meanwhile, some of Trump's most prominent populist allies (from Breitbart News executive and former White House strategist Steve Bannon to former Alaska Gov. Sarah Palin) backed Moore in a sort of surreal "We know what's best for Trump" campaign.
"Trump corralled the angry masses for himself," one national Republican strategist told BuzzFeed News as Moore's victory became apparent Tuesday. "Other candidates, with or without the president's endorsement, will also corral that mob for their needs."
There is a bit of a Frankenstein's monster dynamic for Trump: The right-wing populist coalition he created a year ago was nontransferable to Strange. At Trump's rally last week in Huntsville, several attendees professed themselves as likely Moore voters. One person in the crowd held a Moore sign as Trump spoke.
When Trump ticked through his applause lines — Rocket Man, Build the Wall, Make America Great Again — the arena erupted. But when he mentioned Strange, or urged attendees to turn out for him Tuesday, the applause was noticeably less loud, as though many people who had been wildly cheering for Trump moments before had opted to sit that one out.
The night before in Montgomery, at a debate watch party and rally headlined by Palin and former White House adviser Sebastian Gorka, Moore's supporters were polite in their disagreement with the president. Chu Green, wearing a "Make America Great Again" visor festooned with Roy Moore stickers, told BuzzFeed News she had driven 170 miles from Mobile to sit in the front row with her sign, which read: "Mr. President and Mr. V.P., I love you but you are wrong. America needs Judge Moore."
"Truly from my heart, I do love Mr. Trump," Green said. "I like Mr. Trump very much, I voted for him, and I cannot tell you how proud I've been of Mr. Trump. But I think he's wrong this time. I think he got the wrong information about Judge Moore."
Another Moore supporter, Bill Taylor, dressed in biker gear and standing with several other bikers, some wearing Bikers for Trump vests, said he admired Moore for having qualities similar to Trump's. "He's got a set of balls on him," Taylor said.
Moore or Trump?
"Both of them do," Taylor replied.
Trump recognized he risk he was taking. At his event for Strange, he even acknowledged that he might have made a mistake and pledged he would be "campaigning like hell" for Moore if he advanced from the runoff.
How these factions of the GOP align — or not — will likely be determined in a number of Republican primaries in 2018, when efforts to protect a slew of incumbents from challenges could result in a costly Republican Civil War.
"When you send Judge Moore to DC, he's going to be an inspiration for the rest of the country, for other candidates across the country to rise up and take on their own swamp creatures in their own states," Palin promised at the Moore rally Thursday.
For Tuesday's contest, the majority of the spending in the race came from the McConnell-aligned SLF, which spent about $8 million. GOP heavyweights who gave to the group this year include Home Depot co-founder Bernard Marcus, hedge fund manager Paul Singer, and Ultimate Fighting Championship CEO Lorenzo Fertitta.
Strange's own campaign spent $4.7 million and received additional help from the U.S. Chamber of Commerce, the National Republican Senatorial Committee, the National Rifle Association and a pro-Trump nonprofit America First Policies.
By comparison, Moore's campaign and allied groups spent only $2.3 million. Although a number of grassroots conservative and pro-Trump groups backed Moore, they didn't actually spend that much on him, pitching in a few thousand each.
The local dynamics surely favored Moore, a well-known figure with a strong base of support, over Strange, who was was appointed by a scandal-plagued governor who was weeks away from resigning under pressure.
Moore's win — despite being outspent significantly — could push other anti-establishment candidates to mount campaigns against well-funded incumbents, forcing some major donors to be more careful about where they put their money.
"There will be this enthusiasm and energy [among insurgent candidates], but I don't think it will be justified," said a GOP strategist with ties to big donors, who also said involvement from major donors and outside groups to protect incumbents will be more race-specific.
Donors won't necessarily continue to pump millions to protect all incumbents, the ally said, especially since that didn't work with Strange. "I don't know how anyone looks at it and says, 'We needed more money.'"
Brian Baker, who leads Ending Spending Action Fund, a group funded by the Chicago Cubs owner, Joe Ricketts, also said the Moore win might not translate to a neat establishment GOP vs. grassroots GOP narrative this time. "It's too soon to say. With a Roy Moore win, does that mean Danny Tarkanian has more of a shot in Nevada? It might be more specific to the state," Baker said.
Tarkanian is taking on Nevada Sen. Dean Heller. Arizona Sen. Flake is already facing Kelli Ward and potentially more GOP primary challengers. Chris McDaniel, who ran against Mississippi Sen. Thad Cochran in 2014, has hinted running again against Sen. Roger Wicker. Tennessee Sen. Bob Corker's retirement announcement Tuesday will likely also spur a battle between the GOP establishment and insurgent candidates in the primary for that open seat. At the very least, it could promise expensive primaries in a year when Democrats face an extremely difficult map.
The political network affiliated with billionaires Charles and David Koch has also been ramping up ahead of the 2018 election, but it's not yet committing to jumping into any primaries on behalf of challengers or incumbents. A lack of involvement, or withholding millions in ad spending for an incumbent facing primary challengers, could have a big effect.
James Davis, a spokesman for the network, said the group would make its decision based on the who the candidates end up being and where they fall on the issues the network prioritizes. If they see an opportunity to influence the race, they "will consider engaging."
Texas Sen. John Cornyn, the No. 2 Republican in the Senate and a former chairman of the National Republican Senatorial Committee, shrugged off the idea that McConnell, even with an embarrassing loss in Alabama, might be a drag on Republicans in 2018.
"Being the spear catcher for the conference is part of the responsibility of being in leadership," Cornyn told reporters Tuesday. "And Sen. McConnell, as he likes to point out, is a big boy. And he can take it."