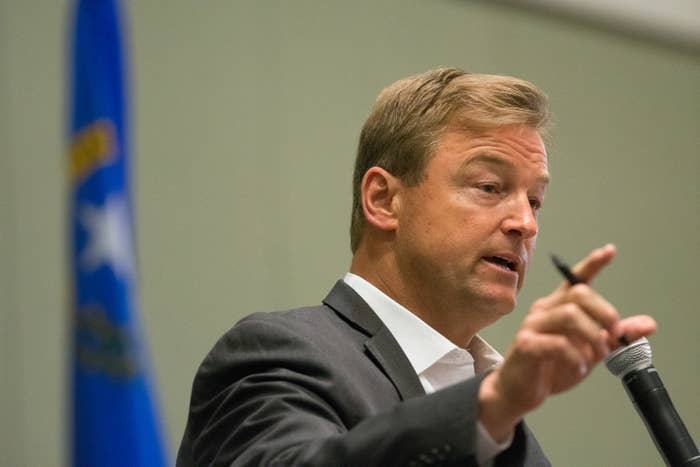 Tense conversations between members of Senate Majority Leader Mitch McConnell's political team and allies of President Donald Trump may have forestalled a big television attack planned against Sen. Dean Heller, one of the chamber's most vulnerable Republicans.
Heller last week came out against the Senate version of a health care bill designed to repeal Obamacare. Soon after, officials at America First Policies said they would target the Nevadan in a negative seven-figure advertising blitz that would begin on social media and spread to TV.
The nonprofit group is run by key Trump campaign operatives, including top digital advertising strategist Brad Parscale. Within hours, Parscale had created a series of provocative tweets and a video tying Heller to Nancy Pelosi, the House Democratic leader whom Republicans used to winning effect as a political bogeyman in the recent special election in Georgia. While evidence of purchased TV time in Nevada has not materialized, the moves earned a great deal of free media attention, and the shot across the bows could not have been clearer.
The tactics have alarmed many in the GOP. Heller is up for re-election next year in a state where Hillary Clinton beat Trump in the presidential election. Heller is a top target for Democrats — why should he also be a top target for friends of the Republican president?
McConnell was not given a heads-up that the anti-Heller campaign was coming — and he was not happy about it, according to several Republican sources.
One source familiar with subsequent talks between the McConnell and America First camps told BuzzFeed News that McConnell's side voiced its displeasure directly. And the McConnell allies, tasked with maintaining GOP control of the Senate in next year's midterm elections, came away from the talks convinced that America First Policies would not go with the overly harsh TV ads initially telegraphed.
"I think assurances would be the wrong word," said the source, who requested anonymity to share details of private conversations. "They have at least given the impression that they understand [McConnell's frustrations] and that they will pull back."
America First Policies might continue its social media blasts against Heller, the source added. (As of Monday evening, one tweet linking Heller and Pelosi was pinned atop the group's Twitter page.) But attack ads on Nevada airwaves are believed to be off-limits.
A spokesperson and other officials with America First Policies did not respond to questions about the discussions with McConnell's team. Earlier on Monday, the spokesperson disputed an Associated Press report that the group was expanding its campaign to target other Republican senators who have concerns with the health care bill. America First Policies has been making phone calls to voters in states represented by fence-sitting Republicans, offering words of encouragement for the bill. And in the spring, the group aired ads designed to encourage Republican House members who were seen as swing votes on health care.
America First Policies is also targeting Democratic senators through cable TV buys in Indiana, Michigan, Missouri, Montana, North Dakota, Ohio, Virginia, and West Virginia.
"These are state-specific ads that encourage constituents to 'call their senator' and tell them to replace Obamacare," said the America First Policies spokesperson, Erin Montgomery.
Axios reported on Monday that America First Policies could go down the kinder encouragement route with Heller, provided he signals an openness to voting for the final bill. One operative who works closely with the group told BuzzFeed News that story should not be interpreted as a retreat.
"It talks about optionality in content — not a debate of doing it or not doing it," the operative said.