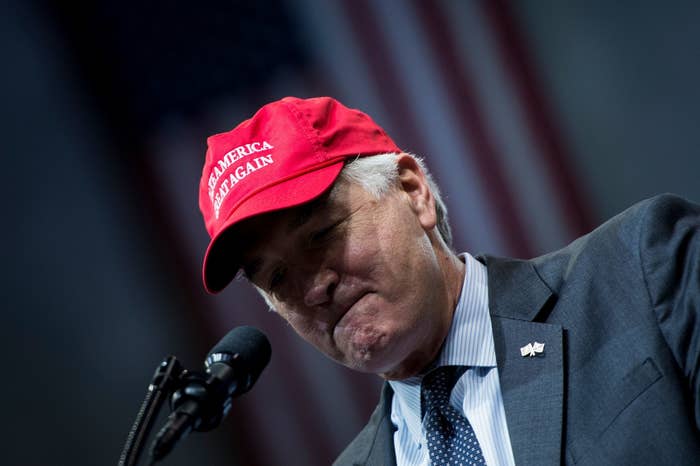 Vice President Mike Pence's campaign visit for endangered Alabama Sen. Luther Strange was just about everything President Donald Trump's was not.
It was a sober, smaller affair Monday night in Birmingham — a wholesome pep rally inside a half-empty airport hangar compared to the monster truck rally vibes Trump brought to a Huntsville arena last week. It was short, too, clocking in at about 25 minutes.
A dark curtain divided the hangar in half. Pence and Strange spoke from a tiny stage, in front of several rows of chairs and a generous standing-room only section that had room to accommodate dozens more. A huge "Stand With Trump" sign hung on one side, an equally huge "Vote for Luther" sign on the other.
Pence never worried aloud, as Trump did, if he was making a mistake by throwing his support to an establishment favorite — but that was the undertone on Monday night, where Strange seems likely to lose and the case in his favor is the exact kind of establishmentarian, vote-with-the-majority, conservative principles case that traditional Republicans often make.
"Luther Strange is a real conservative," the vice president told the several hundred in the audience. "He's a leader. He's been a real friend to President Trump. So I've got to tell you, Big Luther is making a big difference in Washington, DC, and he's just getting started."
Pence did offer a quick aside about NFL players who kneel during the national anthem. But even that was far milder than Trump's surprise rant — complete with a "son-of-a-bitch" curse — on the subject Friday in Huntsville.
"I stand with Luther," Pence said. "I stand with President Donald Trump. And I will always stand for our national anthem. We've all got a right to our opinions, but I don't think it's too much to ask the players in the National Football League to stand for our national anthem."
The big political theatrics were happening right around the same time Monday, more than 250 miles downstate, in Fairhope. Roy Moore, the frontrunner in Tuesday's Republican primary runoff for the seat Strange was appointed to earlier this year, celebrated election eve with a cavalcade of right-wing celebrities: former Trump White House strategist Steve Bannon, Duck Dynasty star Phil Robertson, and Nigel Farage of Brexit fame.
Moore vs. Strange has become a race of national importance that will test Trump's political capital and the strength of an anti-establishment movement Trump once thrived in but has split with in Alabama.
On Monday night, Pence, after dispensing with some boilerplate kind words for Strange, launched into a recap of what the Trump administration has been trying to accomplish. One big piece of unfinished business: legislation to repeal and replace Obamacare. The effort hit yet another snag Monday, when more Republican senators came out against the latest bill. Pence vowed a deal could be done. But he couched the promise around a need to return Strange, whose loyalty to the White House is what helped clinch Trump's support, to the Senate.
"Obamacare has failed, and Obamacare must go," Pence said. "The good news is as we speak, with the strong support of Sen. Luther Strange, the Senate is close to moving forward with legislation."
Strange was tapped by former Gov. Robert Bentley to succeed now–US Attorney General Jeff Sessions. Senate Majority Leader Mitch McConnell and his allies have made Strange's election a priority. They're particularly concerned that Moore, a twice-removed Alabama Supreme Court justice with controversial opinions on same-sex marriage and other hot-button issues, will make the seat competitive in December's special general election against Democratic nominee Doug Jones, a former US attorney. But Trump and Pence are not making that case, at least not publicly. Trump at his Friday rally pledged to campaign for Moore should he prevail.
"We're not here because we're against anybody," Pence emphasized Monday.
At a rally that screamed establishment, there was a glimmer of conservative grassroots support for Strange. Several members of Bikers for Trump, a group of leather-vested motorcycle enthusiasts loyal to the president, were on hand. Chris Cox, the group's founder, told BuzzFeed News in an interview that he decided to stop on his way to Texas to deliver supplies to hurricane victims.
"We elected Donald Trump. Now we need to trust his judgment and give him the resources he asks for," Cox said. "If Luther Strange is the guy he wants, who are we to disagree?"