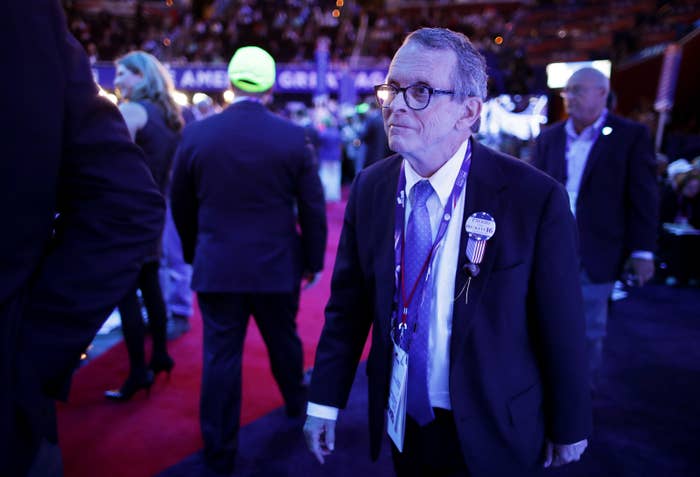 Mike DeWine crushed Mary Taylor in Ohio's Republican primary for governor Tuesday — but only after spending heavily on attack ads and being forced further to the right than he would have liked to go in a race where he always was the frontrunner.
Taylor, the lieutenant governor, pushed DeWine, the state's attorney general, on issues such as abortion and immigration. And they argued over who was more loyal to President Trump, especially following term-limited Gov. John Kasich's unsuccessful White House bid.
"I told her she had run a very hard campaign — and boy, she did," said DeWine, drawing laughs from the crowd as he addressed supporters at a Columbus restaurant. "Boy, she did."
The nasty tone, sharp right-wing turn, and high spending in the Republican primary has Democrats encouraged about the prospects of winning back the governor's office in the fall.
"I congratulate Mike DeWine tonight for winning one of the ugliest campaigns I have ever seen," Democratic gubernatorial nominee Richard Cordray, the former chief of the US Consumer Financial Protection Bureau, said during his victory speech at a nearby hotel.
Taylor and DeWine each had spent about $5 million on the primary as of late April — much of it on hard-hitting television ads.
DeWine, who has a history of strong name-recognition and favorability ratings in Ohio, acknowledges that Taylor knocked him off script.
"We didn't do anything in the campaign or say anything that we didn't believe," he told BuzzFeed News in an interview as the crowd at his primary night party began to thin. "We may have emphasized some things more than you might have with a different opponent, I guess."
DeWine chuckled ruefully when asked if he was disappointed in the campaign's tone.
"Well, it is what it is," DeWine said. "I can't change what it is. You run the race that is in front of you. … We only went negative after Mary had gone negative. You do what you have to do in a campaign, and what my experience has been, you can't let the other side just pound you day after day, or you're gonna lose. So we did what we had to do. Look, I think if you go back a year and if you would say to me at that point that you would have won election night tonight, 60–40, and you would have [one-time primary rival] Jon Husted on your ticket, I would take it in a heartbeat. So you gotta look at it from that perspective, or at least I do. I'm very happy."
DeWine described Taylor's concession call as gracious. In her remarks, she urged party unity and told her supporters that beating Cordray will "require all of us in this room."
In an interview Tuesday night, Ohio Democratic Party Chair David Pepper said the state party's internal polling had showed Cordray pulling ahead of DeWine in fall matchups.
Republicans, however, are encouraged by lower Democratic turnout, despite a race between Cordray and Dennis Kucinich, a former Cleveland mayor and lawmaker, that commanded just as much if not more attention in local and national media. According to unofficial returns at the Ohio secretary of state's office, about 827,000 Republicans cast ballots in their two-way primary for governor; about 680,000 voted in the six-candidate Democratic primary.
Despite being frontrunners, DeWine and Cordray both were pegged as the "boring" candidates in their primaries. And both believe they can appeal to crossover voters. Cordray's team is hoping to win over Kasich Republicans who are worried about the party's drift toward far-right populism. DeWine, who has never been an overt Trump cheerleader, knows he has to unite the Republican base, but he also believes he can appeal to Democrats who find him higher-energy and less partisan than Cordray, who is supported by prominent liberals such as Sen. Elizabeth Warren of Massachusetts.
"I tried tonight to start this, specifically to reach out to Democrats and talk to Democrats and talk to independents and talk to first-time voters, and there's a reason that I did that," DeWine told BuzzFeed News. "If you're governor, you've got to be governor for the whole state. I think gubernatorial issues many times are less partisan than issues in Congress or even legislative issues. … It's who the people have faith in, who they have confidence in, who has the experience, who has the drive, the energy, the passion to get in there and shake things up."
As for Trump, who won Ohio by eight points in 2016 but never indicated a preference for governor during the primary, he came out strong for DeWine in a Wednesday morning tweet.