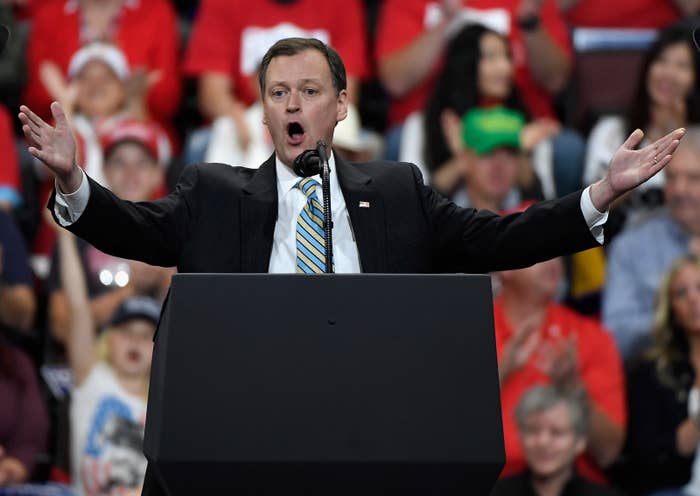 RED WING, Minnesota — Everywhere she went this weekend, Jennifer Carnahan predicted a "major red tsunami."
The chair of the Minnesota Republican Party has been calling for one ever since Donald Trump's near-win two years ago in a state that hasn't supported a Republican for president since 1972. The elections here this week are largely flying under the national radar, but the results will help determine how strong (or weak) Trump's foothold is in the Midwest.
Minnesota is a unique state in 2018: It's one of only two states with contests for both of its Senate seats, it's hosting a competitive governor's race, and it's home to two of the only House seats currently held by Democrats that Republicans have a good shot at winning. But if you believe the polls — and candidates in both parties aren't sure that you should, seeing as how few predicted that Trump would do so well in the state the last time — Minnesota Republicans are likely to wake up disappointed Wednesday morning.
The candidate everyone thought would be the party's gubernatorial nominee — former governor Tim Pawlenty — lost the primary. Al Franken's old Senate seat, made available after a groping scandal chased the Democrat from office, is a reach. Democrat Amy Klobuchar, the state's other senator, is up for reelection, but she might be the state's most popular politician. And after national investments in some of the country's most competitive House races this cycle, Republican pickups in those two competitive Democratic seats could very well be offset by losses in other districts.
Nevertheless, Carnahan and her candidates were full of optimism and swagger on a three-day bus tour that ended Saturday with seven stops, including one in Red Wing, a picturesque city of bluffs along the Mississippi River, and home to the maker of the eponymous shoes.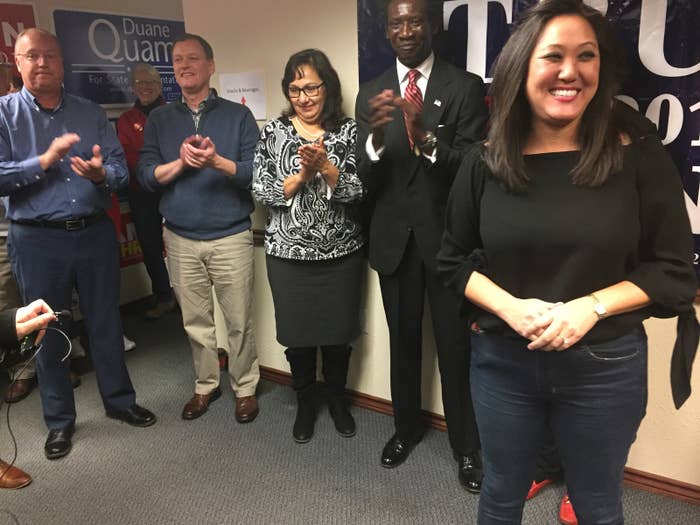 "I know exactly what it feels like right before you win an election," Jeff Johnson, the gubernatorial hopeful and a county commissioner from the Twin Cities who lost the same race in 2014, told activists at a Rochester field office. "I know exactly what it feels like right before you lose an election. And you know what it feels like? It feels like we're going to win an election."
State lawmaker Karin Housley, who is challenging Democratic appointee Tina Smith for the remainder of Franken's Senate term, organized the 18-city bus tour. As with Johnson, even the most favorable public polling shows Housley down by six or more percentage points. Last week, though, the Democratic Senatorial Campaign Committee and a second allied group made significant last-minute investments in Smith, suggesting they may have some cause to worry.
"I think it's too little, too late," Housley, who wore a red T-shirt proclaiming "We Got This," said in an interview Saturday with BuzzFeed News.
The bus tour began Thursday night up north in Duluth, gradually worked its way south, and finished — on what several noted was the opening day of deer hunting season — in the Minneapolis–St. Paul suburbs. Some candidates followed Housley's bus in their own campaign cars and trucks. (Jim Newberger, the Republican running against Klobuchar in Minnesota's other Senate race, nearly cut off a reporter while whipping a Chevrolet Traverse onto a highway on-ramp out of Rochester.) Three stops Saturday each drew about two dozen supporters.
The Red Wing event, held at a waterfront park, drew a couple of protesters too. One held a homemade sign that read "Renounce Nationalism" — the "America First" beliefs that Trump has embraced and fused with a Republican Party moving away from its free-trade and open-borders past.
"Promote nationalism!" one Republican in the crowd shot back.
"Absolutely!" shouted another.
Democrats are banking on these hardline policies costing Republicans, especially in congressional districts such as the Minnesota 2nd and 3rd, which take in suburban chunks surrounding the Twin Cities.
Rep. Jason Lewis, the first-term Republican incumbent who represents the 2nd, won a tight race in 2016 and faces a tough rematch with Democrat Angie Craig. Lewis, a former conservative talk radio host whose past offensive comments about women and gay people have made national headlines, stuck to base-rallying red meat Saturday.
"Hi, everybody! My name's Alec Baldwin," Lewis said, introducing himself at Red Wing's Bay Point Park as the actor who portrays Trump on Saturday Night Live and was charged with assault last week after a parking spot dispute. "Think about that. Isn't Alec the microcosm of the Democratic Party? … Angry is not a policy. This is about results vs. resistance."
Rep. Keith Ellison, the deputy chair of the Democratic National Committee now running for Minnesota attorney general, is a rallying cry for the Republicans. An ex-girlfriend has accused Ellison of domestic abuse. Ellison denies the accusations, but they have become a flashpoint in his race against Republican Doug Wardlow.
"The Democrat Party, they're all Keith Ellison now," Jim Hagedorn, a Republican House candidate in the competitive Minnesota 1st, told supporters Saturday in Rochester. "Every last one of them."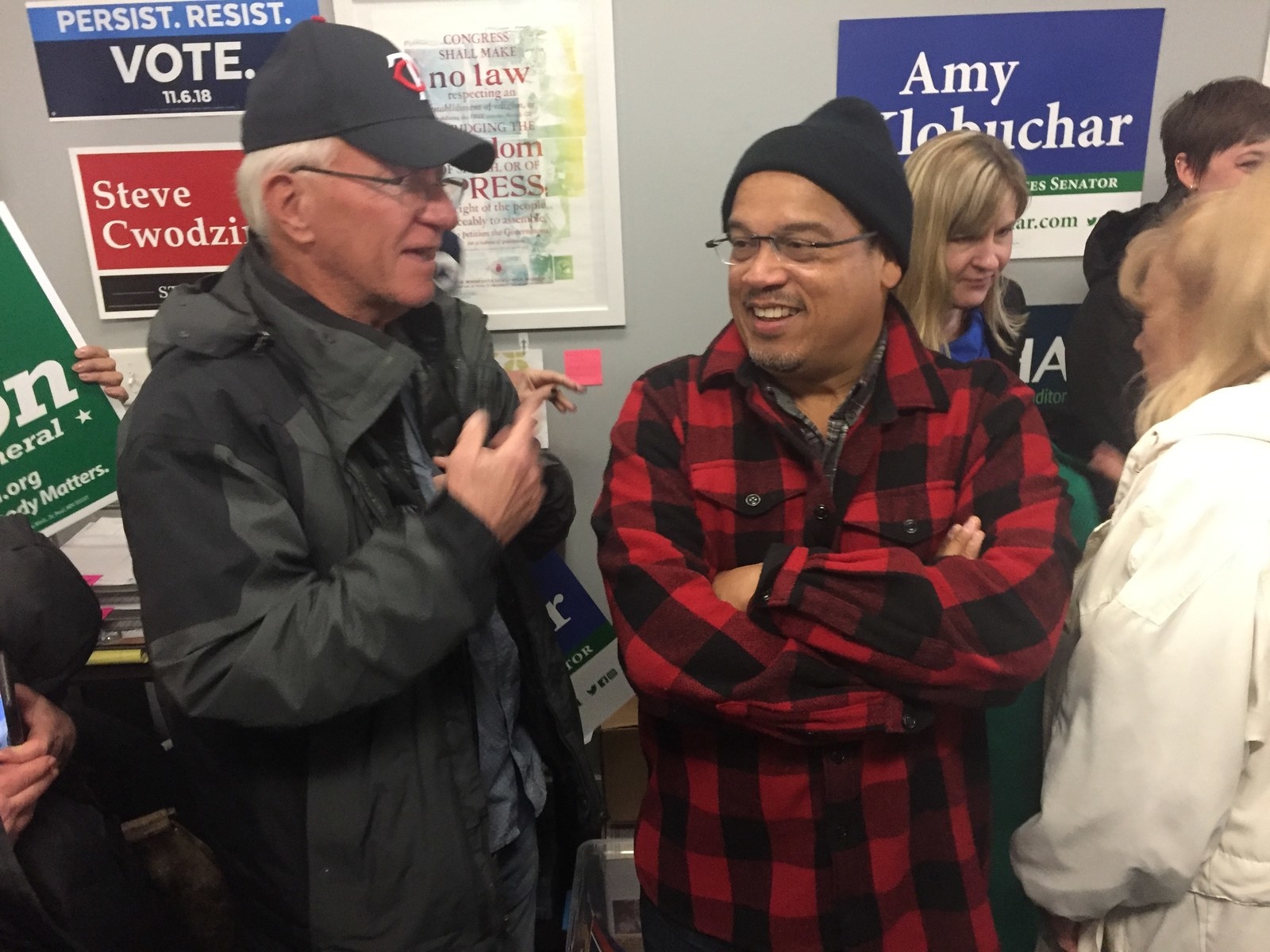 Democrats, though, were happy to campaign with Ellison on Sunday, as their own bus barreled through the Twin Cities suburbs. Ken Martin, the chair of the state's Democratic-Farmer-Labor Party, became emotional Sunday as he introduced Ellison at a field office in Eden Prairie.
"I've known Keith Ellison before he ever was in elected office," Martin told supporters who packed inside the narrow storefront. "I can tell you what's in his heart. He's my brother."
The DFL — the name acknowledges the state party's rural constituency — also is rallying behind Klobuchar, Smith, and Rep. Tim Walz for governor. Walz, who along with staffers and some supporters was wearing his trademark buffalo plaid, is campaigning as a progressive.
The tour's first stop Sunday was a field office next door to a Planned Parenthood clinic in Apple Valley, Minnesota. ("So if you're looking for your birth control or a chlamydia test or whatever you need, we are here for you," said Sarah Stoesz, the Planned Parenthood head for Minnesota, North Dakota, and South Dakota who spoke on behalf of Smith at several stops.)
The DFL crowds Sunday were slightly larger than the Republican crowds Saturday, despite church and a Minnesota Vikings game.
Walz told supporters in Apple Valley that organized labor and middle-class values had long been at the heart of Democratic success in the Midwest. Then Trump came along and came close to a clean sweep in the region in 2016.
"Michigan fell, and Ohio fell, and Wisconsin fell, and Iowa fell," Walz said. "But guess what: This state doesn't fall."
But the Republicans are having fun trying to make it happen.
"On Tuesday, we are going to turn Minnesota red," Housley told the crowd Saturday in chilly Red Wing, unzipping a winter jacket to display her red shirt. "Because we got this."
"Hey," John Howe, the party's secretary of state candidate, chimed in, "she's been flashing everybody."
Housley didn't seem to mind.
"I mean," she said later during the tour's stop in Lakeville, "they're like frat brothers."