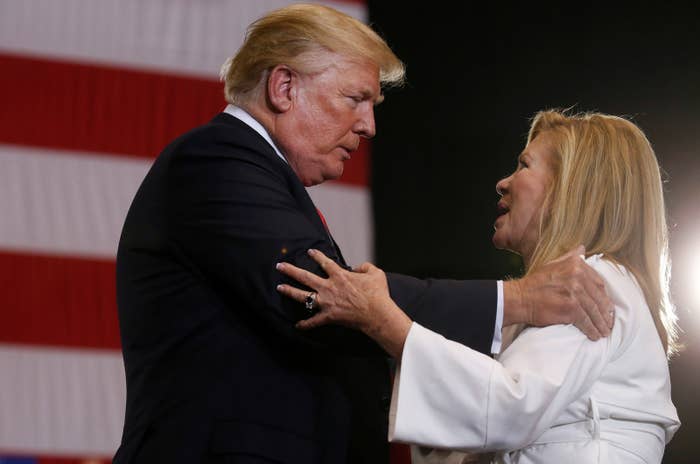 BYRDSTOWN, Tennessee — Republicans running statewide in Trump country are hugging the president close, making his obsessions their obsessions and happily turning their elections into referendums on the president. Democrats in those races often are fixated on localizing their campaigns and trying to get voters past their party identification.
Nowhere is that as pronounced as in Tennessee.
Marsha Blackburn is running for Senate explicitly as a proxy for President Donald Trump. The conservative Republican is spending the final days of her campaign warning voters about a caravan of asylum-seeking Central American migrants headed for the US and about a cavalcade of Trump-hating liberals eager to take over Washington, DC.
The way Blackburn frames it, the only thing standing between her party and political catastrophe is this race.
If she doesn't win the seat, she warns, Chuck Schumer could well wind up as Senate majority leader. "But let me tell you, I don't think Tennesseans are going to be the state that hands the US Senate to the Democrats," Blackburn said last week while visiting the Dixie Cafe, a popular gathering place in this small town 6 miles from the Kentucky border.
The race between Blackburn and Democrat Phil Bredesen, a moderate former governor and Nashville mayor, is one of several Senate toss-ups at stake in next week's midterm elections as Republicans cling to a one-seat majority in the chamber. Blackburn is counting on a nationalized message to carry her, even as Democrats' chances of gaining control appear to be fading. "I've never thought it was likely," Bredesen said of Democrats' chances in an interview with BuzzFeed News, "and I think in the past month or two it's become impossible."
Blackburn mentioned Schumer, the Senate Democratic leader from New York, at least 11 times in her first debate with Bredesen last month. Trump, who staged a rally for her earlier this month, will return to the state this weekend. And Lindsey Graham, the South Carolina senator who emerged as one of the party's top national surrogates after his spirited public defense of new Supreme Court Justice Brett Kavanaugh, campaigned for her Sunday in Nashville.
Bredesen, in contrast, is running a hyperlocal campaign, with the state's opioid epidemic — and Blackburn's cosponsorship of a House bill that weakened federal drug enforcement policies — a top issue. He hosted a party Saturday inside the club seating lounge at Nissan Stadium, home of the NFL's Tennessee Titans, to highlight his role in bringing professional football and hockey to Nashville two decades ago. About the only dose of national celebrity his campaign has indulged: an endorsement from Tennessean pop music icon Taylor Swift.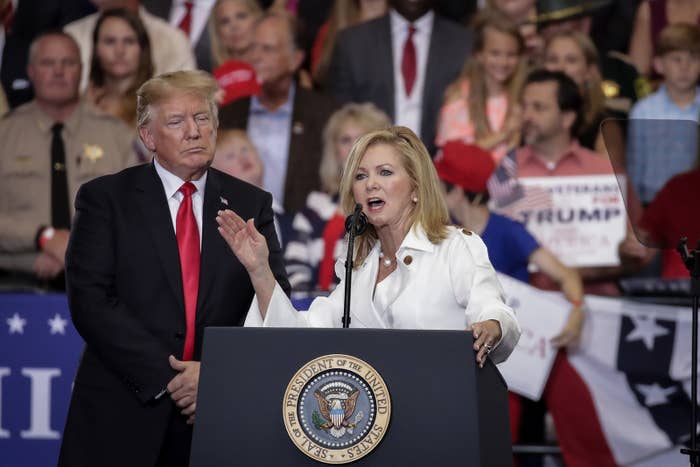 Outgoing Sen. Bob Corker, a moderate Republican who isn't shy about criticizing the president, is retiring, opting not to test voters' loyalties in a state Trump won by 26 points. Bredesen, 74, rarely mentions Trump, and when he does, it's usually to insist he will find ways to work with him if he goes to Washington. He is trying to turn back the clock, to a time when a pragmatic, mild-mannered Democrat could win statewide office (Bredesen was the last, 12 years ago). Blackburn, 66, is trying to plunge Tennessee deeper and irrevocably into Trumpism.
The strategy lines up with how Tennesseans think of the president. A CBS News/YouGov poll this month found 61% of the state's voters approve of how Trump is handling his job, and that 44% of people who planned to vote this year said their vote would be in support of Trump. Only 26% of voters said they would vote in opposition to Trump, and 30% said their vote would not be about him.
"I am what you call a principled conservative," Blackburn said during an interview with BuzzFeed News at the Dixie Cafe. "And what Tennesseans want to see is someone who is going to be there to support President Trump and somebody that is going to get things done that they want to see done: securing the border, lowering taxes, lessening regulation, funding our military, honoring our veterans, reducing and doing something about the federal debt."
Blackburn got to the point quickly while addressing a lunchtime crowd of 30, many of them digging into bowls of chili or nibbling on crinkle-cut fries.
"We know Tennesseans don't want Dianne Feinstein as head of the Judiciary Committee," Blackburn said, teeing up a list of Democrats loathed on the right and positioned for promotions if Republicans lose the Senate. "Elizabeth Warren would be chairman of the Senate Finance Committee. Bernie Sanders would be chairman of the Senate Budget Committee. Tennesseans would never go to the polls and vote for Chuck Schumer, Dianne Feinstein, Nancy Pelosi, Elizabeth Warren, Bernie Sanders, Cory Booker, Kamala Harris."
"We know Tennesseans don't want Dianne Feinstein as head of the Judiciary Committee."
She waved a thick stack of printed cards warning about such Republican doomsday scenarios on one side and bragging of the party's accomplishments with Trump on the other.
"I've got some little handouts here, little palm cards," Blackburn said. "I want y'all to take all these and pass them out, because we need every vote we can get. The media and the money is all with Phil Bredesen. But let me tell you something: The people, the policies, and the prayers? They're with us. And we just really need your help to win this race."
The Dixie customers channeled Trump, too.
"We said we don't want no fake news here," one elderly woman cracked to a local state legislator as she laughed and playfully gestured to the reporter interviewing him.
"Glad to have you," she added hospitably before recommending the pie.
The lawmaker, Kelly Keisling, fumbled a bit when asked what issues would shape the Senate race. "I don't know," he replied. "There'd be a shortlist. I think it's just we're very conservative, and we're anti-abortion. Again, there's a shortlist."
Others responded similarly, listing conservative judges and cultural conservative issues as their top priorities. No one mentioned the opioid crisis central to Bredesen's campaign as a motivating issue. Overdose deaths from heroin, fentanyl, and prescription pain medications have surged in Tennessee, one of the hardest-hit states. When asked about the epidemic specifically, voters at the Dixie treated it as more of a local problem that the next governor — not the next senator — will have to fix. "I don't know that it's a priority for local voters going to polls," said John Keisling, the state lawmaker's son.
Bredesen probably needs it to be.
He is hammering Blackburn for promoting a 2016 law favorable to the pharmaceutical industry and a hindrance to Drug Enforcement Administration efforts to stop suspicious narcotics shipments, all while accepting campaign contributions from the industry. One Bredesen TV ad starred a former DEA agent featured last year in the joint 60 Minutes and Washington Post investigation that shed light on the law and on Blackburn's role. A radio ad in heavy rotation last week urged listeners to look for the report online.
"If you want to see the swamp in action, here it is," Bredesen told BuzzFeed News after speaking at a Saturday prayer breakfast in Memphis. "But it also is a much larger issue than that. It's a serious issue in Tennessee in general, and it's a really serious issue in the eastern part of the state — some of the more rural and poorer parts of the state."
The confusing back-and-forth can also be swampy for voters trying to follow along. Blackburn deflects criticism by noting the bill passed without opposition and was signed by then-president Barack Obama. She also notes her support for tougher opioid legislation signed last week by Trump. The Bredesen team fires back that Blackburn was absent when a final version of that bill cleared the House. Her allies ask why Bredesen didn't do more as governor to address the emerging problem.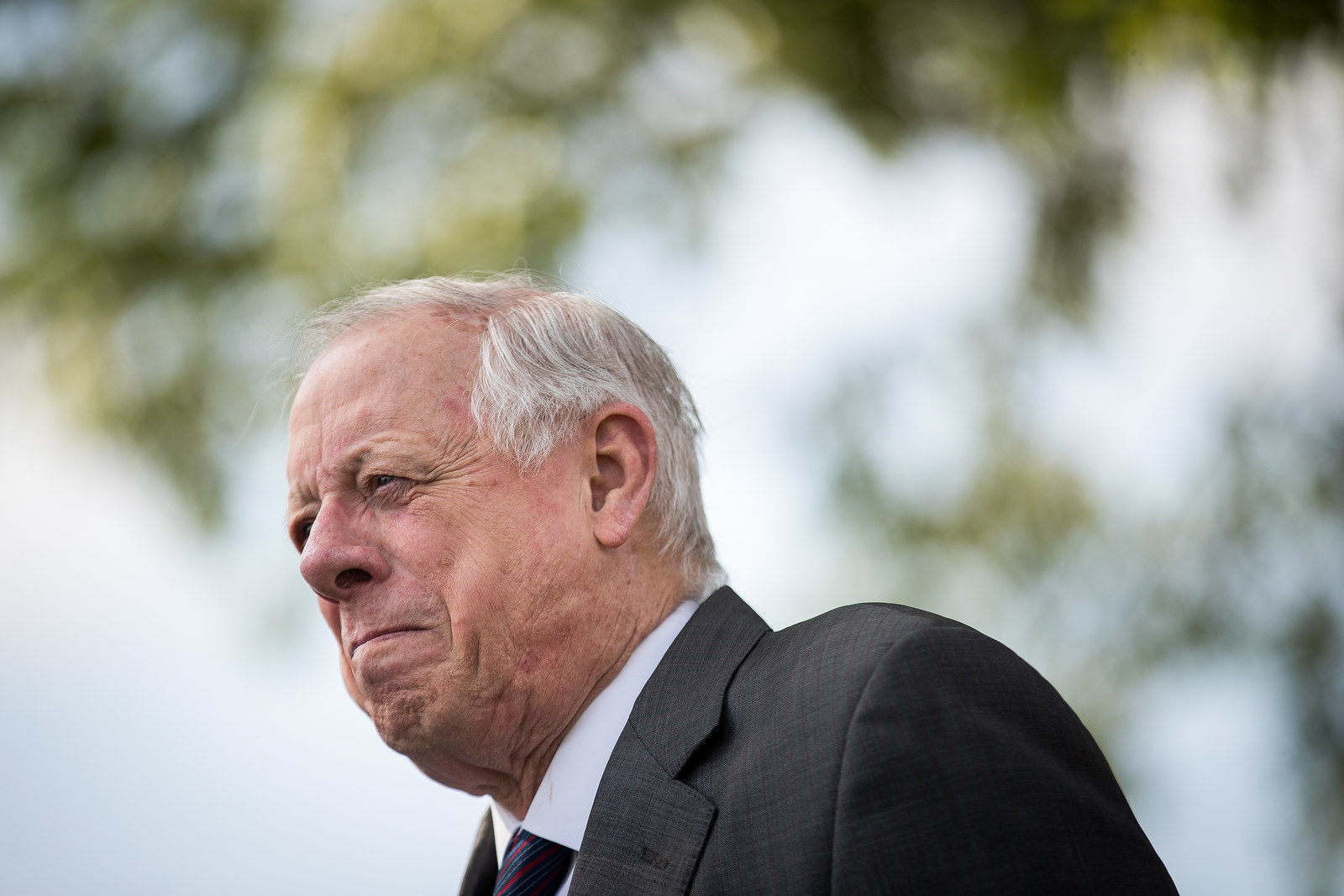 At the prayer breakfast, a mostly black audience heard from spiritual leaders who vouched for Bredesen's credentials. "He has a track record for saving our state money and improving our state on both a commercial and educational front," the Rev. Kia Moore said. Another pastor took a shot at Blackburn on the opioids bill.
Bredesen, who prefers to steer clear of the daily national outrages that Trump helps nurse, looked slightly uncomfortable whenever a speaker bashed the president, tenting his hands together over his mouth as he sat at the head table.
"I'm not here to be against Donald Trump or for anybody or anything else," he said in his remarks. "If the president is trying to do something that I think is good for Tennessee and Tennesseans, I need to be there with him to try and do something."
Afterward, Bredesen assessed his candidacy in candid strategic terms.
The fact that a Senate majority looks far less likely "actually helps me tremendously," he said. When asked if Blackburn's nationalization of the race frustrated him, Bredesen indicated he wasn't surprised, because his own polling showed that the "biggest negative I have ... is that I'm a Democrat." So what does it mean, to him, to be a Democrat? Bredesen talked about a "muscular party" focused more on the working class before shrugging off his party affiliation as some incidental detail. (Corker, one of his Republican friends, had encouraged him to consider running as an independent, the New York Times reported last week.)
"I'm just sort of pushing the fact that I'm a Democrat as an attribute — it's kind of like being tall or something else, tall or short."
"I'm a guy who's got a worldview … That worldview overlaps more with the Democratic Party than it does with the Republican Party, and that's why I'm a Democrat," Bredesen said. "But the overlap is not complete to the Democratic Party, and there's some overlap with the Republican Party. So I'm just sort of pushing the fact that I'm a Democrat as an attribute — it's kind of like being tall or something else, tall or short. It's an attribute, not this sort of defining characteristic that says how I have to believe about every particular issue that's out there."
Blackburn isn't buying it. Her campaign has been attacking Bredesen for saying that the approaching migrant caravan doesn't pose a serious threat to the US. Last week, she called attention to video footage of a sympathetic encounter that Laura Zapata, Bredesen's communications director, recently had with an undocumented immigrant. Blackburn mischaracterized the exchange — with help from the pro-Trump Breitbart News — as an offer to undocumented immigrants to work on the Bredesen campaign.
She also mocks Bredesen's declaration that he would have supported Kavanaugh's Supreme Court nomination as a political calculation made only after the Senate confirmation appeared solid. And she and her allies dismiss Bredesen's pledge not to back Schumer for Democratic leader.
"I want to win big," Graham, the South Carolina senator, said at Blackburn's rally Sunday, alluding to the millions of dollars a group aligned with Schumer has spent on the Tennessee race. "I want even Chuck Schumer to know that he wasted his money."
Graham's presence helped create precisely the kind of national spectacle Blackburn wants her race to be. He was there to remind Republicans that Senate control delivered them two new Supreme Court justices, including Kavanaugh over sexual misconduct accusations that dominated TV news for weeks.
"If you're a Republican," Graham said, "between Kavanaugh and the caravan, if you're not excited about voting, you're legally dead."
The event, held at a country music cabaret in Nashville, also drew protesters.
"Marsha Blackburn is a white supremacist!" a young woman — one of several hecklers forcibly removed from the venue after disrupting the rally — shouted two seconds into a moment of silence Blackburn asked for to remember the victims of Saturday's deadly mass shooting at a Pittsburgh synagogue.
The demonstrations allowed Blackburn to latch on to another message Trump has been pushing as the midterm elections approach.
"This Sunday afternoon, the liberal angry mob made it clear they are active in Tennessee and will stop at nothing to disrupt civil political discourse," she said in a statement her campaign issued after the rally. "They yelled 'Impeach Trump.' They kicked. They punched. They resisted law enforcement, and they interrupted a moment of silence for the victims in Pittsburgh. Never in my life have I heard of people interrupting a moment of silence. Phil Bredesen is their leader, and their behavior is despicable."
The Bredesen campaign responded by calling the protests "a shame" while also accusing Blackburn staffers of disrupting his events.
Trump may get the last word. He's due back in Tennessee on Nov. 4 — two days before Election Day — for a rally in Chattanooga. Details of the event had not been finalized Sunday afternoon, but local reporters peppered Blackburn with questions about what was then a rumored visit.
"Anytime the president wants to land Air Force One in Tennessee," Blackburn said with a knowing smile, "I'll welcome him."
CORRECTION
A previous version of this article misstated the name of the Drug Enforcement Administration.