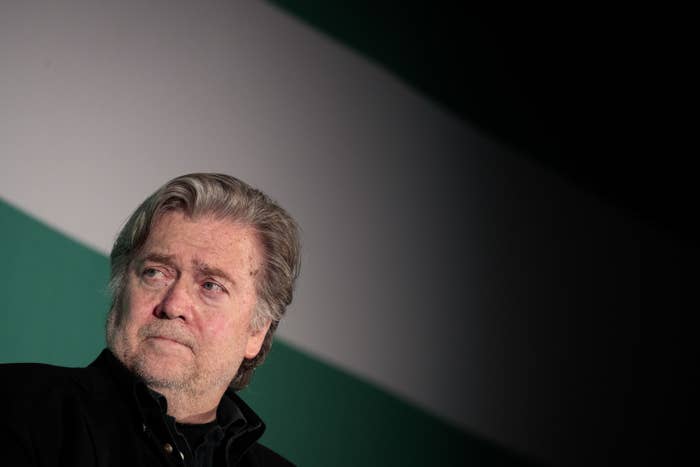 This week, one of the Democratic senators up for reelection next year in a state that Donald Trump won called Steve Bannon a white supremacist.
Asked Sunday during an appearance on CNN's State of the Union if he agreed with an assertion by Democratic Rep. Frederica Wilson that the White House is "full of white supremacists," Ohio's Sherrod Brown used the opportunity to bash Trump's former chief strategist.
"I agree that Steve Bannon is a white supremacist," Brown began, before broadening his criticism to include current White House advisers.
That's the kind of exchange that establishment Republicans argue could be a preview of the future. Some are now casting Bannon's endorsement as a liability in a general election — as Bannon continues to back challengers to incumbent elected officials.
"In states where Trump is popular, Bannon gives Democrats an alternate pathway to fire up their base and appeal to swing voters who support the president but recoil at Bannon's racially-charged worldview," Steven Law, president and CEO of the Senate Leadership Fund, the group aligned with Senate Majority Leader Mitch McConnell, said in a Tuesday statement to BuzzFeed News.
Bannon, eager to force McConnell from power and stage an anti-establishment uprising, is recruiting a slate of candidates in next year's Senate primaries. One of those candidates could be Ohio Treasurer Josh Mandel, the leading Republican in the race to take on Brown. (Mandel called Brown's attack on Bannon "desperate, false, and beneath the dignity of this office" in a statement he gave exclusively to Bannon's Breitbart News.)
McConnell allies see Brown's recent comments as a preview of a nightmare scenario for them: Bannon-backed candidates winning bruising primaries only to become softer targets for Democrats in a general election.
Law's warning follows a blast from longtime McConnell adviser Josh Holmes, who, like Brown, called Bannon a white supremacist in a recent interview with The Hill. Their comments escalate the war Bannon has declared on mainstream Republicanism.
"They're using the same false talking points that were used against President Trump in 2016," Andy Surabian, a strategist who works closely with Bannon, told BuzzFeed News. "It saddens me to watch McConnell's henchmen share notes with Sherrod Brown."
Bannon has made plenty of provocative comments that could be fodder for Democrats — or, for the time being, for his GOP adversaries. But Hillary Clinton and the Democrats had little success making Bannon and his alt-right ties an issue in the presidential election, where Bannon helped guide Trump to victory nationally, and in some of the same key states he hopes to be a factor in next year.
Bannon has shown a particular interest in unseating incumbent Republican senators. One of his main targets, Arizona Sen. Jeff Flake, announced Tuesday that he would not seek reelection — an announcement that came a week after Bannon campaigned with his challenger, Kelli Ward.
He also has raised expectations that he'll be involved in states such as Missouri, Ohio, and Wisconsin, where Republicans hope to pick up seats now held by Democrats.
A Bannon-Mandel alliance may not be a done deal. Mandel has not agreed to what many believe is the price of a Bannon blessing: A promise not to support McConnell.
Bannon's allies were emboldened Tuesday by a Harvard-Harris poll showing that 56% of Republicans believe McConnell should resign his leadership post. (The survey also found that Bannon and McConnell are equally unpopular: Only 16% view each man favorably.)
Mandel dodged the issue at a news conference last week in Ohio. And he and his campaign advisers have not responded to questions from BuzzFeed News.
Those on both sides — Team McConnell and Team Bannon — suspect Mandel wants to keep a foot in both camps. Law's Senate Leadership Fund supported Mandel in his unsuccessful 2012 race against Brown, but Mandel has since styled himself more as a mini-Trump. His campaign kickoff video included a vow to "drain the swamp." And he has courted support from right-wing social media figures such as Mike Cernovich and Jack Posobiec.
"This is about Mitch McConnell trying to protect his power," Surabian said of the concern expressed by McConnell loyalists. "This isn't about the Republican majority. If this were about the Republican majority in the Senate, Mitch McConnell would adhere to the wishes of Republican voters and candidates across the country and step down today."