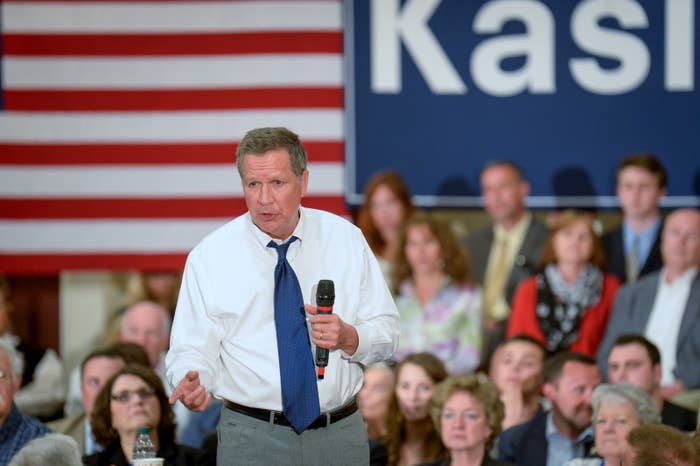 John Kasich — who is here again in New Hampshire this week because he's thinking about challenging President Trump for the Republican nomination in 2020 — knows that his presence in the party's 2018 midterm primaries might not be welcome.
"I'm too divisive in the primary," the Ohio governor acknowledged in a Tuesday interview with BuzzFeed News. "Many people have given up their religion and have taken up politics for their religion. That's why they're so strong about it. But it's OK. It's OK. I'm not mad at them."
Kasich shared the observation after noting he had met earlier in the day with New Hampshire Gov. Chris Sununu. Kasich campaigned for Sununu in 2016, after Sununu's brother prominently backed Kasich's presidential bid in the nation's first primary state. But Kasich has become a vocal Trump critic, while Vice President Mike Pence headlined a Sununu fundraiser last month. So will Kasich, who has maintained relationships with former US senator John E. Sununu and other activists in the state, be involved in the governor's reelection bid this year?
"I think he'll have to see what it's like," said Kasich.
The dynamic explains why Kasich, mindful that the Republican Party has shifted away from his center-right, more mainstream conservative views and toward Trump's populist nationalism, also is considering running as an independent in 2020. (Even so, a poll released Monday by American Research Group found Kasich giving Trump a close race in a hypothetical one-on-one primary in New Hampshire, suggesting that his politics may play better here.)
Kasich is navigating a similar dynamic in Ohio, where he is term-limited and had endorsed his lieutenant governor, Mary Taylor, to succeed him. But Taylor, the underdog in next month's Republican primary, has run away from the endorsement. Allies of the frontrunner, state Attorney General Mike DeWine, are using her past embrace of Kasich as an attack line.
"Doesn't matter," Kasich said when asked about the tactic Tuesday. "They'll all be running to me in the fall."
And though Taylor no longer wants his endorsement, Kasich has no plans to revoke it: "She's trying to separate herself and that's fine. … I'm not going to un-endorse her. No, it's fine."
Kasich spent Monday evening and Tuesday connecting with old friends in New Hampshire. Tom Rath, a veteran Republican strategist in the state, planned to host a get-together before Kasich's Tuesday evening speech at New England College in Henniker.