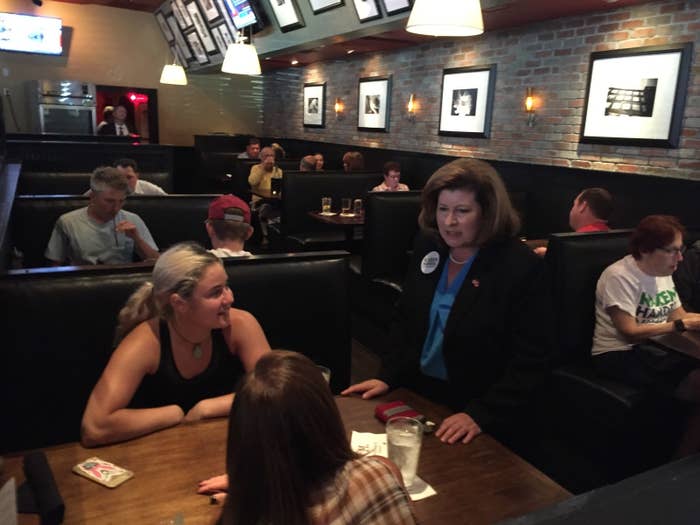 You could count on one hand the red "Make America Great Again" baseball caps in the crowd here Saturday at a get-out-the-vote rally for Karen Handel, who is in danger of being the first Republican since the 1970s to lose in Georgia's 6th Congressional District.
At least two of the hats sat atop the heads of voters from the nearby 14th District. And that summed up rather neatly the struggle Handel and her GOP allies face.
They need to keep Donald Trump close. Just not too close.
The president beat Hillary Clinton by only 1.5 points last fall in the suburban Atlanta district. Polls suggest Tuesday's special election — to fill the House vacancy left by Tom Price, whom Trump picked to be Health and Human Services secretary — is a coin flip. Many Republicans fear the contest in its final days is trending toward Democrat Jon Ossoff, who has raised far more money in what's already the most expensive congressional race in history. Results will be parsed as a barometer for both parties nationally as they realign in the Trump era.
Handel has offered Trump an awkward and politically cautious embrace. He headlined a private fundraiser for her in April, though he already had been scheduled to come to town for a National Rifle Association event. That "checked the box," Chip Lake, a Republican consultant in Georgia, told BuzzFeed News. Handel accepted an assist from the White House, but she didn't have to do it in front of TV cameras or the kind of raucous rally crowd that Trump draws. (More recently, Vice President Mike Pence came to the district for a low-key fundraiser with Handel.)
"I think she's handled it very well," Lake said. "It'd be a tricky situation for anyone."
It was hard not to notice the odd medley of mainstream Republicanism and insurgent Trumpism during Handel's event Saturday in a muggy airport hangar.
One supporter carrying a Handel yard sign walked toward the media section. "Thank you for being here," he said. It was a gentle contrast to what had happened a few weeks earlier leading up to a special congressional election in Montana, where the Republican candidate (and eventual winner) assaulted a reporter. Meanwhile members of Bikers for Trump, a group whose members are known for acting as enforcers at Trump campaign rallies, paced the floor. When one of the group's leaders spotted a woman standing up front with a sign criticizing Republicans on health care, he strolled casually toward her, said a few words, then escorted her away.
Handel's opening acts at what was billed as her final major rally before Tuesday were two of Trump's Cabinet members: Price and Secretary of Agriculture Sonny Perdue, the former Georgia governor whom Handel once served as a deputy chief of staff.
"Just for the record, I'm here in my personal capacity and as a former member of the United States House of Representatives," said Price, who reminded the audience that the seat also has been held by former Speaker Newt Gingrich and by Johnny Isakson, who's now in the Senate.
"Those gentlemen represented the district sincerely, and diligently, and honestly, and faithfully, and that's exactly what Karen Handel is going to do," Price added.
Perdue hit on the message Handel hopes will resonate with voters skeptical of Trump. "If it's right, she'll stand up for it," he said. "If it's wrong, you better watch out."
Then Perdue tried to draw a contrast with Ossoff, whom Republicans paint as being a puppet of House Minority Leader Nancy Pelosi and the political left while also scoffing at his own attempts to play it safe with Trump voters. "She doesn't have any strings to pull — I've already tried!"
Perdue also made a pitch to those who don't like Trump. "I know some of you out there, some Republicans, may even be turned off by our president. I'm not, because let me tell you — I know it's hard, but let me just share. I was in Miami yesterday with him," Perdue said, noting Trump's reversal of friendlier US policy toward Cuba. "The president keeps his promises."
It was the most Trump's name was mentioned during the half-hour event. Handel avoided reference to the president in her remarks. ("My job is to represent the people of the 6th District," she told reporters the night before when asked about her relationship with Trump during a campaign stop at a local tavern. "I'm not an extension of the White House.")
"She'll be independent, there's no doubt in my mind she'll do that," Ed Painter, leader of the 14th District Republican Party and one of the "Make America Great Again" hat wearers in the crowd, told BuzzFeed News. "I don't know that she'll do it the way I like it. But she will do it."
If only Handel were running in Painter's district. Trump won there by more than 50 points.