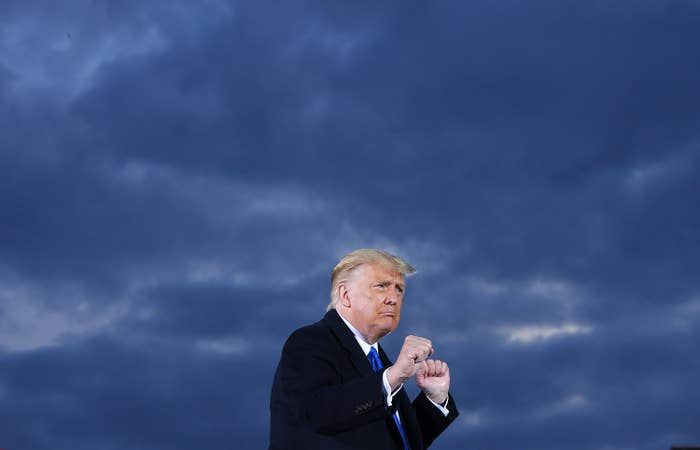 CLEVELAND — Kamala Harris paced joyfully down the middle of East 30th Street. Masked and holding a cordless microphone, she addressed a line of early voters that had backed up for blocks past the Cuyahoga County Board of Elections and spilled onto a freeway off-ramp.
"It's Kamala, and I came to Cleveland to say thank you!" the Democratic nominee for vice president began. "Thank you for voting and voting early. Your vote is your voice, your voice is your vote. There is so much at stake. Don't let anyone ever take your power."
There were maybe a few hundred people within earshot. It would be the largest audience she addressed during her five-hour visit here Saturday — and a sign of how carefully Joe Biden's campaign is proceeding through coronavirus protocols. Most of the voters in line to cast ballots in this overwhelmingly Democratic county cheered Harris's presence. And the sight of this on social media worked at least one of President Donald Trump's allies into a competitive lather.
"When you can't draw a crowd..." a Trump senior adviser from Ohio snarked on Twitter.
One campaign follows best pandemic practices. The other doesn't. It's not that Biden and Harris can't draw a big crowd. It's that they're choosing not to. And scenes Saturday from both campaigns clarified the divergent and disorienting state of the presidential race 10 days from Election Day.
As Harris was leaving Ohio, Trump was arriving for his own visit, to Circleville near Columbus. The city of roughly 14,000 is known for its annual pumpkin show, a five-day festival that draws hundreds of thousands of people. Saturday would have been the closing night, but the pandemic forced organizers to cancel this year's event. Circleville got a Trump rally instead.
"The energy is off the charts," Michael Hartley, a Republican strategist who lives in Circleville, told BuzzFeed News when asked if locals were disappointed to trade pumpkins for Trump. "It's like its own festival. Vendors and carnival food. Small town America showing out."
The outdoor rally drew thousands, many maskless.
If you do wear a mask and you do your best to stay 6 feet apart, a Trump event can feel an awful lot like gaslighting. When Vice President Mike Pence campaigned last week in Columbus, most in the outdoor, but closely smooshed together, crowd were maskless as they sat, stood, shook hands, and hollered. The exceptions were those seated directly behind Pence, in the TV shot. And they didn't put their masks on until soon before Pence took the stage. At Trump and Pence events, the pandemic that has killed more than 224,000 Americans is treated, and understood by his supporters, as a problem Trump has already fought and won.
"The news, the CNN, all they talk about, COVID! COVID, COVID, COVID," Trump said in Circleville.
"You have to lead your life. And you have to get out. You have to be vigilant, be careful, socially distance. Get too close, put the mask on, put it on, you know, lots of different things," he said soon after to a crowd of supporters who largely were not doing those things.
Biden and Harris have made the coronavirus — and their criticism of the president's response to it — the dominant focus of their campaign. After deplaning Saturday at Burke Lakefront Airport, Harris took a question about the electoral importance of Ohio into an opportunity to hit that message. "First of all," she responded, "Ohio is going to help determine the outcome of this election, there's no question. But also you look at the challenges that Ohioans are facing … we've had the highest number in Ohio of hospitalizations since the beginning of the pandemic."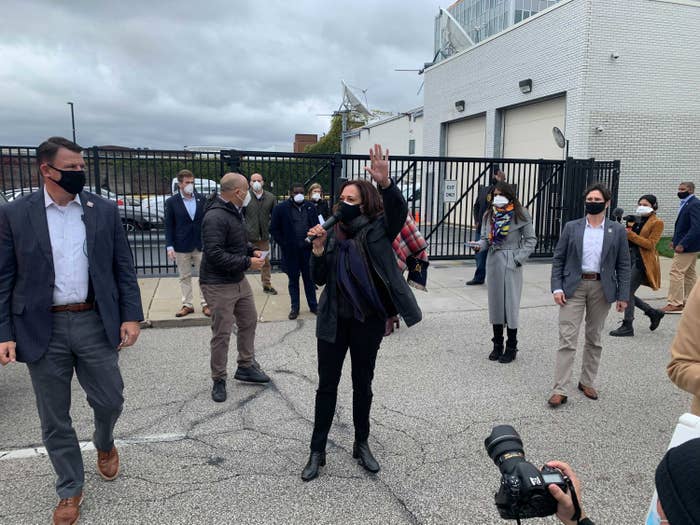 Trump has spent much of this final stretch trying, with little success, to make issues of the business dealings and personal problems of Biden's adult son, Hunter. And he spent a lot of time Saturday bragging on his favorite metric: crowd size. "Is there any place better to be than a Trump rally?" he asked in Circleville. "I mean, seriously, right? It's serious, but we have fun."
Biden events are small, when they happen. Trump gives the former vice president endless hell for riding out the early months of the coronavirus in his Delaware basement, even if it was the responsible thing for a 77-year-old to do. Trump is 74, and though his COVID-19 diagnosis has not been definitively traced to a source, the president, unlike Biden, kept holding large gatherings and rarely wore a mask in public. (USA Today reported this week that coronavirus cases surged in five counties after Trump held rallies there.) Biden has remained coronavirus-free, and he and Harris continue to limit the crowd size at their events. Many in that Board of Elections line that Trump's senior adviser mocked Saturday might well have turned out inside a high school gym if Biden or Harris had gone against health recommendations and scheduled such an event.
Democrats recently began experimenting with drive-in rallies, where attendees remain in their cars. Former president Barack Obama held one Saturday in Miami that the Biden campaign said brought roughly 400 people in 228 cars. (Trump, in remarks he made to reporters after landing in Ohio, nevertheless mocked Obama as a poor draw.) Meanwhile, a drive-in rally Saturday afternoon in Dallas with Biden and rock star Jon Bon Jovi drew more than 200 cars.
Harris stuck to a more traditional schedule in Cleveland. Or at least it was traditional in the sense that the places she went were places a national candidate typically goes when campaigning in a battleground state. She just couldn't go inside or invite a bunch of people to go with her. And so when she picked up takeout from a soul food restaurant, the owner greeted her outside with six bags containing boxes already stuffed with catfish, greens, and other specialties. About a dozen people watched from the sidewalk in an otherwise deserted part of downtown.
It was a similar, if slightly busier, scene in suburban Lakewood, where the owners of a clothing boutique met Harris outside, a mannequin showing off some of their wares. At one point Harris walked into the middle of Detroit Avenue to wave at people gathered across the street. Those who got close to Harris at both stops wore a mask. Harris kept hers on the whole time, too.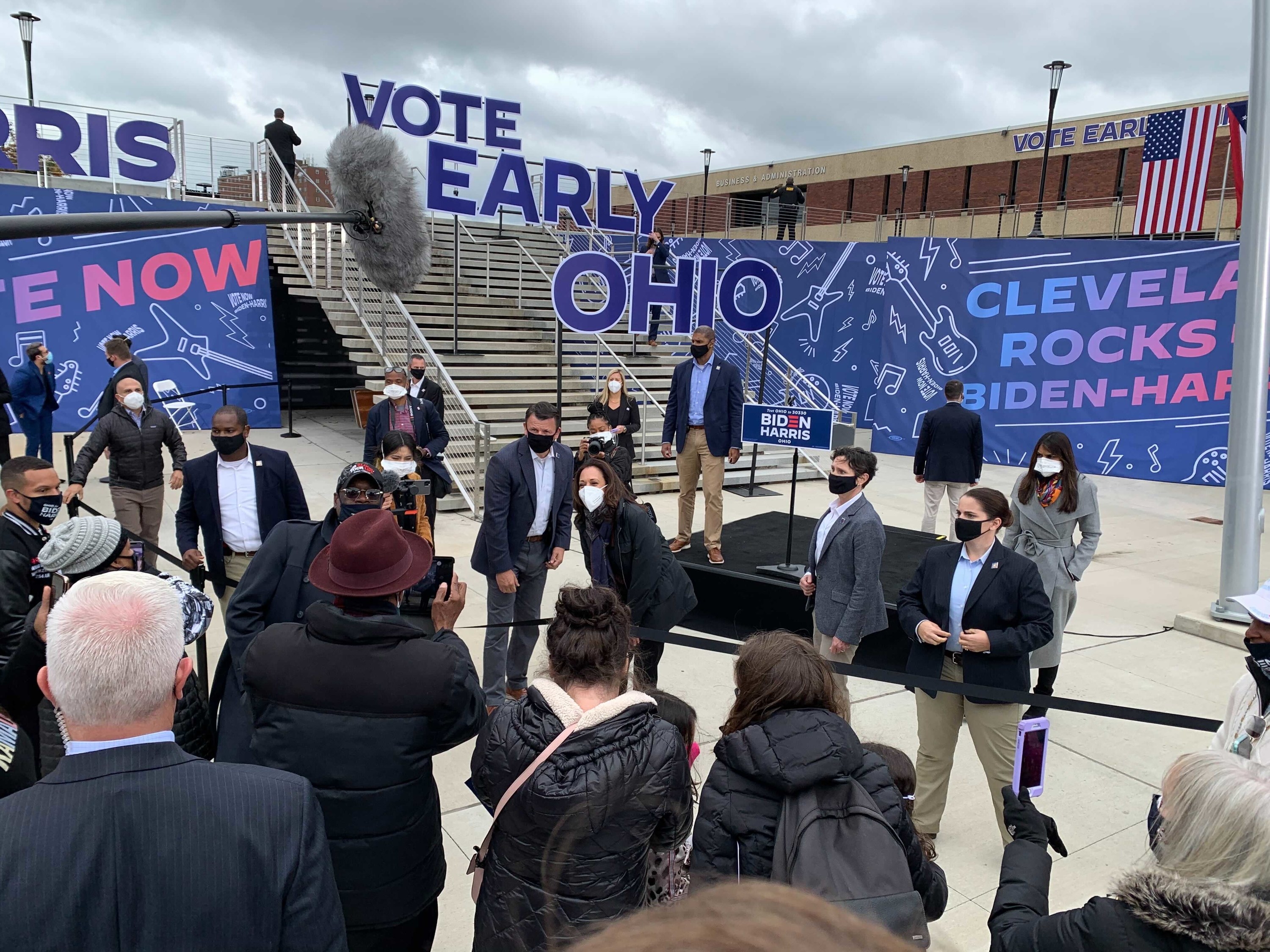 The most vivid contrast came after Harris left the Board of Elections for a speech at nearby Cuyahoga Community College, known locally as Tri-C. The event, held outside in a courtyard, was the centerpiece of Harris's day in Cleveland. It drew about 50 people, all of them wearing masks and situated in socially distant circles placed on the ground. It was so sparse, so spread out, that her words occasionally echoed back at her. When she talked about the late civil rights icon John Lewis, someone in the audience quietly invoked Lewis's "good trouble" mantra, but the murmur carried much farther than it would have at a larger rally.
"This moment will pass," Harris said in her remarks there, trying to instill a sense of togetherness in her small, socially distant crowd. And years from now, our children, our grandchildren, others — they will look in our eyes, each one of us. And they're going to ask us: Where were you at that moment? And what I know about who we are right now, hanging out at Tri-C, I know that what we will tell them is so much more than just how we felt."
Harris was working up to a broader argument: that Democrats' efforts to organize and mobilize voters in the midst of a pandemic — and other national crises, such as racial injustice, that Harris enumerated Saturday — will help deliver the country from the stormy Trump era.
An hour later, as she boarded her plane out of Cleveland, she was asked another Ohio-centric question: What had she learned from the few voters she was able to meet Saturday? And once again, Harris pivoted to the pandemic by bringing up the surge in coronavirus hospitalizations. She talked about modeling good behavior and adhering to safety protocols. She mentioned how Trump keeps saying we're rounding the corner and that a vaccine is coming soon.
"You look at anything that all of you are publishing and reporting," Harris said. "Everybody knows we are not rounding the corner. There's a fight that we're dealing with right now."