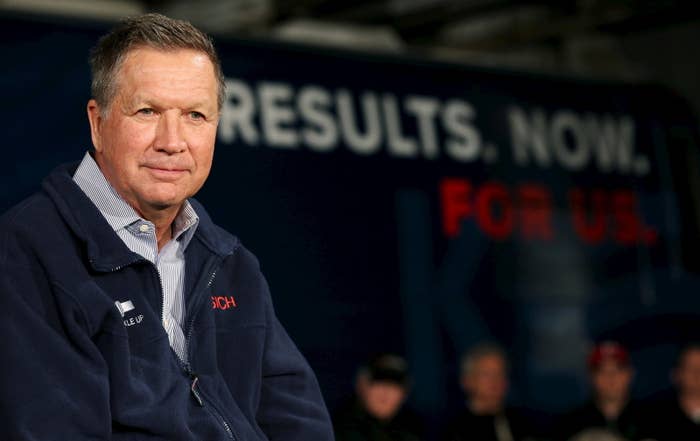 John Kasich's brand is built around the idea of "two paths" for the Republican Party: one for center-right pragmatists like him, the other for flamethrowers like Donald Trump.
But as the Ohio governor considers a rematch with Trump in 2020, he is weighing two more-tactical paths. Does he challenge Trump, the sitting president, in primaries where Kasich won't find much institutional GOP support? Or does he leave the party, go down a route littered with ballot-access hurdles and fundraising challenges, and run as an independent?
Sources close to Kasich's political team have told BuzzFeed News in recent weeks that both options are in play. Deliberate or not, Kasich's moves as the 2018 midterms approach reflect that. In Massachusetts, his still-active Kasich for America committee and Doug Preisse, one of his longtime advisers, have donated to Rick Green, who is seeking an open House seat as a Republican. In California, Kasich has encouraged Steve Poizner, who this week launched a campaign for state insurance commissioner as an independent.
Kasich and his team are identifying other midterm races where he can be helpful, return the favor to those who backed his 2016 White House bid, and collect chits for 2020.
"We've talked about it, but there have been no decisions made," Bob Klaffky, a member of Kasich's inner circle, said in an interview this week. "If there are people out there he believes in, and they ask for help, and he wants to do it, then he'll do it."
Others close to Kasich caution against seeing the tea leaves pointing to 2020 in such activity. They note that Green and Poizner supported Kasich in the past, and that any investment in their races should not necessarily be viewed as building blocks for another presidential run.
Kasich has been frustrated with the Republican Party since losing its nomination to Trump two years ago. Earlier this month — when the New Hampshire GOP chair responded to word of an upcoming Kasich visit to the nation's first primary state by pledging to support the president — Kasich's chief strategist, John Weaver, acknowledged thoughts about an independent run. "Why," he wondered, "does everyone assume the only option is running in a GOP primary?"
"I think we are all watching things closely," Klaffky said this week. "This is just my opinion, but I think the time could be right for an independent bid. I think there's a growing middle."
Kasich discussed Poizner's plans to wage a nonpartisan bid for insurance commissioner — a post he was elected to as a Republican a decade ago — before his announcement Monday, a Poizner adviser told BuzzFeed News. It's not yet certain how much Kasich will do for Poizner, who was a national co-chair of his 2016 campaign. Also of note: Weaver wrote a December guest column for the Kansas City Star promoting Greg Orman as an independent candidate for Kansas governor. (Neither Weaver nor Kasich is involved with Orman's team.)
A viable independent presidential bid would be tricky. Kasich would need the resources to win ballot access in all 50 states and to advertise a message that breaks through the traditional two-party system. But fundraising beyond Ohio always has been a challenge for Kasich, and he does not have the personal wealth that businesspeople such as Poizner and Orman bring to their campaigns. Poizner, a former Silicon Valley executive, was a top donor to Kasich in 2016. But Kasich would need many more like him to bankroll an independent 2020 effort.
"The legal hurdles you can get over," Klaffky said. "It's the money" that's a big challenge.
Kasich's interest in New Hampshire and neighboring Massachusetts, where the Boston media market reaches much of New Hampshire, suggests groundwork for a Republican primary — an option that may be more likely if Trump for whatever reason doesn't seek a second term. He will visit New England College on April 3, and this week he was booked as the May graduation speaker at Harvard's John F. Kennedy School of Government.
His team also keeps in touch with past New Hampshire aides, including Dante Vitagliano, his former operations director in the state.
But Kasich's tenuous standing in the GOP — Trump is popular among the party rank and file, and many remain upset that Kasich never supported him — means his help is not always wanted. Several Republicans working for 2018 candidates who backed Kasich in 2016 acknowledged that a Kasich assist could do more harm than good. Even in Ohio, where Kasich is term-limited but enjoys high approval ratings, Lt. Gov. Mary Taylor has downplayed his endorsement of her as she attempts to score an upset in a gubernatorial primary.
Kasich could be more of an asset in Massachusetts, where Green is running to succeed retiring Democratic Rep. Niki Tsongas. Gov. Charlie Baker, a moderate Republican, carried the district in 2014, giving GOP leaders hope that they can pick up the seat with the right candidate. Green chaired Kasich's presidential campaign in the state, and Vitagliano is managing Green's bid. Kasich's committee has donated $5,000 to Green. Preisse chipped in $1,000.
"I don't have any poll numbers on that," Vitagliano replied when asked if a Kasich campaign visit would be welcome. "But we certainly appreciate the governor's help for Rick's campaign."