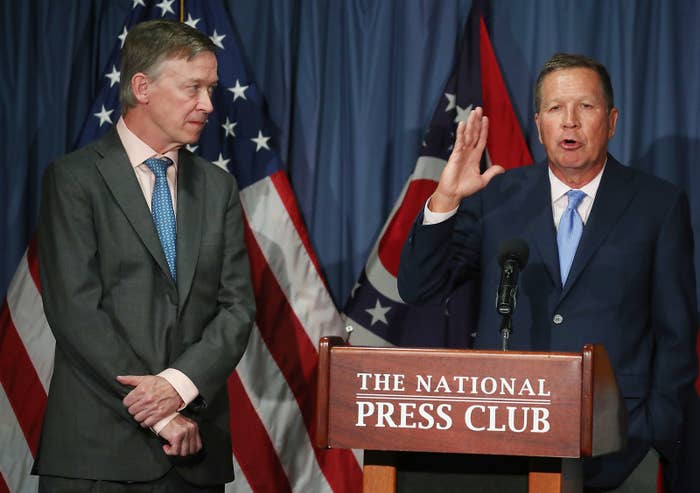 John Kasich is taking a subtle but significant step toward a possible 2020 presidential campaign.
The Republican governor of Ohio met privately Thursday with several national security and foreign policy experts, several sources familiar with Kasich's moves told BuzzFeed News.
The sources, who spoke on the condition of anonymity because they were not authorized to share details, described the discussions in Columbus as the first in a series of meetings on domestic and foreign policy and aimed at keeping Kasich current in global affairs.
Kasich, who competed unsuccessfully for last year's GOP presidential nomination, has been one of President Donald Trump's most persistent critics. He has not ruled out challenging Trump in a 2020 primary. He also has stirred speculation that he could run as an independent or even as part of a unity ticket with John Hickenlooper, the Democratic governor of Colorado.
Sources would not divulge names of all attendees, though they described those on hand as veterans of past presidential administrations and political staffs. King Mallory, who advised Kasich's 2016 campaign on national security issues, helped coordinate the meeting, which went on for hours throughout the day.
Two of the sources acknowledged that the gathering was to help prepare Kasich for another bid, should he decide to run again. But they stressed that nothing is definite.

Kasich earlier this week joined Vice President Joe Biden, a Democrat, for a forum at the University of Delaware. The topic: Civility in politics.