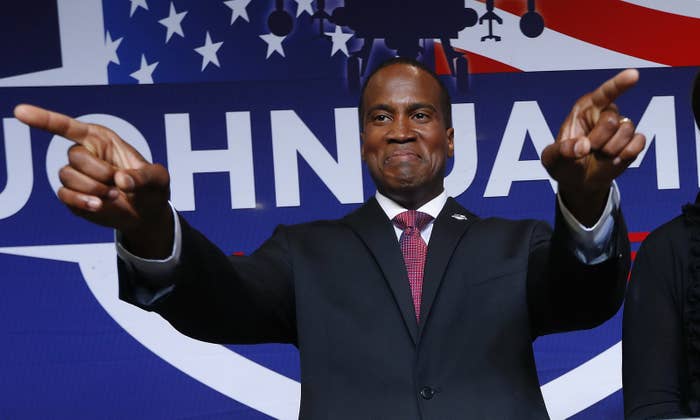 GRAND RAPIDS, Michigan — President Donald Trump welcomed John James into the Oval Office last week.
The visit, commemorated in a photo behind the Resolute desk, was the first time Trump had met the Republican Senate nominee from Michigan. For weeks, though, he had admired James from afar. Sight unseen, Trump endorsed him in last month's primary ("SPECTACULAR!") with a tweet that declared him an "African American leader."
Vice President Mike Pence already has headlined a fundraiser for James. Donald Trump Jr. is expected to hold an event for him in October, according to sources familiar with the plans.
All of this is an inordinate amount of White House investment in a contest few regard as competitive. Recent polls show Democratic incumbent Debbie Stabenow leading by double digits. But James, 37, represents a flicker of diversity in a largely white Republican Party led by a president who has inflamed racial tensions by mollifying white supremacists and denigrating black NFL players who kneel during the national anthem to raise awareness of social injustice.
He would be the first black Republican elected to a major statewide office in Michigan and one of only four black Republicans in Congress. James also has the kind of central casting résumé Trump loves: West Point graduate, Iraq War veteran, president of his family's logistics company in Detroit.
"Even if it's not a top-tier race, John James is a top-tier candidate," said Andy Surabian, a Republican strategist who is advising Trump Jr. in his political activities. "I think a lot of Republicans see a future star in him. Whether this Senate race works out or not, I think John is going to have a big future in the Republican Party."
James, in an interview here last week before an event with supporters, chose his words carefully when asked about how his candidacy squares with Trump's rhetoric.
"I believe that as a citizen, and certainly as a senator, I can disagree with the president without attacking him," James said. "I can also agree with him without worshipping him. … I believe that, as a black man in this country, there are more things that unite me with my brothers and sisters — of all races, genders, ethnicities, sexual orientations — than divide us. And I'm looking forward to focusing on those things, rather than the things that divide us. I'm looking forward to being a compassionate conservative as I am a conscientious capitalist. … But as far as the president's comments go, those are his comments … and I'll allow him to manage that."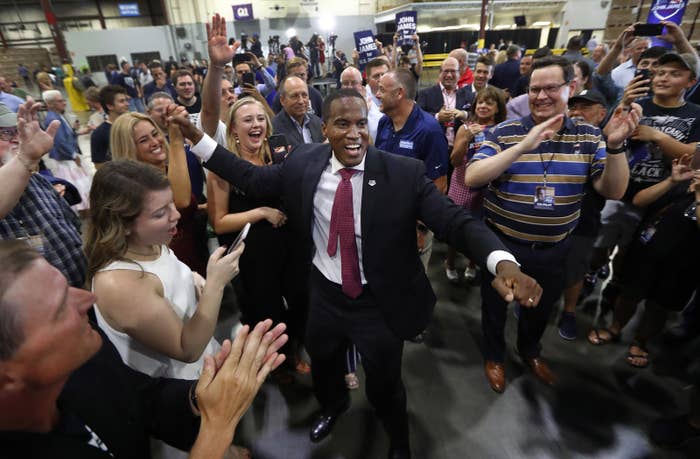 James is on record (via a Detroit News columnist) supporting Trump "2,000%." A video series posted to his YouTube channel in the early weeks of his primary campaign is filled with shoutouts to Trump and angry asides about Democrats and their "socialist hands." In one installment, James praised NBA commissioner Adam Silver for encouraging basketball players to stand for the anthem "and work in the communities to help fix racism," and asserted that "the NFL is doing neither."
But James, two days after his Oval Office photo op, didn't mention Trump once during his 20-minute speech at the Kent County Republican Party headquarters.
A large Ford-Dole banner hung behind James as he paced the floor with a wireless microphone, a tribute to the the Michigan-raised president and a relic of a gentler era in Republican politics. A Trump-Pence sign was relegated to a side wall. With few exceptions — support for embattled Supreme Court nominee Brett Kavanaugh, the requisite jabs at Stabenow — James presented himself as a postpartisan healer.
"I'm not going to fit neatly into anybody's little red or little blue box," he said at one point, repeating a shopworn line he had offered in his earlier interview with BuzzFeed News.
James also offered a parable he said he heard in church, about an old married couple that would go for long Sunday afternoon drives: "A young lady and a young man would cuddle up, and this was back when there were no safety standards. You could just lean over and hang out in the lap of the driver. They would just cuddle and have a nice drive." But over time the couple "increasingly separated." They stayed in the marriage, but also on their own side of the car.
This is how James views politics: A country where we're all stuck with each other, for better or worse, bound by faith and family and constitutional rights, but increasingly separated by tribalism.
"There is a divisive element in this country that's seeking to pull us apart," James said, "and we have an obligation to make sure we wrap our arms around all Michiganders, all Americans, regardless of what we look like or our political affiliation, and lead effectively."
His supporters, almost all of them white and many clutching fresh James yard signs with an American flag and Army helicopter logo, loved it. "Good!" a man yelled when James used the "little red or little blue box" line. A moment later, another man shouted: "John, we deserve you." Afterward, dozens lined up for photos with the candidate. It took James a half hour to accommodate everyone.
In James, these Republicans see a reason to feel good. Several who were in the Kent County crowd, and others cheering him on from Washington, rave about his service as an Army aviation officer and swoon over his "charisma." Others predict he will have crossover appeal with Democrats, particularly with black Democrats in the state's most populous city, though they are somewhat careful how they say that.
"I believe that if Detroit gets its act together, the people in Detroit will come in to save him," Hank Fuhs, the secretary of the Michigan Republican Party, told BuzzFeed News when asked how James could close the gap with Stabenow.
But when asked if that meant he believes a black candidate is advantageous to the party, Fuhs demurred. "I don't see color," he said. "What I see in him is a genuine person. We're all in the same boat. Apple pie, 4th of July, and we're worried about the future, the kids, etc."
James shows little interest in emphasizing the historical significance of his campaign. An aide to South Carolina Sen. Tim Scott, currently the Senate's only black Republican, said Scott and James haven't talked. And James would not say if he would join the Congressional Black Caucus, where Rep. Mia Love of Utah is the only Republican. "That's not something John is focused on right now," a spokesperson said.
Conversely, the pioneering story of James' father is well-documented on the website for the family's James Group International. The elder James was the first black business owner authorized to transport auto parts in Michigan and the first authorized nationally by the Interstate Commerce Commission. Frustrated with a trucking industry that had favored large companies, he pushed for deregulation in the 1970s to benefit entrepreneurs like him.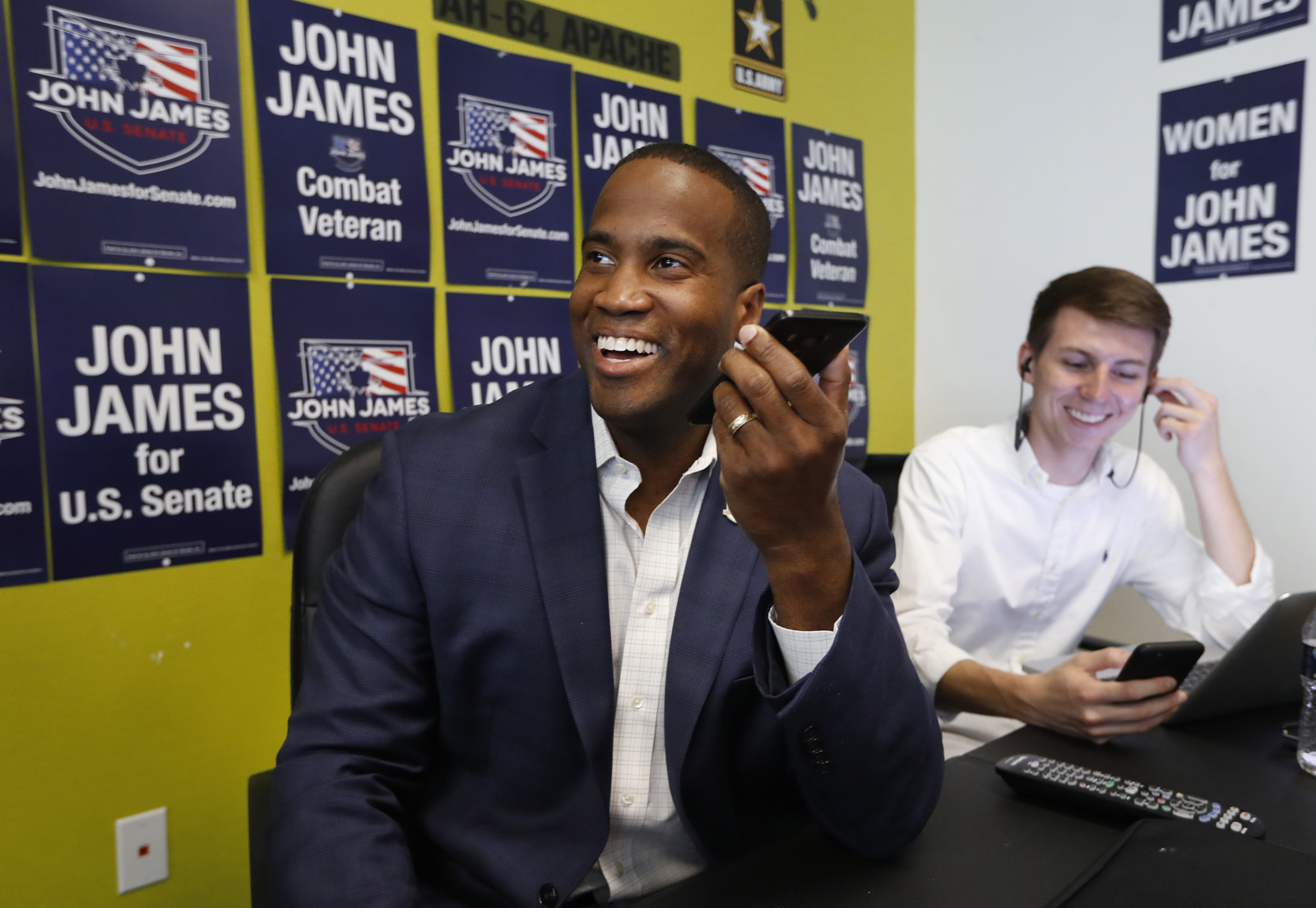 But does James think about race directly as part of his campaign? "You know, I do," he replied tentatively when asked. He then launched into a a much lengthier counterpoint that seemed intended to defend himself against those who might question his political affiliation.
"Certainly, people want somebody to represent them who can relate to them," James said. "And I believe that my candidacy gives folks the opportunity to see what's possible. I believe this is an opportunity to not just flip a seat, but to essentially flip the script, where people will begin to see that we are not binary. We are all complicated human beings, and we all know what prejudice is when it's relating to gender or to race, but we don't necessarily know what prejudging prejudice is when it relates to diversity of thought. Too many people have died for my right to think for myself. Too many people have died for me to have the right to vote the way I want to vote without being bullied into one political party or the other. And when I take a look at my own home state, with African Americans in particular, if 98% of us vote with one political party, then neither party has to work for your vote."
James repeated the "flip the script" line an hour later while closing his speech with an indirect nod to the race factor. "We have an opportunity," he said, "to show the country that we can elect a candidate that they say is the exact opposite of everything the Republican Party is capable of."
Stabenow's Senate seat was supposed to be a big opportunity for Republicans in a once reliably blue state where Trump won in 2016. Kid Rock, the profane, Trump-supporting musician from the Detroit area, teased a possible bid that amounted to little more than a publicity stunt to promote a new album. One July 2017 poll showed him with a slight lead over Stabenow. Many held out hope for a more traditional, established alternative in Rep. Fred Upton, but he passed, too.
James launched his campaign last fall with a series of YouTube videos — 100 days, 100 videos — that featured everything from policy statements to humanizing family moments. ("It smells like poop in there," James said on day 30, as he collected his sons from daycare.) The August primary pit him against Sandy Pensler, another businessman largely unknown to voters, but one able and willing to self-fund.
Trump's late July endorsement tweet likely shored up undecided voters for James. (Kid Rock endorsed James, too, for whatever that's worth.) But Stabenow is widely favored in a state where Trump's approval rating is stuck below 50%.
"The typical midterm would be problematic for challenging an incumbent like Stabenow," said Jeff Timmer, a Republican strategist in Michigan who praised James' "action hero" attributes. "The Trump drama du jour likely makes a difficult task an impossible one."
A Stabenow spokesperson told BuzzFeed News that Michigan voters "know Senator Stabenow doesn't take anything for granted. She works hard for every vote and will continue to do so."
A Trump campaign official would not say if a rally for James is in the president's plans. There are other races far more crucial to preserving the Republican majority in the Senate, and given Trump's poor poll numbers, it might be better for James anyway if he leaves the work to surrogates such as Trump's eldest son and Pence. The Oval Office visit at least was useful for a fundraising email and for exciting the pro-Trump Republican base.
James, betraying low expectations of the president, said he walked away with something else.
"I was actually struck — if I can be honest, with all we see about the president — that he's a really good listener," said James, who ran down a list of local issues he went over with Trump, including contaminated drinking water at Detroit schools. "He spent most of the time listening. And I really thought that was cool, because I think that might be a tremendous opportunity for Michigan."
CORRECTION
Gerald Ford was born in Nebraska. A previous version of this story misidentified his birthplace.