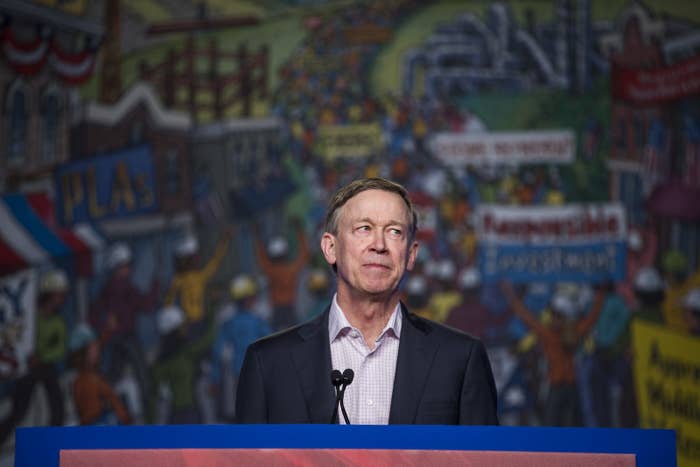 SAN FRANCISCO — John Hickenlooper has been an afterthought in the Democratic presidential race, but his tough talk Saturday to thousands of party activists in an important primary state caught him immediate attention — and a steady chorus of jeers.
"We know that it is absolutely essential to beat Donald Trump — but it is not sufficient," the former Colorado governor said here at the California Democratic Party convention. "We must address the divisions tearing us apart. We must tackle the kitchen-table challenges facing Americans. But let me be clear, if we want to beat Donald Trump and achieve big progressive goals, socialism is not the answer."
Activists in the crowd erupted with loud boos, disrupting Hickenlooper for several seconds. They booed again when he argued against eliminating private health insurance and against trying "to tackle climate change by guaranteeing every American a government job."
Hickenlooper introduced this line of attack against the left wing of his party earlier this week, in interviews with NPR and MSNBC's Rachel Maddow. Escalating the attack at the state party convention — a forum where "Bernie!" chants rang out with great frequency and where a sea of waving Tulsi Gabbard signs greeted attendees descending the escalators — was a purposely provocative move from a candidate registering around 1% or less in most polls. His campaign circulated the choicest excerpts hours before he took the stage at the Moscone Center.
"As Democrats, if we don't define a clear space between us and socialism, we run the risk of helping to reelect the worst president in American history, and we should take that very seriously," Hickenlooper told BuzzFeed News in an interview after his remarks. "The Republicans are definitely already trying to paint us into a corner as socialists, and we need to be very clear to say we are not socialists. We believe we can create a better country, with a better future, but it's not through massive [expansions] of government."
As for Medicare for All, which has emerged as a rallying cause for progressives, Hickenlooper pledged in his speech to "make health care a right, not a privilege, with a real public option" to buy government-run insurance — an option that falls short of what many activists prefer.
"I don't mind a single-payer system," Hickenlooper told BuzzFeed News. "But I don't think we can create that change by edict. It just doesn't work that way in this country."
Like former vice president Joe Biden, who skipped the California convention in favor of campaigning in more middle-of-the-road Ohio, Hickenlooper has been unwilling to move to the left on certain policy issues. Unlike Biden, he has not tried to assert that he's the most progressive candidate. But does Hickenlooper consider himself a progressive? "Yes," he replied. "A pragmatic progressive."
His seven-minute speech drew applause in other spots, particularly when Hickenlooper talked about some of his accomplishments as governor — accomplishments he described as possible only because he did not govern as a liberal ideologue.
"I am the only person running who has actually done what everyone else is talking about," Hickenlooper said. "Listen, we didn't get any of these big progressive goals done by applying ideological litmus tests. We took a pragmatic approach. We understood that sometimes we'd have to talk to Republicans. We didn't demonize the private sector. We focused, above all else, on building an economy that works for everyone, not just in the cities, but for rural communities as well."
Hickenlooper's approach stood out on a weekend when other Democrats were eager to prove themselves as the most progressive.
"When a candidate tells you about all the things that aren't possible, about how political calculations come first, about how you should settle for little bits and pieces instead of real change, they're telling you something important," Sen. Elizabeth Warren of Massachusetts said, in remarks widely believed to be a subtle jab at Biden, but also relevant to Hickenlooper, who spoke a few hours later. "They are telling you they will not fight for you. Not me. I'm here to fight."
Washington Gov. Jay Inslee, who followed Hickenlooper onstage Saturday, seemed to level a more direct criticism.
"I am the governor," Inslee said at the outset of his speech, "who doesn't think we should be ashamed of our progressive values."