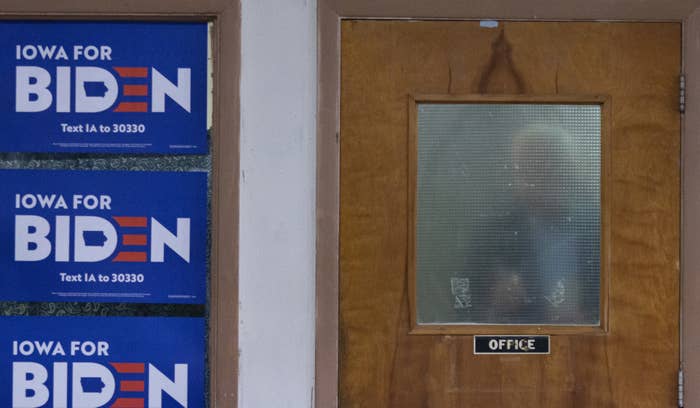 SOMERSWORTH, New Hampshire — For months, Joe Biden said Iowa voters held "the keys to the kingdom" — access to a victory that quickly would ratify his case: Joe Biden can win.
It became clear Biden wouldn't be getting his hands on those keys after the first results from Monday night's caucuses landed — delayed for days because of reporting glitches that prompted an angry letter from his campaign's lawyer. With 71% of returns counted as of Wednesday morning, Biden was in fourth, far behind the two leading candidates, Sen. Bernie Sanders of Vermont and former mayor Pete Buttigieg, in the delegate chase and popular vote.
Biden himself acknowledged that reality Wednesday.
"Twenty-four hours later, they're still trying to figure out what happened in Iowa," he said at the start of a campaign event here. "At this rate, New Hampshire will be the first to vote. I'm not going to sugarcoat it: We took a gut punch in Iowa. The whole process took a gut punch. But this is not the first time in my life that I've been knocked down."
He now is going on into absolute uncertainty after spending a year as the frontrunner who could consistently survive attacks or slipups. He's already in New Hampshire, where Sanders, who represents neighboring Vermont and dominated the primary four years ago, is in a strong position, as is Massachusetts Sen. Elizabeth Warren, who's also from a neighboring state. Buttigieg's strong Iowa showing makes him a factor too. South Carolina, which Biden and his allies have called his firewall, doesn't vote for another 25 days.
"I know there are an awful lot of folks out there who are writing off this campaign. They have been since I started running," Biden said in Somersworth. "But I'm not going anywhere."
The Biden campaign moved quickly to show strength. In the immediate aftermath of the Iowa chaos, as early unofficial reports from precincts showed him struggling behind the top tier, his team trumpeted a new endorsement from Caroline Kennedy, the daughter of the late president. By sunrise, he was boasting a burst of fresh endorsements, including from former South Carolina governor Jim Hodges and former Arkansas senators David and Mark Pryor — the latter two from a state that holds a Super Tuesday primary in early March. The International Brotherhood of Electrical Workers voted to endorse Biden at a meeting Tuesday, well aware it had been a bad night for him in Iowa. Aides cited these developments as a sign of forward motion as Biden began his New Hampshire swing.
But so much can happen in the next three weeks to spoil Biden's plans. His fundraising, which to this point has been helped heavily by establishment donors nervous about the Democratic Party's leftward drift, could collapse and leave him without a simple way out of New Hampshire, especially if those donors abandon him for Buttigieg.
And waiting in the wings on Super Tuesday is Michael Bloomberg, the self-funding billionaire and moderate former mayor of New York City who is skipping the early primaries and caucuses and positioning himself as a consensus alternative. Bloomberg, flush with an ever-growing list of establishment endorsements, is preparing to immediately and drastically increase ad spending, a campaign aide said; he will soon have a national field staff of more than 2,000 people. On Wednesday, Bloomberg released an ad meant to highlight his own relationship with Barack Obama, an unsubtle jab at the candidate who has made his time working with the former president a centerpiece of his campaign.
"After more than a year of this primary, the field is as unsettled as ever," Bloomberg campaign spokesperson Galia Slayen said. "No one has made the sale or even come close to it."
In a sign that Biden will at least have financial backup, his super PAC allies on Tuesday announced a $900,000 advertising buy to prop him up in New Hampshire. Unite the Country's executive director, Steve Schale, told BuzzFeed News the group also has big plans for Nevada and South Carolina — "early states whose demographics are much more like America."
Illustrative of what a poor showing it was for Biden in Iowa: Tom Miller, the state's attorney general and one of Biden's most prominent endorsers there, reportedly shifted his support to Buttigieg on the final caucus alignment in his precinct, where Biden fell below a 15% viability threshold.
As the numbers stand now, Biden is the only candidate in the top four to have lost support between the first and final alignments. The race — in which his advisers were preparing supporters and the media for a close finish among the top four — seems to be a tight race between the top two. Biden is currently closer to Minnesota Sen. Amy Klobuchar, the likely fifth-place finisher, than he is to Buttigieg or Sanders.
There also was trouble for Biden in Dubuque County, an enclave of Catholic voters that Biden, a Catholic, targeted aggressively with a specially tailored message in hopes of running up the score there. With about 63% of the vote tabulated there, he was trailing Buttigieg and Sanders in the delegate chase.
Even as Biden had led in some recent polls of the state, the result is not exactly a surprise based on what things have looked like for much of the last year on the ground. In the months leading up to the caucus, Biden's crowds in Iowa skewed older and sparser than those of his competitors, the age gap being especially evident on college campuses. His final event, in Des Moines on Sunday night, drew just over 1,000 people — the largest crowd he had in the state, the campaign said. Sanders, two nights before, drew 3,000 and has consistently had larger and younger audiences. Several Buttigieg events drew more than 1,000 Iowans, and one rally in Coralville drew 2,000.
As delays in the Iowa Democratic Party's reporting system brought all the candidates out to address their supporters Monday night and early Tuesday morning, the Biden camp sent a letter to the party calling for "full explanations and relevant information regarding the methods of quality control you are employing, and an opportunity to respond, before any official results are released."
Biden, speaking to his supporters at a campaign caucus night party at Drake University in Des Moines, also appeared to tamp down expectations of a clear win.
"Indications are, from all indications, it's going to be close," he said. "We're going to walk out of here with our share of delegates; we don't know exactly what it is yet, but we feel good about where we are."
The mood of Biden allies and advisers reflected these uncertainties in the days leading to Iowa's caucuses, as it became clearer he would lose them. Chris Dodd, the former Connecticut senator pressed into surrogate duty, told reporters Sunday that Biden was "anything but doomed," unhelpfully accepting the premise that he might be. John Kerry, the former secretary of state who several Biden aides believed was their most effective surrogate, was overheard on a telephone call gaming out a scenario in which he himself runs for president.
"I'm black Irish," Biden's sister and longtime political adviser, Valerie Biden Owens, told BuzzFeed News on Monday afternoon before sitting down for lunch at a coffee shop in the East Village of Des Moines. "But I'm optimistic."
A few minutes later, she exclaimed: "Let's just get this over with!"
More generally, Biden allies had been reshaping expectations, hoping that a closely bunched top four in Iowa, combined with new quirks in how the results were reported, would muddle things enough to keep Biden believably in contention.
They pointed to a solid fundraising total in January. "The month of January will be the campaign's strongest month of fundraising since launch, with the vast majority of our growth coming through digital," campaign manager Greg Schultz wrote in a Jan. 31 memo to donors that was obtained by BuzzFeed News. The memo also noted the recent addition of Dave "Delegate Dave" Huynh as a delegate adviser.

"The VP," Schultz wrote, "remains in a strong position to perform well in the first four states and on Super Tuesday, but we're also planning for an extended process into the summer."

Allies have emphasized two dynamics that could turn the race back to Biden: a more diverse electorate that Buttigieg has yet to connect with in later states, and fears among more moderate and independent Democrats that Sanders would bring the party down in November. (Though the latter is the scenario where Bloomberg exists as a threat to Biden.)
"We cannot win just on flipping the Oval Office, we've got to flip the Senate as well to move the hundreds of bills forward that we've moved out of the House but that the Senate refuses to vote on," Rep. Cindy Axne, who flipped a red Iowa House seat in the 2018 midterms and endorsed Biden, told BuzzFeed News last week.
"Listen, we've got to have somebody at the top of the ticket who that I believe appeals to the vast majority of people in Iowa. Democrats, independents, and moderate Republicans as well," Axne said when asked if she would be concerned about a Sanders candidacy. "I won one of the toughest tickets."
"Well, I know we'll win in Texas!" Rep. Filemon Vela of Texas, a prominent Biden endorser, told BuzzFeed News on caucus night when asked what he thought of Biden's chances in Iowa.
This descent into the unknown isn't where Biden and his team thought they'd be when he got into the race last spring — later than others but decisively atop national polls. There had been rocky moments that forced recalibrations in their thinking, sure. During a campaign swing last summer anchored by an appearance at the Iowa State Fair, Biden was a stumble-ridden mess, his frontrunning confidence replaced with uneasiness. A few weeks later, his top handlers gathered reporters on a conference call to insist Biden didn't have to win Iowa. Or New Hampshire. And then President Donald Trump was impeached over his requests that a foreign government, Ukraine, investigate a political rival, Biden, vis-à-vis his son, Hunter, who had worked for a Ukrainian gas company while his father served as vice president.
As messy as the impeachment story had the potential to be for Biden — his campaign issued surrogates talking points last week meant to push back on questions about Hunter Biden — he leaned into it as proof that he was the biggest threat to Trump. "I'll beat him like a drum!" Biden said over and over, as some of aides incorporated drum emojis into their Twitter handles.
The dynamic played directly into Biden's strategy from the get-go: to run his campaign framed as a general election fight between him and Trump, emphasizing Trump in his early stump speech and in how he framed various policies and opinion pieces. That was notable, for example, in the way he wrote about Puerto Rico in a December op-ed — contrasting his general attitude toward the US territory against Trump's, while at the same time not addressing some of the issues people on the island are concerned about right now.
That bold posture lingered into the new year but receded as Sanders' Iowa numbers grew and Buttigieg remained an upper-tier contender. Campaign officials even had to start worrying about Klobuchar, who appeals to the same types of moderate voters and made Iowa a priority. A voter at an event in Mason City told Biden he could clinch her support by promising to make Klobuchar his running mate. Reports soon surfaced that Biden and Klobuchar aides had at least casual conversations about an alliance that would tip Klobuchar caucusgoers to Biden in precincts where she wasn't viable.
In the closing days, the campaign couldn't agree on expectations headed into the caucuses. The surrogate talking points obtained by BuzzFeed News ranged from "Joe's campaign is competing to win in Iowa" to ensuring that "Joe leaves Iowa in a place of strength."
"He's got to run strong here and be competitive," Rep. Tim Ryan, a former presidential candidate from Ohio who endorsed Biden after dropping out, said Sunday ahead of a Biden rally in Des Moines. "I don't know what that means."
On Tuesday afternoon, Ryan said it's premature to count Biden out.
"If you take the Iowa caucus setup, you could not create a worse scenario for a candidate like Joe Biden," Ryan, who represented the former vice president at a caucus site in Council Bluffs, said by telephone. "His base of support is communities of color and older voters. Basically, they don't have access to the Iowa caucus. It's just incredible."
Ryan said it was reassuring to see Biden head quickly to New Hampshire after the Iowa mess. Ryan went to law school in the first primary state and has solid political connections there; but, as of late Tuesday, he hadn't yet heard if the campaign planned to send him there as a surrogate.
"I don't know," he said. "They haven't said anything."
Henry Gomes reported from Des Moines. Nidhi Prakash reported from Somersworth, New Hampshire.