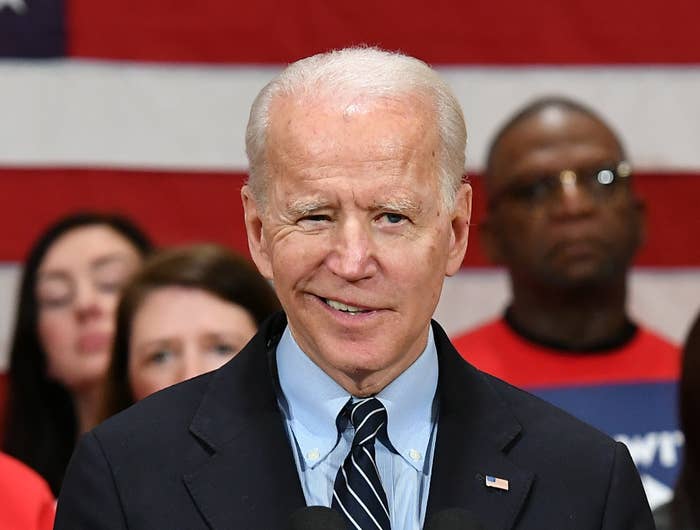 CLEVELAND — Joe Biden, written off by many a month ago after a disastrous run in the New Hampshire primary, now has what top Democratic strategists are describing as an insurmountable lead in the race for the party's presidential nomination.
The former vice president's victories Tuesday in Missouri, Mississippi, Idaho, and Michigan further weakened Sen. Bernie Sanders' argument that he can build a winning coalition. And some who just two weeks ago were wrapping their heads around the prospects of fortifying Sanders in a fight against President Donald Trump are now pointing Sanders toward the exit.
"The math is now clear," Guy Cecil, the chair of Priorities USA — the Democratic organization that backed Barack Obama's and Hillary Clinton's campaigns and had been neutral in the 2020 primary race — tweeted as states began going decisively in Biden's favor. "Joe Biden is going to be the Democratic nominee for President and @prioritiesUSA is going to do everything we can to help him defeat Donald Trump in November. I hope others will join us in the fight."
Cecil's tweet was the first in a rapid succession of Democratic establishment flares meant to put public pressure on Sanders. Bradley Beychok of the research group American Bridge and Justin Barasky of the Democratic Senatorial Campaign Committee issued similar calls.
And Biden, who since his big win in South Carolina last month quickly consolidated support from old rivals, got a supportive nod from another former candidate, Andrew Yang, live on CNN.

"At this point, you can see very clearly that Biden is building a delegate lead that's only going to grow in the days ahead," Yang, a contributor to the cable network, said on air soon after Biden was called as the winner of Michigan. "So we need to come together as a party starting tonight."
Biden did not go so far. In remarks from Philadelphia, where he flew after canceling a rally in Ohio due to coronavirus concerns, he said it was "premature" to celebrate, but he made a pointed pitch to Sanders and his allies, speaking of them almost as if their movement had come to an end.
"I want to thank Bernie Sanders and his supporters for their tireless energy and their passion," Biden said. "We share a common goal, and together we'll defeat Donald Trump. We'll defeat him together."
Biden allowed only that his own campaign "is taking off, and I believe we're going to do well from this point on."
"Take nothing for granted," Biden added. "Want to earn every single vote in every single state."
Contests in Idaho, North Dakota, and Washington state had not yet been called when Biden spoke.
Sanders did not speak to reporters Tuesday night, after flying back to Burlington, Vermont. Like Biden, he decided to scrap an election night rally in Cleveland over coronavirus fears.
Josh Schwerin, Priorities USA senior strategist and communications director, said late Tuesday that the group planned to invest significantly to boost Biden against President Donald Trump this fall.
"We are projected to spend $150 million, including $70 million in battleground state ads, before the convention to take on Donald Trump," Schwerin said. "If Trump and his allies attack Biden, we are prepared to defend him."
Just two weeks ago Cecil told reporters at a predebate briefing in Charleston, South Carolina, that Priorities was prepared for a scenario in which Sanders — who at that point had won the popular vote in the Iowa caucuses and finished first in New Hampshire in Nevada — was the party's nominee.
"I personally feel like if Bernie is the nominee, we're going to do everything in our power to help Bernie Sanders the next president," Cecil said then. "And I would say the same thing about Joe Biden or Elizabeth Warren."
American Bridge, meanwhile, announced it would go up Wednesday in Pennsylvania — a battleground Trump won in 2016 — with a $2.2 million advertising buy. The ads are anti-Trump and don't mention Biden, though the group was clear Tuesday night that it's rallying around Biden.
Biden reinforced a frontrunner's posture and message in recent days. He kept a lighter public schedule and delivered shorter speeches. He had been more confident, and less susceptible to letting his weaknesses — self-righteous indignation, verbal blunders, and meandering speeches — distract from his case to be president. And he had been workshopping the more conciliatory tone he struck Tuesday.
The 77-year-old who favors old-fashioned slang (Malarkey!) and who once hated to see his age as anything other than a hard sell for experience now offers a softer pitch. At a rally Monday night in Detroit, he called himself a "bridge" to a new generation, nodding at three younger endorsers (and potential running mates) on stage with him: Sens. Cory Booker and Kamala Harris, and Michigan Gov. Gretchen Whitmer. "They are the future of this country."
And where Biden once stumbled in confrontations with hecklers — he called one a "damn liar" while also challenging him to a push-up contest; channeling John Wayne he called another a "lying dog-faced pony soldier" — he now is more welcoming. He asks his aides and law enforcement not to remove his disruptors. When police disregarded his wishes in Detroit and tossed at least a dozen protesters railing against his stances on trade and the environment, Biden off the cuff seemed to repurpose a portion of his speech specifically for his skeptics.
"Every person who's been knocked down, counted out, left behind: This is your campaign," Biden said, using phrasing he would repeat Tuesday night in Philadelphia as he worked toward his salute to Sanders supporters. "We need you. We want you. … We need you guys. We have to unite this country."
Lt. Gov. Garlin Gilchrist, one of Biden's Michigan backers, even reminded the Detroit audience Monday that he supported Sanders in 2016, drawing some scattered boos.
"Now look, I'm sad that somebody's booing about that," Gilchrist responded. "But the question is, what's different? The difference is nobody with the record, results, and relationships of Joe Biden was on the ballot [in 2016]. And what we need in 2020 is somebody who is going to have a vision that includes all of us. We are a broad, diverse, beautiful people, where everybody's opinion matters."
The new approach still has echoes of the old.
"You're full of shit," Biden told a laborer who questioned his position on gun rights Tuesday during a visit to a construction site in Detroit.
But even in that exchange Biden's team saw an opportunity to reclaim the high road. The retort rattled around Twitter and compelled Sanders' campaign manager, Faiz Shakir, to amplify a tweet from a Republican National Committee operative. Shakir later deleted his retweet and chose instead to piggyback off a CBS reporter's video of the incident, but Biden aides moved quickly to frame Sanders' aides as doing Trump's bidding.
"In case anyone is wondering," Biden campaign manager Greg Schultz tweeted in response, "I won't be retweeting any GOP or Trump allies to go after another candidate in the democratic primary."
Where the campaign goes next is, literally, a question. Coronavirus concerns in Ohio, which holds its primary March 17, prompted Biden and Sanders to cancel rallies there Tuesday night. Biden already has postponed a Thursday event scheduled in Florida — another March 17 state — and instead will address the outbreak from his hometown, Wilmington, Delaware. Sunday's debate in Phoenix will go on, but without a live audience or reporters on site.
Shaun King, a Sanders campaign ally, tweeted as results came in Tuesday night that the primary isn't over. Briahna Joy Gray, Sanders' national press secretary, retweeted that message with her own.
Among Biden allies, Rep. Jim Clyburn, who was pivotal in his landslide win in South Carolina, was perhaps the most direct in arguing it was over for Sanders, especially if he did not win a state Tuesday.

"I think when the night is over," Clyburn said in an interview on NPR before polls had even closed, "Joe Biden will be the prohibitive favorite to win the Democratic nomination, and quite frankly, if the night ends the way it has begun, I think it is time for us to shut this primary down. It is time for us to cancel the rest of these debates — because you don't do anything but get yourself in trouble if you continue in this contest when it's obvious that the numbers will not shake out for you."
Molly Hensley-Clancy contributed reporting to this story.