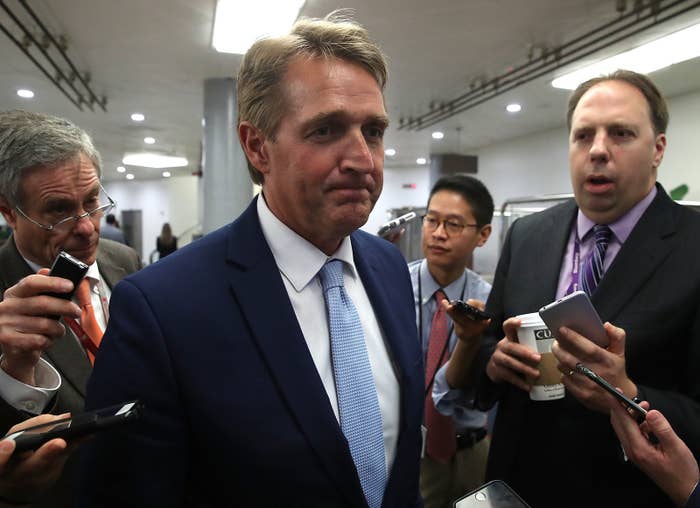 Robert Mercer, the Republican mega-donor who backs President Donald Trump, is spending big money to defeat Sen. Jeff Flake, one of Trump's loudest Republican critics, in 2018.
Kelli Ward, the candidate Mercer favors, fell short last year in a bid to unseat Arizona's other Republican senator, John McCain — despite a major investment from Mercer and his wife.
"They supported Kelli Ward last cycle, and she still lost by double digits," Will Allison, a spokesperson for Flake's reelection campaign, told BuzzFeed News in a Thursday email.
Robert and Diana Mercer gave $700,000 to Ward's super PAC during the McCain race, accounting for nearly all of the group's revenue. BuzzFeed News reported in May that the couple had already donated to Ward's campaign against Flake. And now Robert Mercer is sending another $300,000 to the super PAC — a development first reported this week by Politico.
The Mercers have also been generous contributors to the National Republican Senatorial Committee, which as an incumbent-retention organization is likely to back Flake.
Flake's reelection bid will be viewed as a fight between his brand of classic conservative Republicanism and Trump's brand of ideology-bending populism. Flake's new book, Conscience of a Conservative, is a scathing critique of Trump and other Republicans who have enabled Trump's rise. ("My Party Is In Denial About Donald Trump" read the headline of an excerpt that caused a stir within the GOP after being published last week by Politico Magazine.)
The criticism has made Flake a target for Trump allies and possibly for Trump himself. Whispers of a White House-backed primary challenge have been out there for months. Ward is the only announced opponent. Arizona Treasurer Jeff DeWit, who had a national role in Trump's campaign, and former Arizona GOP chairman Robert Graham are two other prospects.
"Not a good re-election strategy," Graham, who has yet to announce a decision on the race, told BuzzFeed News last week after reading the excerpt from Flake's book.
Mercer support aside, Ward is not a consensus alternative to Flake among the pro-Trump wing. Her loss to McCain is one factor. Her habit of making overly provocative statements is another. Ward, a physician, called McCain "old" and "weak" during last year's race. More recently, after McCain was diagnosed with a brain tumor, Ward raised doubts about McCain's recovery in a radio interview and talked herself up as a successor if McCain can't finish his term.
"I would never presume to say what someone's prognosis is without having exams," Ward said in the interview with WOWO in Fort Wayne, Indiana. "As a Christian, I know there can always be miracles. But the likelihood that John McCain is going to be able to come back to the Senate and be at full force for the people of our state and the people of the United States is low."