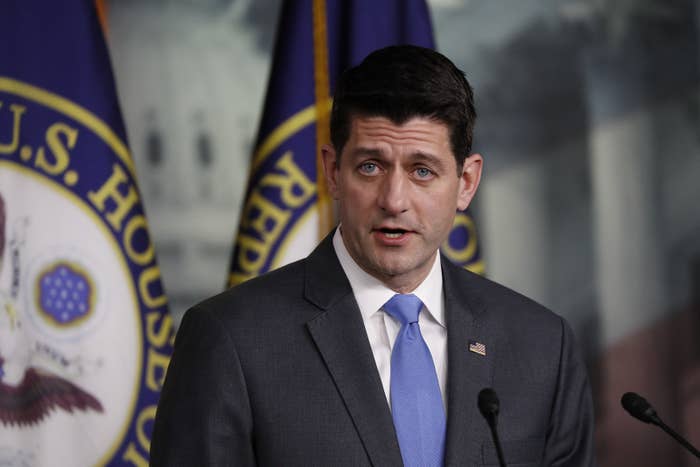 The tributes pouring in for Paul Ryan sound a lot like eulogies — for the retiring House speaker and for the conservative vision he and his allies have long championed.
Ryan's admirers (and even President Trump, who has a complicated relationship with Ryan) can't say enough about his accomplishments. And when it comes to his legacy, Ryan, who for much of the last decade was the Republican Party's ideological architect, has plenty of defenders.
At the same time, however, nearly everyone acknowledges that Ryan is leaving several central stated policy goals unfulfilled. There is mourning for the fiscal conservatism Ryan proposed, or at least doubts about whether that movement can survive.
"No way to spin this as anything but terrible," one national Republican operative told BuzzFeed News. "Not only is he a great speaker and respected leader — in a body with few at this moment — but it's got to scare the donor world. Who on Earth is going to fill this void?"
As hard as Ryan and other Republicans tout the tax bill they passed and Trump signed, it's not the kind of revenue-neutral plan that deficit hawks wanted, and it did not include some of the more fundamental tax code changes that Ryan reportedly was interested in, like a border-adjustment provision, which would have changed how imports and exports are taxed. Accomplishments in areas such as entitlement spending remain elusive, too.
Many Republicans blame the shift away from Ryan Republicanism and toward Trumpism, led by a candidate who explicitly promised no changes to entitlements. Despite having an ostensible ally in the executive branch, Trump, to the extent that he gets into the weeds or is even interested in conservative policy fights, has proven to be an unpredictable and unhelpful partner.
Minnesota billionaire Stan Hubbard, a longtime Ryan supporter, said the speaker's leadership style will be missed, especially when considering a president who by comparison focuses less on policy and tends to say and tweet things that distract from the party's agenda.
"He's a calm and level-headed guy. That kind of leadership will be missed," Hubbard said of Ryan. "My father used to tell me, 'Stanley, flies never enter mouths that are closed.'"
Others downplayed Trump as a factor in Ryan's decision.
"He has been in Congress for 20 years, and he has always said he was going leave and return" to Wisconsin, a senior aide to one House Republican told BuzzFeed News. "Now he is doing that. Does Trump play a role in that? Slightly he does. I think deep down inside, the speaker doesn't like or trust him. But I do think the family was his driving source."
Another major party donor, who gives to multiple conservative groups, said it was an "overstatement" to describe the Republican Party as the party of Trump, but acknowledged the loss of Ryan combined with the retirements of others, like Rep. Jeb Hensarling of Texas, would hurt the conservative cause. "It's very sad to lose someone with his incredible knowledge," the donor said. "He's truly a man of great knowledge and sadly he took on a role that wasn't suited for him. I can only hope he continues to be a part of these fights in some way."
Some even see a day when Ryan's brand of Republicanism is back in style.
"I have a hard time believing legacy-wise this is the last chapter in Paul Ryan's career," Nick Everhart, a Republican media consultant with extensive House experience, said in an email. "After the 'Trump Era,' there will be a thirsting for leaders like him again."
It wasn't all that long ago when Ryan was the next big thing in Republican politics. Ryan was the coauthor, with fellow lawmakers Eric Cantor and Kevin McCarthy, of the 2010 book Young Guns: A New Generation of Conservative Leaders. Two years later, when he was selected as Mitt Romney's vice presidential running mate, he was hailed as a policy wonk inside the party and in media — making him the logical heir to conservatism. His claim to that mantle grew even stronger three years after that, when he reluctantly took the gavel as House speaker.
But Cantor is gone from Congress, following a surprise primary loss in 2014. And now Ryan is on his way out, meaning that, within a decade, two of the three Young Guns authors will have left politics.
McCarthy, who succeeded Cantor as majority leader, could succeed Ryan if Republicans keep the House. And John Murray, a longtime adviser to Cantor, believes there is another group of leaders who will carry on that kind of conservatism that emerged in the Obama years.
"You have a lot of people who came to Washington under the Young Guns program," said Murray, who hopes some of those members will step up. "There are still more of those members than not. These institutions go through changes, and we're just seeing another one now."
Bridging the different factions of House Republicans — ranging from the more classic mainstream fiscal conservatives like Ryan to harder-line libertarians and the populists and Freedom Caucus types who rose from the tea party — is a challenge, though, as Ryan found.
"When one takes on the burden of the speakership they subjugate many of their personal political goals in order to accomplish the task of finding compromise across the disparate opinions of a 400-plus legislative chamber," said one former chief of staff to a House Republican. "He managed that task with grace, and that he was able to also accomplish one of his personal goals — reforming the tax code — is that much more impressive for his legacy."
Other Republicans are willing to grade Ryan on such a curve.
"I mean, everything we have passed in the House and signed into law since Trump was elected has Ryan paw prints all over it," said the senior House aide. "Like every member, we know the things aren't perfect and there are things you would want to see fixed. But my god, Ryan was able to pass tax reform for the first time since Reagan was in office. That was huge."
Ryan Ellis, a conservative tax policy consultant who has worked closely with House Republican leadership, noted Ryan's reputation for austere budget proposals when he was chair of the Budget Committee and called them a blueprint for eventual entitlement changes.
"He even got so far as to pass a bill to reform two of them — Medicaid and Obamacare — last spring," Ellis wrote in an email. "But that effort was derailed by a handful of myopic Republican senators. … The silver lining is that there aren't too many practical ways to do entitlement reform, and Ryan's budgets provide a detailed plan the next time the politics are ripe."