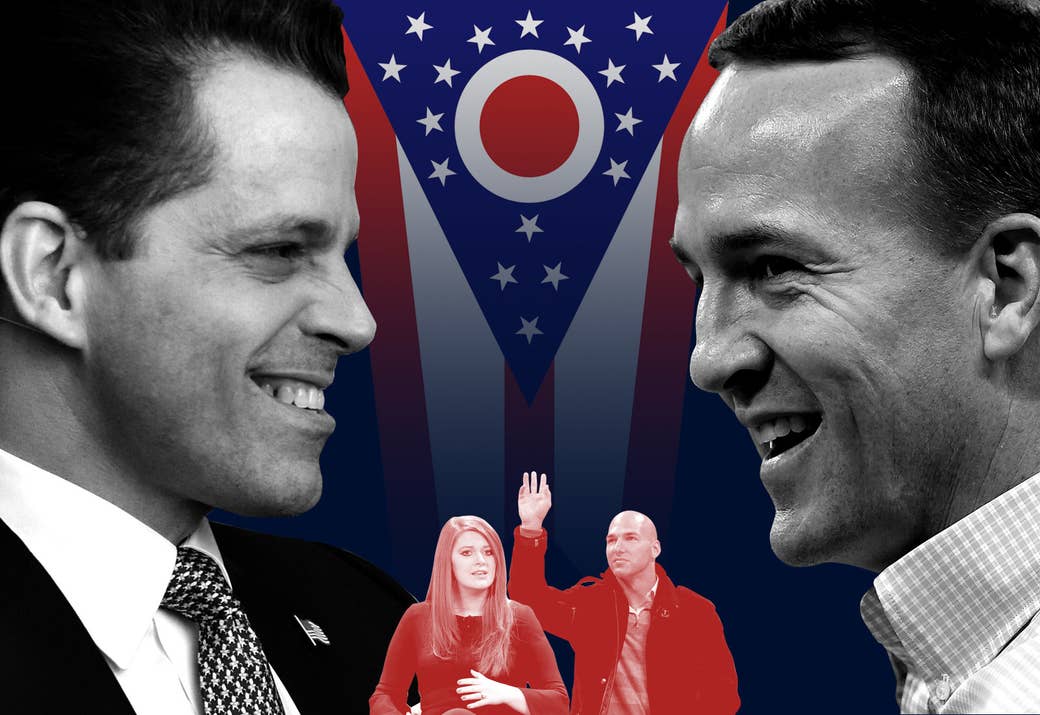 This spring, a primary for the open House seat here in Ohio's 16th Congressional District will help shape the Republican Party's future — pitting the old and new versions of what it means to be a conservative against each other.
At first glance, the two main candidates don't look so different: They're young and ambitious and would qualify as reliably conservative. Both are part of the National Republican Congressional Committee's recruitment program for top prospects. Both would vote for President Trump's agenda most of the time.
But by the standards of the Trump era — where style and identity overshadow ideology and policy, and where the lengths you go to to present yourself as a Trump loyalist often matter more than your voting record — there are sharp differences between Anthony Gonzalez and Christina Hagan.
Gonzalez, 33, was a star wide receiver at Ohio State and a first-round draft pick in the NFL, where he caught passes from Peyton Manning. He later earned an MBA from Stanford and worked as a top executive with an education technology company in Silicon Valley.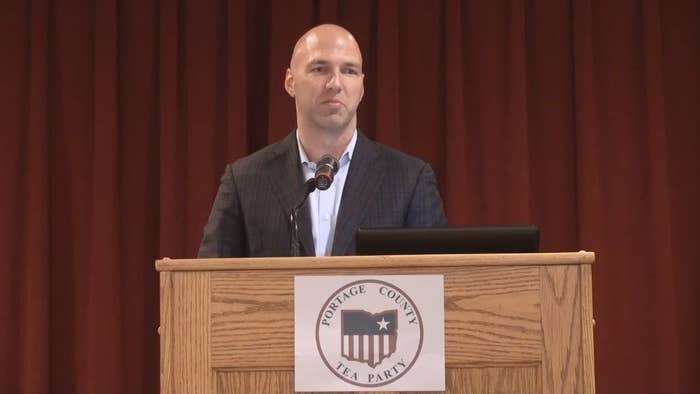 His first television ad? Packed with reminders of his football career. A recent fundraiser? Headlined by Jim Tressel, the former Buckeyes head coach who remains beloved and influential in the state. Gonzalez is counting on this hometown hero image to carry him against his more-seasoned opponent and to make up for his dry and cerebral personality on the campaign trail. ("I was told once never to give process answers," he confessed to an audience recently, before launching into a process answer to a question about the national debt.)
Hagan, 29, has been a state lawmaker since her senior year at Malone, a tiny Christian university just outside the district. She holds her father's old seat, was married in a statehouse ceremony, and has fast become a career politician despite positioning herself as an outsider in Trump's mold. She emphasizes her family's small plumbing and heating business and serves up other homespun anecdotes — peeling potatoes in the back of a local diner, waiting tables even after winning a seat in the legislature — as proof of her working-class cred.
"California and New York elites are coming for our guns right here in Ohio."
Her first ad showed how comfortable she is dishing out the kind of red meat Gonzalez seldom touches. ("California and New York elites are coming for our guns right here in Ohio," she says in the spot as she loads a shotgun.) Her fundraisers have been headlined by pro-Trump figures of varying celebrity, from YouTube duo Diamond and Silk to former White House advisers Sebastian Gorka and Anthony Scaramucci.
"I think we have two completely different candidates," Gonzalez said last month while speaking at a Republican club meeting in the Cleveland suburb of Rocky River. "People are going to have a very clear choice, which is always good."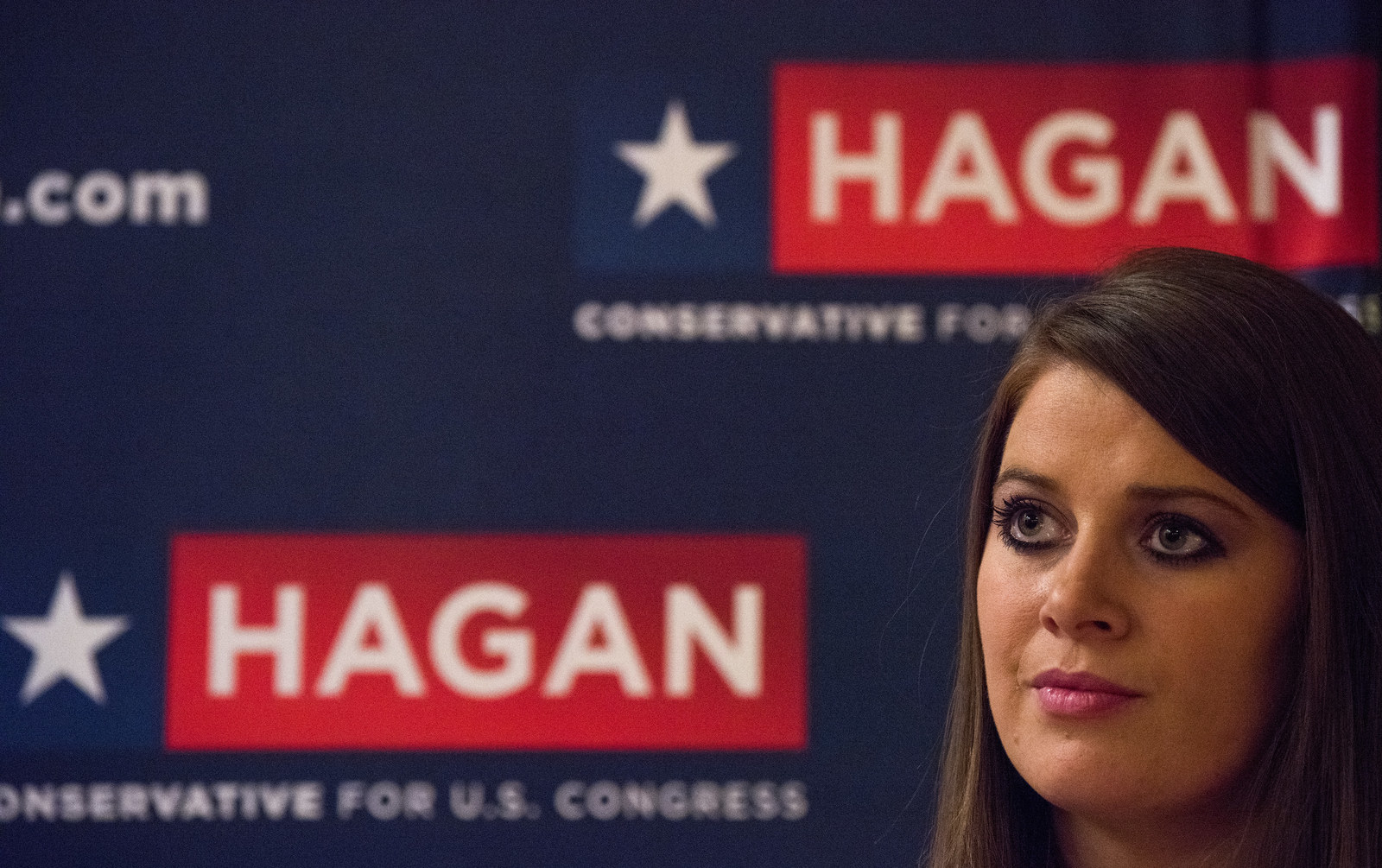 Asked who he would look to as a congressional role model, Gonzalez gushed about Sen. Ben Sasse, the conservative and Trump critic from Nebraska: "My wife says I have a man crush on the guy." Hagan dodged when offered the same question: "I am going to go and uniquely be myself." It's not difficult, though, to picture where she would fit among her colleagues. She recently scored an endorsement from fellow Ohioan Jim Jordan, a founder of the conservative House Freedom Caucus and one of Trump's most pugnacious defenders in the investigation of Russian interference in the 2016 election. Gonzalez, meanwhile, has the backing of Florida Sen. Marco Rubio and is excited about a recent donation from House Majority Leader Kevin McCarthy, one of Trump's closest allies on Capitol Hill.
Gonzalez gushed about Sen. Ben Sasse: "My wife says I have a man crush on the guy."
Gonzalez never explicitly draws the contrasts. "I don't think about the messaging coming out of the other side at all," he told BuzzFeed News in an interview.
Hagan is eager to do so. She frames Gonzalez as a political neophyte with West Coast values who came home to fly the establishment flag in a campaign built around his football glory days and a highbrow education she incorrectly describes as Ivy League. "Anthony's supporters," she said in an interview after the Scaramucci event, "probably have touted him for being a Stanford graduate, and [believe] this is something we should all connect with and understand. But also, not that many folks in Northeast Ohio have graduated with a college degree, let alone an Ivy League degree."
The stakes here are even higher now that Democrats have scratched out a special election win in Pennsylvania — by beating a pro-Trump Republican with a youthful candidate in a suburban Pittsburgh district that favored Trump by 20 points and had been in GOP hands for 15 years. At least one midterm forecaster has moved the Ohio 16th, up for grabs because incumbent Jim Renacci chose to run for Senate, from "safe Republican" to "likely Republican." The crowded Democratic primary lacks a big-name candidate, though Marine Corps veteran Grant Goodrich, recently endorsed by influential Rep. Marcia Fudge of the Cleveland area, has begun to stand out.
The district itself offers a wide array of voters: There's blue-collar suburbia, white-collar exurbia, and a slice of farm country. Up north, just outside Cleveland, a General Motors factory cranks out auto parts. Down south, cars share the road with the Amish and their horse-drawn buggies. Trump won here by 16 points, but allegiance to him might suddenly be a trickier proposition.
He is more famous, has the business background, and has much more cash. She is more charismatic and more experienced.
When it comes to the Trump calculus, the differences between Gonzalez and Hagan cut both ways. He is more famous, has the business background, and has much more cash in his campaign account. She is more charismatic and more experienced. And in a year when a record number of women are running for Congress, Hagan rated a Washington Post style section profile by being an unabashed supporter of a president who's been repeatedly accused of harassing women.
Hagan also acknowledges she needs "to be a little more gutsy" when asking for money, and she says has been disappointed that so many party insiders have told her that it's "not your turn." If she wins, she would be the youngest woman ever elected to the House, beating Rep. Elise Stefanik, a New York Republican, by a few months.
She clearly is the candidate most in sync with the Trump aesthetic. She staged her February fundraiser with Scaramucci — the Mooch, as Trump's exiled and very much in-on-the-joke White House communications director is known — at a McMansion in exurban Medina. Inside, a cocktail lounge pianist noodled away at "Heart and Soul" and "Piano Man." Guests circled through a dining room and kitchen, munching on light hors d'oeuvres and sipping wine, Heineken, and local craft beer. Hagan's father, the former state lawmaker, held court in one corner, closely scanning the names of hosts on an invitation someone had snagged for an upcoming Gonzalez event.
"It's good to see that I do have a fellow black brother in the house with me," warm-up act Kareem Lanier, a member of the National Diversity Coalition for Trump, told the all-white audience. "My good brother Anthony Scaramucci is black. I won't tell you guys which half of him is black. But he is a black man, for sure."
The Mooch gave the donors almost everything they came for: self-deprecating humor and some colorful tales from his time with Trump. ("Hey, Mooch, what do you want from Burger King? I'm buying!") But if all of this is meant to put the Trump imprimatur on Hagan's bid, there's something missing: Trump himself. It's not as if the president is shy about picking favorites in other tough primaries, though there has not been reliable polling on the Ohio 16th. When one supporter asked if Trump would visit before the May 8 vote, Scaramucci deflected, assuring the audience that he is close with Trump's daughter Ivanka and son-in-law Jared Kushner, and that they are aware of Hagan's campaign.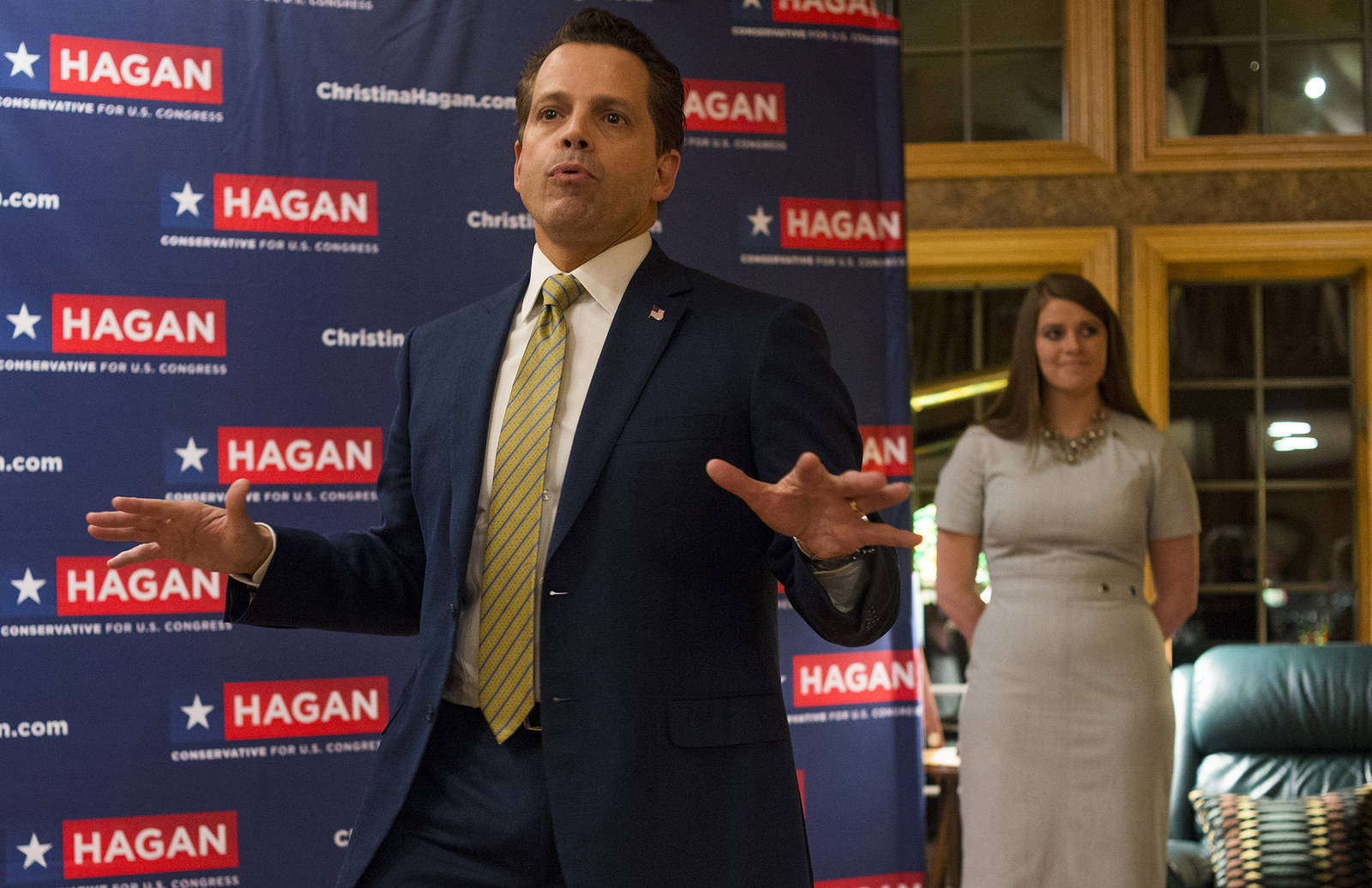 "Let's say maybe," he continued, teeing up a quip about his 11-day tenure at the White House. "If I was the communications director for 12 days, I could have said definitely."
Gonzalez shows no such interest in cozying up to Trump World.
And his meeting with Republicans in Rocky River was far less flashy than Hagan's evening with the Mooch. Speaking to about 30 local activists gathered in a tiny room at the neighborhood library, Gonzalez hardly mentioned Trump. Instead he mixed mild boilerplate — he nonchalantly established himself as pro-gun and anti-abortion — with the story of how his grandparents fled Cuba during Fidel Castro's uprising. Gonzalez, whose father runs a Cleveland-area steel company, also mourned manufacturing's decline. "What we should all agree on," he said, "is that the next 25 years are going to be a heck of a lot more disruptive than the previous 25 years." His most direct reference to Trump came late in the hour, when someone asked for his thoughts on immigration reform. "I think the president's proposal is spot on," he said, endorsing Trump's push to complete a wall along the Mexican border.
During an interview the following week at a Panera, Gonzalez said he was "very happy with the result" of the 2016 election. But he sighed audibly and paused for nearly 10 seconds when asked why he thought Trump won. "You know, I think … that's a good question," he said finally. "I think he gave voice to something that had been largely ignored or had sat below the surface for a while. You can call it the silent majority. I think that's a fine term. But who was that? It was all of us who felt like one way or another this country just stopped working for the everyday person."
Hagan is far less circumspect, not only when it comes to praise for Trump, but also when it comes to policy. A guest at the Mooch fundraiser proudly told the crowd how Hagan once received an AR-15 for Mother's Day. (Hagan has a 2-year-old daughter and announced recently that she is pregnant with twins. Gonzalez is expecting his first child in April.)
The same style of gun had been used a week earlier in the deadly school shooting in Parkland, Florida. In the interview after the fundraiser, Hagan expressed deep skepticism about gun control proposals now being debated in Washington and suggested using local tax dollars "to ensure we have armed personnel on staff at every school." Gonzalez said he has no personal problem with the AR-15, and he backed into an answer on arming teachers and other school staff by calling himself a "big states' rights, kind of federalist guy" who would leave such decisions up to local school boards.
Chris LaCivita, his top political consultant, later intercepted a question about whether Gonzalez owns a gun: "That's no one's damn business."
"I've had people say, 'You're never gonna get a guy named Gonzalez through a primary in that district.'"
Hagan also uses hotter rhetoric on immigration — and in one instance many are convinced she also used Gonzalez's Hispanic last name as a dog whistle to racist voters. In a Feb. 11 tweet, Hagan highlighted a Fox News segment on undocumented immigrants and an Ohio heroin ring. She singled out only one of the three suspects by name: Armando Gonzalez-Rosas — and left out the "Rosas."
The move drew a rare rebuke from Ohio Republican Party Chair Jane Timken, who asked Hagan to delete the tweet. Hagan refused.
She also does not deny that she was calling attention to her opponent's ethnicity.
"This is a tough business," Hagan told BuzzFeed News. "If they do not like the context of the tweet, which was entirely factual, that's unfortunate, but it doesn't make it less factual."
Nonetheless, it has cost her. Republican leaders in Cuyahoga County, which accounts for the largest chunk of GOP votes in the district, grumbled about the tweet last month before the county party endorsed Gonzalez. And despite Hagan's strong anti-abortion credentials, Ohio Right to Life, one of the state's most influential conservative groups, backed Gonzalez after its president criticized the tweet, according to cleveland.com. Some Republicans are sensitive to questions about whether a candidate named Gonzalez can win in the Ohio 16th, especially against a familiar ballot name like Hagan.
"We have had a dominant congressional delegation over the years, but other than Deb Pryce and Jean Schmidt for a hot minute, it's been all white guys," said Matt Borges, the former state party chair and a devout Ohio State fan who was an early Gonzalez supporter. "I've had people say, 'You're never gonna get a guy named Gonzalez through a primary in that district.'"
To Hagan, all of this is more fodder for her anti-establishment pitch. For example, Timken officially is neutral. But her husband Tim, the CEO of a major steel company in the Ohio 16th and one of the state's most generous GOP donors, is behind Gonzalez — a relationship that Gonzalez's family ties to the Northeast Ohio steel industry helped forge. "In a way, it is an honor to not have that type of support," said Hagan, "but it never becomes … less frustrating or disappointing that you could fight for a community for seven years and still see the door closed in your face."
Gonzalez, indeed, is commanding the money race. The latest campaign finance reports showed him with $742,000 in cash on hand, plus a $40,000 personal loan. (Manning, his former Indianapolis Colts teammate, is among the top donors.) Hagan had $199,000.
"We're the campaign, in my opinion, with the energy, and the excitement, and the real base," Hagan said. "Our opposition has a very stagnated type of support that's maybe correlated more so to a football-type of environment. I'll never capture that, because I'm not a football player."
Republican observers attribute Gonzalez's fast start to strong first impressions. One activist recalled how Hagan bolted early from a local party function, but Gonzalez hung around after it was over to talk to everyone. And even before the results in Pennsylvania, many viewed the Trump-cautious Gonzalez as more electable.
"Anthony made the case over these last few months, by being present at every meeting, that he has the passion and work ethic to get things done," said Rob Frost, the Cuyahoga County GOP chair. "And he made case at our meeting that he's best candidate to win in November."
But first, Republican voters in Ohio will answer a question about what works best in 2018: running like Trump never existed, or running just like him. ●