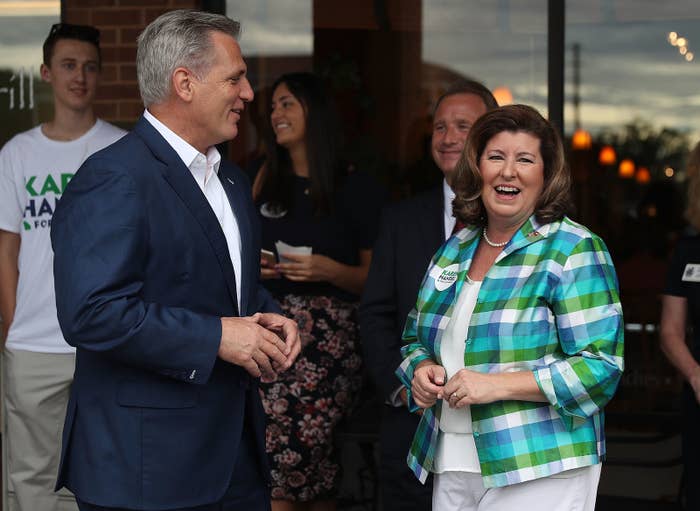 JOHNS CREEK, Georgia — Tuesday's election in this collection of Atlanta suburbs is the closest thing the Republican Party faces this year to a must-win congressional race — because if it can't win this one, it may be hard for the GOP to find strong candidates for other seats.
Voters here are classic suburban Republicans: They make good money and are highly educated, if not entirely wedded to the irreverent politics of the Republican president, Donald Trump. The GOP candidate, Karen Handel, is a conservative chamber-of-commerce figure from central casting, with experience in government and in the private sector.
And if she can't win a district like this, what Republican can? That's a question that will bounce around Washington and state party offices on Tuesday night and Wednesday morning if Handel loses to Democrat Jon Ossoff. Some believe the party's candidate recruitment efforts could take a hit in similar districts. Others fear a loss would prompt establishment-wing incumbents in swing seats — many of whom are already dreading the thought of running for re-election with Trump in the White House — to retire.
"It sends a message nationally that a pattern is developing," a Georgia GOP operative, who requested anonymity to speak candidly, told BuzzFeed News. "In districts where Republicans rely on moderate Republicans and independents to get over 50%, this would be a warning bell, for sure. And it would show Georgia beginning to emerge as a purple state if Ossoff wins."
It's this dynamic, more than any other, that explains why this congressional race has become the most expensive in history — to the tune of more than $50 million. Democrats have thrown big money behind Ossoff because, unlike the special elections they lost this year in Kansas and Montana, the Georgia battle will test shifting demographics that could revive their party.
Underscoring the jitters on the Republican side, House Majority Leader Kevin McCarthy of California accompanied Handel as she shook hands on Monday morning at a cafe here. And during a Handel rally on Saturday in Chamblee, Secretary of Agriculture Sonny Perdue, a former Georgia governor, undercut the GOP's don't-read-too-much-into-what-happens-here company line.
"You all know this is a harbinger of national politics, and the world is looking, the nation is looking, and all the money has flowed in here," Perdue told the audience before winding into a critique of Ossoff. "So don't be fooled. Don't be fooled by someone who doesn't have a record — that's been coached up on what to say and act like a Republican when he's not."
Ossoff, 30, is a former congressional aide and documentary filmmaker whose chances ride on being able to peel away Republican votes. It's a tricky situation. Trump only won the district by 1.5 percentage points last fall, emblematic of his struggles with white suburban voters. But in order to brand himself as a moderate, 6th District-friendly representative, Ossoff has avoided the strident critiques of Trump that you might expect to hear from a Democratic candidate in a different race.
"It's notable how much Ossoff is going out of his way to not mention the president," Rob Engstrom, the national political director for the US Chamber of Commerce, which spent money to promote Handel, told BuzzFeed News. "It shows that he doesn't want to poke the tiger and the people who vigorously support the president. It sends a conflicting message to his base".
Nick Everhart, a national Republican media consultant, sees it a different way. Ossoff has shown the discipline to not attack the president while still taking advantage of the political opportunity Trump has created for Democrats. If Ossoff's way works, he will offer a 2018 playbook to Democrats in districts like Georgia's 6th — districts the party must win to take back the House.
"I think that the general rule of thumb is that these special elections are just that — special," Everhart said. "But this one feels more like the canary in the coal mine."
Handel, 55, is a former Georgia secretary of state and a former chairwoman of the board of commissioners in Fulton County. She has held key roles both locally with the Chamber of Commerce, and nationally with the Susan G. Komen breast cancer charity. She, too, has approached Trump tentatively. She welcomed his help at a private fundraiser in April, but rarely mentions him on the stump. When she does, it's to pledge to be an independent voice for the district, not for the White House.
Some of her allies grumbled privately to BuzzFeed News that she only recently began to articulate that case in an effective way. They wish she would have spent less time emphasizing experience that screams "career politician" and more time drawing policy contrasts with Ossoff — contrasts that might sell voters on the importance of keeping the seat in Republican hands.
"This frenzy about 'Is this race a referendum on this? Is it a referendum on that?' — that's not how people see it here," Handel told reporters before shaking hands at a neighborhood tavern here on Friday. "It's a referendum on who is best suited to represent the people of this district."
Asked by BuzzFeed News if she was surprised by how nationalized the race has become, Handel let out a homey chuckle. "Well, ya'll did it!" she replied. "You did! I mean, look, I know, it's the only game in town. You got clicks and stories and all that, so I get it. We're trying to roll with it but at the same time be focused on what matters to people here."
But even Handel has a hard time ignoring the national implications of the race: "We are going to show up on Tuesday, and we are going to rock Nancy Pelosi's world," she said at her Saturday rally, referring to the House Democratic leader and go-to political boogeyman for the GOP.
The National Republican Congressional Committee did not make its chairman, Rep. Steve Stivers, available for an interview for this story. In an emailed statement, NRCC spokesperson Jesse Hunt downplayed the significance of Tuesday's vote on recruitment.
"Democratic candidates should be heartened to know Nancy Pelosi and national Democrats might leave them high and dry like they did in Kansas, Montana, and South Carolina," Hunt wrote. "Our candidates or potential candidates aren't hyperventilating over the outcome of one race."