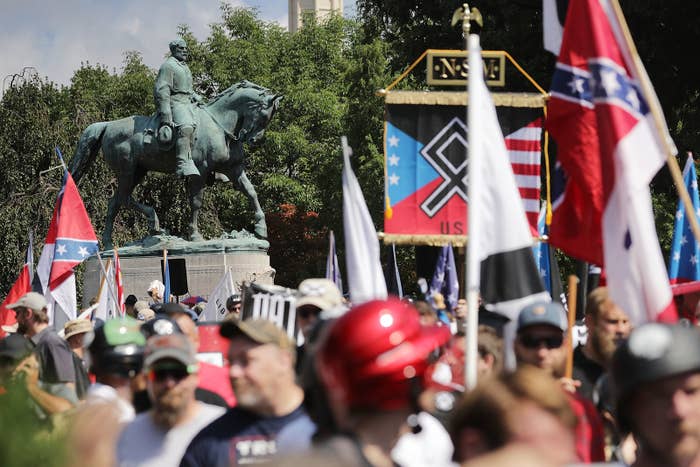 A renewed fight to preserve Confederate symbols has escalated.

White supremacists and neo-Nazis were among those behind the violent, and — in at least one instance — deadly demonstrations this weekend in Charlottesville, Virginia, where a statue commemorating Confederate army Gen. Robert E. Lee is targeted for removal next month.
To many offended by Confederate nostalgia, the images of swastikas and burning tiki torches confirmed what they have long believed: that racism, and not respect for history or a desire to lash out against liberals and politically correct culture, is fueling this debate.
It's a debate with political ramifications, especially for Republicans. Some — notably Republican National Committee Chairwoman Ronna Romney McDaniel, House Speaker Paul Ryan, Sen. Ted Cruz of Texas, and Sen. Cory Gardner of Colorado — have unequivocally denounced the Charlottesville unrest as racism and bigotry.
"We are the Party of Lincoln and a party that stands against divisive and hurtful symbols," McDaniel said Sunday in statement to BuzzFeed News. "As Americans we can find ways to preserve our history but only if we are working toward an inclusive future that separates us from a hateful past."
But President Donald Trump, whose campaign offered racialized rhetoric and never consistently disavowed his support among white nationalists, issued a response Saturday that did not call out white supremacists — and instead criticized the violence on "many sides," while ignoring reporters' shouted questions about white nationalists. His vague remarks underscore how uncomfortable a topic this is for others in the GOP, particularly those in the Old South, where politicians often are expected to pick a side.
How uncomfortable? BuzzFeed News contacted more than 15 Republican candidates, operatives, and officeholders in Southern states with the same basic question: Does seeing these symbols embraced in the name of racism and in a violent manner change how you feel about pro-Confederate politics? Only two replied. None answered the question as posed.
Those unheard from include Ed Gillespie, who in June narrowly beat a pro-Confederate candidate in Virginia's Republican gubernatorial primary. The posturing by his rival, Corey Stewart, forced Gillespie to take a more explicit position on the Lee statue. ("No, Ed Gillespie doesn't support removing Confederate monuments," read the headline on a Gillespie campaign statement that pushed back on a Stewart claim.)
On Saturday, Gillespie condemned the "ugly events" in Charlottesville. "Having a right to spew vile hate does not make it right," he said in a campaign statement. "These displays have no place in our Commonwealth, and the mentality on display is rejected by the decent, thoughtful and compassionate fellow Virginians I see every day."
On Sunday, he went a step further: "We've seen evil in white supremacist torches and howling neo Naziism," Gillespie said in a Twitter post honoring state troopers killed in a helicopter crash during the previous day's unrest.
But a spokesperson did not respond to questions about whether the racism and violence in Charlottesville has prompted Gillespie to reconsider his position.
Others who did not respond:

Alabama Gov. Kay Ivey, who in May signed a bill that protects Confederate monuments in her state. Her spokespersons did not reply to emailed questions. Nor did representatives for Sen. Luther Strange, Rep. Mo Brooks, or former state Supreme Court chief justice Roy Moore — the three top contenders in the state's closely watched special Senate primary. All three acknowledged the Charlottesville events on Twitter.
South Carolina Gov. Henry McMaster, who succeeded Nikki Haley, one of the Confederate flag's most prominent foes. Haley two years ago pulled the flag from Statehouse grounds after a racially motivated shooting at a black church. McMaster, who has faced criticism for his membership in an all-white country club, alluded to Haley's efforts in a Saturday tweet: "South Carolina showed world her heart when confronted by hatred & violence. Pray for our brothers & sisters in Virginia." A spokesperson did not reply to a request for additional comment.
Catherine Templeton, a past Haley cabinet member who is challenging McMaster in next year's GOP gubernatorial primary. At a public forum this month, she pledged not to remove other Confederate symbols and lamented that "a bad person took something that's dear to us, took our heritage, and turned it into hate." Templeton and a campaign aide did not respond to requests for comment this weekend. But she acknowledged Charlottesville in a tweet that appeared to reaffirm her support for Confederate nostalgia: "It is the uneducated criminal who uses our history for horrible racist violence. Learn from the past."
State GOP chairmen in Florida and North Carolina. Stewart told BuzzFeed News last week that, following his strong showing in Virginia, he heard from potential candidates seeking his counsel on running pro-Confederate campaigns in both states.

Stewart did not make himself available for another interview this weekend. His spokesperson, Noel Fritsch, did not respond directly to a question about whether neo-Nazis rallying around the Lee statue in Charlottesville might change Stewart's thinking on the issue.
"Was Tim Kaine marching with the hammer & sickle?" Fritsch replied in an email, referring to the Democratic senator Stewart hopes to unseat next year and to a Communist symbol.
That deflection was consistent with the whataboutism Trump offered in his Saturday remarks — the president condemned "hatred, bigotry, and violence" … "on many sides" — and was on display later that evening in a video statement Stewart made on Facebook.
Stewart took swipes at Kaine and, without offering specific examples, accused Democrats of not condemning or denouncing violence by organizations on the political left, such as Antifa, an anti-fascist group. "If free speech is not protected, people do sometimes turn to violence," he said. "That is not the right way to go. We must always condemn it. But we must not allow the left to crack down on free speech, to crack down on conservative speech, in the aftermath of what is happening in Charlottesville today."
A Virginia Republican Party spokesperson sidestepped specific questions Saturday on the appropriateness of pro-Confederate politics and instead pointed to a statement on the party's website: "The Republican Party was created to end slavery in the mid-1800s and our party today continues to stand for equality for all persons regardless of their race or ethnicity," Virginia GOP Chairman John Whitbeck said. "We condemn the hatred and racism on display today in Charlottesville and note that there is nothing conservative about messages of that nature."
Haley's effort to bring the Confederate flag down in South Carolina propelled her — and the issue — to national prominence. Then–RNC chairman Reince Priebus stood with her the day she announced the push, signifying how important the issue was to a party that at the time was eager to build bridges with black voters and other minorities.
More recently, though, the decisions have occurred on the local level, with Mayors Mitch Landrieu in New Orleans and Andrew "FoFo" Gilich in Biloxi, Mississippi — a Democrat and Republican, respectively — leading the charge against Confederate symbols. In Richmond, Virginia, once a capital of the confederacy, Democratic Mayor Levar Stoney has called for adding context to old monuments, rather than tearing them down.
Another Democrat, Mayor Jim Gray of Lexington, Kentucky, announced Saturday that he would seek to move two Confederate monuments from the lawn of an old courthouse.
"The tragic events in Charlottesville," Gray said on Twitter, "have accelerated the announcement I intended to make next week."